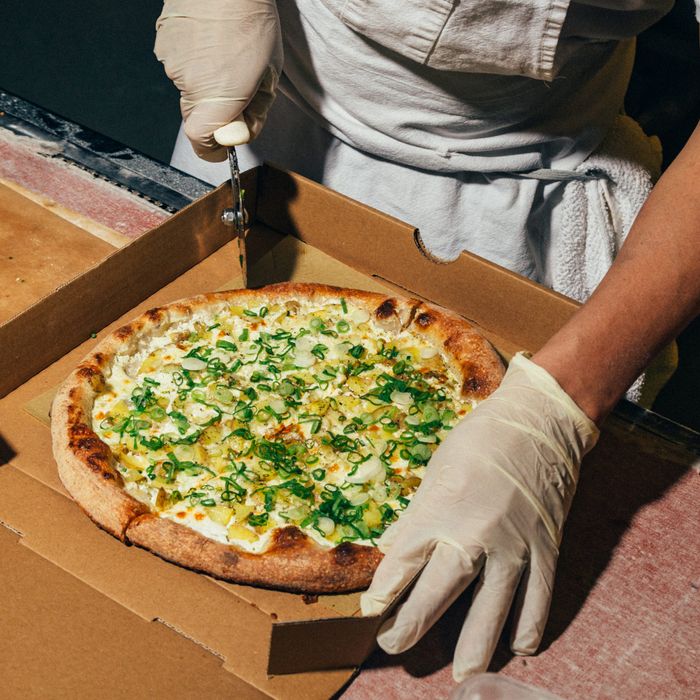 A pizza topped with fingerling potatoes and cream cheese.
Photo: DeSean McClinton-Holland
Last April, Wylie Dufresne started making pizza. This was new. At his modernist Lower East Side restaurant, wd~50, he had made "pizza pebbles" — sandy, air-puffed balls of pizza-flavored powders, accented with dollops of pepperoni emulsion and dried shiitake shards — but he had not, until the 10th of April, 2020, "literally start to finish" made an actual pizza.
"Pizza sort of saved me during the pandemic," he recalls. He was hardly alone. A lot of people took to baking during the early weeks of isolation, but there is one important difference: A lot of people are not Wylie Dufresne, a chef who is known equally for the intensity of his obsessions and his fried mayonnaise cubes. In the basement of his house in Connecticut, where his family took refuge for the first months of the shutdown, for example, Dufresne just happened upon a brand-new pizza oven — payment for some work he had done for Breville the year before. "I was like, You know what, this pizza oven's here. Why don't I make pizza?" It was the only logical thing to do. "I immediately fell down a very dark, deep — I shouldn't say dark, it was actually very sunny, but a very deep rabbit hole." He ordered pizza books and devoured pizza websites and kept meticulous pizza notebooks and got a Costco membership for access to those giant 25-pound bags of King Arthur flour, and when he started posting pictures of his beginner pies on Instagram, some "very famous" pizza minds started to weigh in.
In the past year, things have changed in many ways, and one of the better ways is this: Dufresne is now very good at making pizza, as evidenced by his new concept, Stretch Pizza, developed in collaboration with Breads Bakery, where it is now in residence. Starting today and lasting indefinitely, Stretch, helmed by Dufresne and his old Jean-Georges colleague and friend since middle school Josh Eden, will be serving a tight takeout-only menu — four pizzas, one calzone — available for preorder through the reservation platform Tock. The plan is to drop new slots every two weeks in an attempt to balance the spontaneity of pizza with the obvious demand.
With Breads' head baker, Darwin Castillo, Dufresne further refined the recipe for Stretch's dough, which crackles on the outside and is ideally chewy on the inside while maintaining the quintessential lightness of a New York slice.
The offerings are Dufresnian in their sense of play: In addition to the Classic New York pizza, there is the sour-cream-and-fingerling Couch Potato; an insidiously tangy, bagel-inspired Everything pizza, premised on the question "Is it crazy to spread cream cheese on a pizza?" (definitively no); and a transcendently punchy romesco-and-ramp pie meant to evoke springtime in Spain.
There is a single calzone on the menu: unexpectedly delicate, thin shelled, stuffed with scrambled eggs, accented with two kinds of cheese, and cut with springy scallions. Understated but eminently craveable.