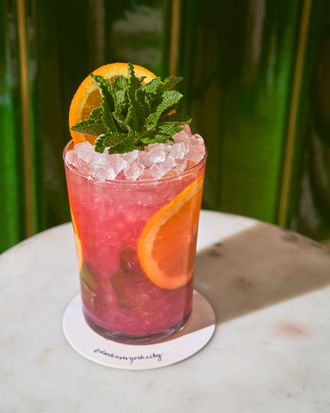 If we have learned anything over the past year, it is that nobody can predict the future, but I have reason to believe that the summer of the Cosmopolitan is now upon us, based on two key pieces of evidence. One: Linden Pride, co-owner of the Italianate cocktail joint Dante, world's best bar 2019, is launching a whole line of bottled Cosmopolitans to capitalize on this moment. Two: logic. Is there a more celebratory cocktail than the Cosmo? Another drink that exudes such joy?
"I've been a little bit obsessed with the Cosmopolitan for a long time," says Chris Moore, Dante's beverage director, who, for this collection, developed a menu of eight Cosmo varietals, many taking inspiration from '90s Cosmo riffs. And so there is a Metropolitan (here with strawberry vodka and red currant), a White Cosmopolitan, and a Rude Cosmopolitan, which uses tequila as the base instead of vodka. But there is also a Cosmotini and a Cosmojito and a Cosmo Spritz, and a rum-based Barbados Cosmo that goes down very easy, and a triumphant Coconut Cosmo, which Moore describes as "sunshine in a glass" and I would describe as "being on vacation with a coconut."
And yet they are all still staunchly Cosmopolitans, not just because they are made out of Cosmopolitan ingredients — a Cosmo requires a base spirit, a liqueur modifier, a cranberry component, and an element of citrus — but because they exude a Cosmopolitan attitude. "It's such a democratic drink," Moore tells me. "I mean, it's just so accessible. It's all things to all people. It's complex, it's nuanced, but it's also really approachable." I know for a fact this is true, because, in preparation for My Summer of Cosmos, I have been approaching them frequently.
This, I like to think, is less a reflection of my limited palate than an act of New York City patriotism. As Pride is fond of pointing out, the Cosmo is a New York City icon. It is the preferred cocktail of Carrie Bradshaw, a fictional New Yorker, and also the invention of bartender Toby Cecchini, an actual New Yorker. "We're all coming out of this experience together," Moore points out. "We've got to share something." For example, Cosmopolitans.