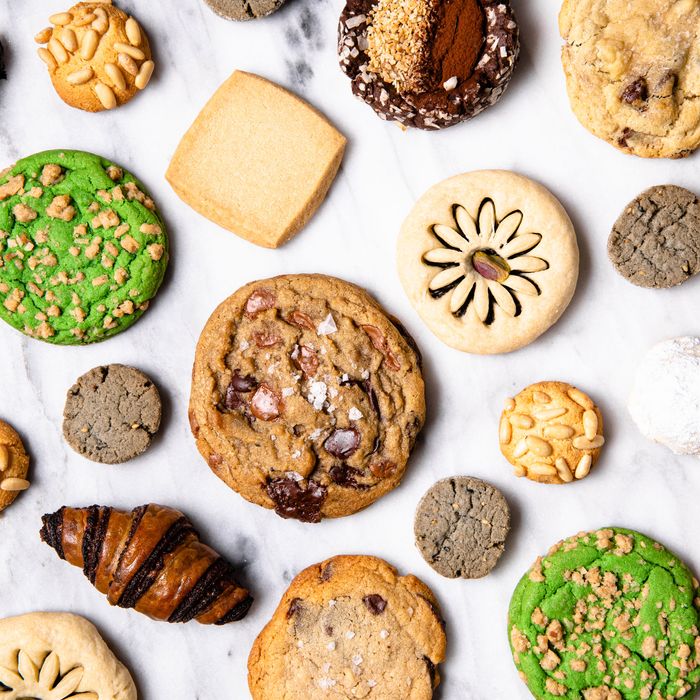 Twelve varieties of cookie, plucked from all five boroughs.
Photo: Kate Previte
We are so happy to announce that Grub Street and New York Magazine have teamed up with the folks at NY Forever on a new project that we're calling the Cookie Edit.
What is it, exactly? A limited-edition box of 12 different cookies, sourced from some of our favorite restaurants and bakeries across all five boroughs, that anyone in New York State can have shipped directly to their homes. We've covered the bakery costs, and 100 percent of the proceeds from the sale will be donated to ROAR (Restaurants Organizing, Advocating & Rebuilding), an organization that has worked tirelessly to help the industry get through the pandemic.
Starting today, the $50 boxes can be preordered, with the first shipments starting on April 12. (Or, you can pick up your box in Chelsea, if you'd prefer.) Each box contains a dozen cookies, plus a limited-edition illustration by Russell Shaw. And these are not, it's worth pointing out, just any 12 cookies. They come from some of our food editors' favorite bakeries — chocolate rugalach from Breads, the cult-favorite miso chocolate-chip cookie from Lani Halliday's Brutus Bakeshop, beautiful little buttery shortbread from Té Company, Ursula's sugar-coated Mexican wedding cookies, plus eight more — and truly represent the diversity and creativity of the city.
It is, we think, a win-win. You help support the people who make New York's food scene the best in the world — and you also get a bunch of incredible cookies. So why wait? Head here to order your box(es) now.
Beginning April 5, 2021, through April 21, 2021, purchasers in the State of New York can order the $50 Cookie Edit boxes from Mary Giuliani Catering & Events for delivery, and they will donate 100 percent of the proceeds to ROAR, up to 1,500 boxes sold.
Right now, we are only shipping cookies to addresses within New York State.