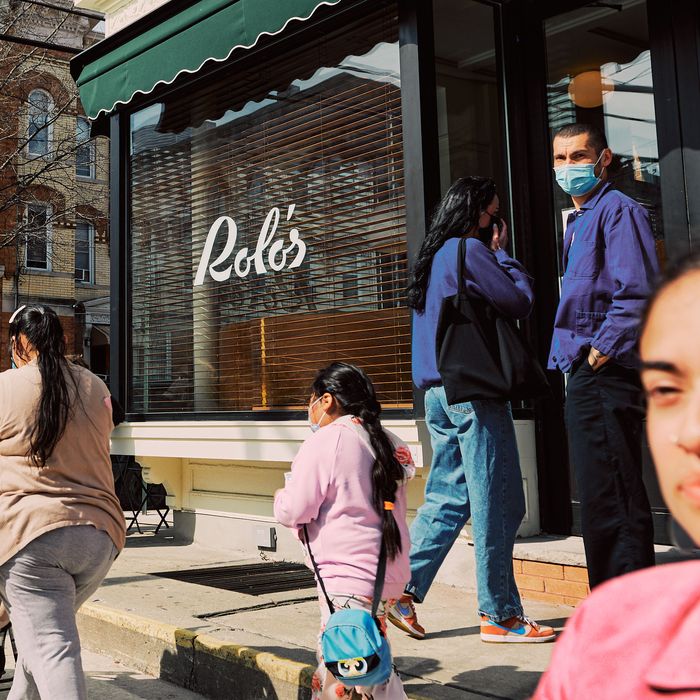 Outside Rolo's, which opened in Ridgewood this January.
Photo: Christian Rodriguez
This article was featured in One Great Story, New York's reading recommendation newsletter. Sign up here to get it nightly.
Luisa's family has lived in the same apartment building on Onderdonk Avenue in Ridgewood since she was 10 years old. Now, she worries that time will come to an end. Last year, when Luisa (who asked to only use her first name) found herself working out of the apartment, she started to notice how quickly changes in the neighborhood were happening. Local property values had skyrocketed, and she says her landlord has said, many times, she's thinking about selling. "If she were to put it up for sale, we would be evicted in a matter of just closing your eyes," Luisa fears. "We don't have a lease," she says, "so there are very real concerns that I do have."
While she says there's no immediate threat to her family, she's worried that may change any day now. She spent the summer listening to the drilling and construction along Onderdonk Avenue, including for Rolo's, a new restaurant from a trio of former Manhattan chefs. "It was just this nightmare for me," Luisa says, "because I knew what was happening."
Rolo's is the kind of low-fuss, New American place you might expect from four veterans of Danny Meyer's Gramercy Tavern who wanted to open a casual, outer-borough dining room. Rolo's sells eight kinds of pickles, pineapple-rum Negronis, homemade focaccia, fresh pasta, and containers filled with slow-braised lamb ragù. A recent review in The New Yorker said it offered "a taste of New York." Howard Kalachnikoff, one of the chef-partners, calls it, "Just a simple, neighborhood restaurant, focused on cooking over a wood-burning grill." The goal of opening, he explains, is "to put down some roots and then see what happens after that."
Pandemic dining restrictions meant Rolo's opened first as a market with only takeout and delivery. A few weeks ago, the owners put out some tables, and they have a warm-weather streetery structure in the works. Eventually, Kalachnikoff imagines diners dropping in a couple of times each week, and he wants to stay in business for a long time. Ben Howell, another partner, adds, "nothing would make us happier than if some of the young adults that come here now come in in 15 years with their kids, when their kids are graduating."
Indeed, some neighbors don't see any drawback to the arrival of Rolo's or the building's renovation. "I'm not aware of any negatives," says Paul Kerzner, a 49-year member of Community Board 5. "I walked into that building about a month ago when that was finished," he recalls. "I was tickled to death when I saw that the graffiti was coming down and the boards that were up were coming down, and we're going to get glass back again."
But for others, Rolo's is something more than a destination for a quiet weeknight meal. "I'm so excited because I like this kind of food," says Laura Duarte, who, with her siblings, opened her own restaurant, Las Chilangas, just before the pandemic hit. "But the way we think about this type of restaurant opening … I know the rent is going to increase so much."
Katy Knight, a former community board member who was raised in the neighborhood by a single mother, says it's crucial for New York to maintain affordable areas like Ridgewood: "That was something I talked about at one of the first community meetings that I went to," she explains, "about the way we need to preserve this kind of neighborhood if we want to see a city where there was going to continue to be a middle class, or where people who come in without money might have a chance."
As another community advocate puts it, Rolo's is a "visible manifestation" of the gentrification that threatens Ridgewood's residents. "You are either for it, or you're not — there is no in-between," says Raquel Namuche, who has lived in the neighborhood for 15 years and started the Ridgewood Tenants Union, or RTU, an organization dedicated to, in their own words, fighting displacement. "We all want nice things," says Namuche. "They just shouldn't come at the cost of working-class tenants who've made Ridgewood their home for more than a decade."
The main reason that Rolo's, specifically, has gotten this much attention is because of its ties to a neighborhood real-estate developer. One of the restaurant's partners is a local real-estate investor named Stephen Maharam. A former textile company heir who sold his family's company to Herman Miller for $156 million in 2013, Maharam is also an investor and business partner of local developer Kermit Westergaard, who has bought 11 buildings in the neighborhood, eight of them in an area that one resident now refers to as "Kermitville." (Rolo's is named after Westergaard's dog.) To its critics, Rolo's is simply the most prominent sign that all of Ridgewood could soon be transformed into something else, and it raises an urgent question that gets asked all too rarely: When a neighborhood is poised to undergo a big transition, what happens to the people who have been there their entire lives?
"It's very much a symbol of what Kermit's doing in the neighborhood itself," Namuche says of the restaurant, "and I think that's why people have had such a reaction to it." (Much of that reaction has played out on an online community group, where Rolo's became such a frequent topic earlier this year that one member tried to divert the conversation by challenging others to post photos of food from anywhere else.)
For his part, Kalachnikoff says he understands his neighbors' concerns about his restaurant: "We're bringing something cool and easygoing and dependable and fun and affordable to the neighborhood — I'm surprised there just aren't more places already like that," he explains.
"Every individual has a right to do whatever business they do," says Adrian King, a longtime resident and the owner of King's Juice Bar on Seneca Avenue, but he believes it's disingenuous to claim development is always in the best interest of the neighborhood. "You're not from the community. You need to make yourself part of the community."
Even though the controversy around Rolo's is new, the friction regarding the new developments in the neighborhood dates back to at least 2014. That is the year that Namuche started the RTU and the year that Westergaard and Maharam bought a couple buildings, including one at 68-38 Forest Avenue.
Raised on the Upper East Side, Westergaard had moved into Ridgewood some years earlier, and received some attention for his interior-design work after the New York Times wrote about his renovation of his Stockholm Street home. With the help of investors, he bought a couple neighboring houses, and then eventually a handful of other properties. At 68-38 Forest Avenue, one of the existing tenants was Maria Thompson, who lived there with her family. She remembers that, at the time, the building was "kind of so-so," but that construction on the building eventually became "unbearable." According to Knight, the apartment was being renovated out from under Thompson, but Westergaard says the building "was clearly poorly managed and was in terrible condition," and that he worked for nearly two and a half years to resolve issues, including lead-paint violations and raccoon infestations, before deciding he had to get out the tenants.
In a 2016 complaint filed with the Department of Buildings, Thompson alleges that construction caused a gas leak in her apartment. "This is one of the more delicate things I lived through when I was there," she says. It allegedly took several days for the leak to be fixed, and that same year, Thompson, who lived with her husband, son, daughter, and granddaughter, was forced to spend Thanksgiving and Christmas without heat or gas in her apartment. Westergaard says that he tried to fix issues "in an affordable way," but he had to come to terms with managing a building "that's not safe or habitable."
Thompson was eventually evicted. She tried to fight it in court, but vacated the apartment in November 2017. When asked about this, Westergaard says that he never would've evicted the tenants at 68-38 Forest Avenue if it were possible, calling that "the one situation where I had something I wasn't able to solve."
Now, Thompson's old corner has a very different feel to it than it did when she lived there. The building is home to Forêt Wines, a natural-wine store; the cocktail bar Sundown, which opened in 2017; Cafe Plein Air; and the soon-to-open pizzeria Panina. Upstairs, the apartments above the new retail remained vacant until this January, when each — with new kitchens and flooring — rented for between $3,400 and $3,600 per month, more than double the rent that Thompson paid when she lived in the building.
"I get that our apartments are on the higher end of the market on Ridgewood," Westergaard says. He explains that his goal is to buy vacant buildings in need of rehabilitation. One such building, also purchased in 2014, is 467 Woodward Avenue. When he purchased the property, Westergaard says the interiors were not salvageable, the façade was peeling off the front, and the extension was collapsing. "Of course the worse condition, the better from my perspective because it's just more exciting," he says. "It's more of a blank slate; you can go really crazy with it." That building is now home to an upscale co-working space and a one-bedroom apartment that leased for $2,640 last summer.
Along with the co-working space, 467 Woodward is also the headquarters for several companies, including Westergaard's Hooper and Keap, a development and management company that gut-renovates, as well as a company called Valkyrie, a real-estate broker in which he is a minority stakeholder. Listings on Valkyrie's website tout "Ridgewood's exciting progressive retail scene" and call the area "an au courant retail community undergoing unparalleled boutique development." Two spaces are advertised as benefiting from "one of NYC's most rapid creative demographic shifts." Rental prices listed by Valkyrie can be twice or sometimes three times as much as other properties in the area, according to one survey by a group that was looking for a retail space in the neighborhood.
Westergaard also owns three buildings surrounding the Forest Avenue structure, all of which are filled with boutique businesses and renovated apartments asking higher rent than what has been typical in the neighborhood. Most recently, on February 24, he and investors bought another building, 880 Woodward, for $2 million, a 60 percent increase over what it sold for in 2017.
"It's extremely problematic when you have someone like Kermit, again, who just imposes himself in our neighborhood to carry out this extremely limited vision of how he thinks Ridgewood should develop," Namuche says. "It does not include me, it does not include my mom, my dad, my neighbors on this block. You know, people that are of a different demographic. It includes people who want to pay or can pay $3,000 for an apartment with marble fixtures."
Westergaard and Maharam contest this characterization. "We're the opposite of, 'How are we going to make a quick buck off the neighborhood?'" Westergaard says. "We're investing in the long-term economic health of the neighborhood." And other tenants, both commercial and residential, speak positively of him as a landlord. "In my time working with Kermit, I saw it as this guy really cared about the neighborhood, he raised his family there, and he was kind of bringing life back," says Lauren Nickou, an artist who was a tenant and employee of Westergaard's. "There were a lot of empty storefronts. To bring in new businesses seems like a positive thing for anyone in the neighborhood."
But what happens if that investment comes as the expense of current residents who can no longer afford their homes? Janelle Jirau, who runs Slow Rise Bagels, lives in the apartment where she grew up. If she moved out, she says, she wouldn't be able to afford another place in the neighborhood. "I know Ridgewood like the back of my hand," she explains. "So for somebody to say, well, you have to move, let's say to, like, Corona or Elmhurst, I don't know anything there." She's wary of anyone who stands to make money when residents have to move due to higher rent costs. "You can't say you want to be a neighborhood place if you're trying to reshape the neighborhood," she contends. "Are you catering to Ridgewood, or are you catering to a Ridgewood you're trying to create?"
Of course, not all new business owners are looking to push out current residents. The RTU has found a somewhat unlikely ally in Mike Stamatelos, who arrived in Ridgewood after leaving a high-profile financial consulting job to open a coffee shop called Porcelain. He found a space at 880 Woodward Avenue that made him excited, in part because it had been built out as a set for the Martin Scorsese movie The Irishman and didn't need as much work. He signed his lease in the spring of 2019 with Westergaard, who at the time was managing the property, enthusiastically noting the prospects of the neighborhood's changing demographics.
Since opening that November and struggling for several months, Stamatelos says that the pandemic actually helped his own bottom line, as he reopened more quickly than other neighboring businesses. But as business picked up, he began to get involved with RTU, and — as the Black Lives Matter protests formed around the country — he began to recognize his own role in the area's gentrification. He had been a vocal supporter of the BLM movement, both on social media and with signage in his shop's window, but it was through a conversation with Namuche that he understood a problem he hadn't thought about before. "I realized we are literally just capitalizing off of this type of marketing and not really doing it ourselves," he says. "I literally felt like the white guy coming from consulting, making a profit, capitalizing on social-justice issues because it's a hot topic, and I just felt like shit."
After that first conversation, Namuche and Stamatelos stayed in touch. Those conversations led him to see his own business "as part of the problem." Specifically, Stamatelos says that he started to wonder why all of Westergaard's tenants are a certain type of food-and-beverage business, appealing to a specific, often white demographic. "It's basically now that Rolo's is open, there is a viable case to say that this is a 'destination,'" he argues.
 
Since the summer, Porcelain has become involved with the neighborhood's homeless outreach project, making sandwiches weekly and posting a donation menu. "The more I'm learning, the more I have this propensity to divest this place from the model it was built to be," he explains, "which is very much rooted in a capitalist standpoint."
When Stamatelos walked by Rolo's in January, he admits he took issue, because they share a landlord and the restaurant's pandemic shift to a market-and-café model. He feels they are, in essence, offering a service that's too similar to Porcelain and the other tenants — a concern he outlined in an email to Westergaard: "I was mostly upset they were my landlords," Stamatelos says. "They had a ton of money, and they were competing with us willingly in a situation where they didn't have to." (When asked about this, Maharam responds, "I feel like Mike is angry and, to some (or a great) degree is blaming Kermit and maybe me for the fact that his business is not as robust as he thinks it should be … More and more restaurateurs will be coming to Ridgewood, like they go to every market that they believe has promise. This is not something new.")
Maharam acknowledges the pressure that rising rents puts on businesses like restaurants — and wanted to avoid that for himself and his partners at Rolo's. "We wanted to own the building so we didn't have to worry about — knock on wood — getting lucky and being successful and then finding ourselves priced out by the landlord," he explains.
Namuche says this is a pattern she's seen before, having spent her life organizing housing activists around gentrification in Queens. "Gentrification manifests in various ways, and it is very much a racist phenomenon," she offers. "I think because of the protests last year, people have to open their eyes a little bit more and think a little bit more deeply about how housing justice is really connected to racial justice."
Namuche thinks there's a better way, and the RTU has been working on a campaign for equitable development that includes getting new small businesses to hire local working-class and immigrant tenants, and a community-led rezoning plan. "We could set an example for how neighborhoods develop in a way that's really equitable, in a way that could make it livable for everyone," she says. "The only way we're going to make a dent is if we grow a base of folks who are the most vulnerable and the actual targets. Our goal is to empower these immigrant families, working-class families, families of color."