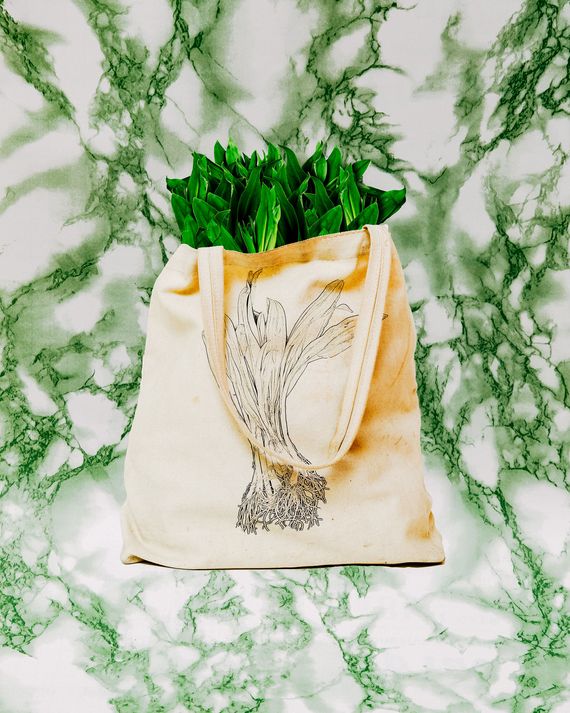 Ramping up.
Photo: DeSean McClinton-Holland
Right on schedule, it is ramp season. The leafy little wild onions — which are famously impossible to cultivate and must be foraged like truffles during their very short growing season — are expected to arrive at the Union Square Greenmarket tomorrow, and if you can settle for Appalachian imports, you can even get them at fancy supermarkets now. Do we have to do this every year? you, a ramp skeptic, may point out. That would be fair except for one thing: This is no ordinary year. The possibility of a post-pandemic future is so close you can taste it. What it tastes like is early-season ramps.
Last year was apparently a robust ramps season, but it was somewhat overshadowed by the constant wail of sirens. Restaurants were closed, and if people were foraging, it was mostly for Clorox wipes on the internet. Who in April 2020 could get worked up about the coming drop of limited-edition leeks?
Plenty of people don't get worked up about ramps at all, which is fine. Until this year, I too had resisted the allure of ramps, mostly on account of the price (hovering around $5 per tiny bunch at the Greenmarket) but also because of a general discomfort with collective enthusiasm. I am not opposed to enthusiasm in general, but it should be done in private, like Googling casual acquaintances. Public enthusiasm is for the kind of people who volunteer at magic shows.
Over the past year, though, I have given in: Who am I to turn down any scrap of joy? I made the sourdough that everyone was making and regrew my scallions and watched Love Is Blind and got weirdly into holidays, which were at least an indication that time was passing. Now we're all posting selfies of our vaccine cards and eating free Krispy Kremes, which in its own way is another kind of solidarity.
It is fun to be excited about the same thing as everybody else, it turns out! This is obvious if you have been a fan of anything, but I never have. Now I am a fan of so many things! For example, ramps. People will tell you ramps taste like stronger leeks or garlicky scallions, but what ramps actually taste like is anticipation.
"I think mostly they're symbolic," says Liz Carollo, the assistant director of food access and agriculture at GrowNYC, the organization that oversees the city's Greenmarkets. "They're a harbinger of spring."
New York's farmers' markets did not close last year, one constant in a city upended by plague. "It was crucial that we hustle," Carollo recalls. "And that's what we did." Safety measures were quickly implemented — no touching, no groups, no samples, no dogs — and with most of the city cooking at home more than ever, the Greenmarkets became destinations. While certain commuter-focused sites did go on hiatus, "the neighborhood markets flourished like never before," Carollo says. "It was like one little slice of normalcy — the markets were often the one place where you could go outside and actually, like, see another human and have a conversation." In some ways, they also felt like the safest option: grocery shopping but outside.
As the local growing season picks up, many of last spring's COVID precautions are still in place, but there are signs of progress. Certain producers are allowing customers to handle produce again (they have to apply for special permits). Last week, the markets finally implemented their plastic-bag ban. There are as yet no free samples, but the dogs have returned. ("That was a painful one," Carollo says of the temporary canine ban. "We love dogs in the market.") And many previously cash-only vendors now accept credit cards, a win for convenience when weekly produce runs can add up quickly. (A $5 bunch of ramps is very small.)
If Carollo's forecast is right, it should be another banner year for the Greenmarkets. "People are certainly out more and more and, I think, still cooking a lot at home," she says. Travel is still likely to be down, but on the upside, there is stone fruit.
After 12 months of unending bleakness, the ramps are here, and with them, the quiet thrill of hope. Even if I have never before cared about ramps, I do this year. I don't know how I'll cook them — so far, I have tried "putting them in a pan," a classic family recipe — but for now, I'm happy to surrender to the wild excitement of wild leeks.