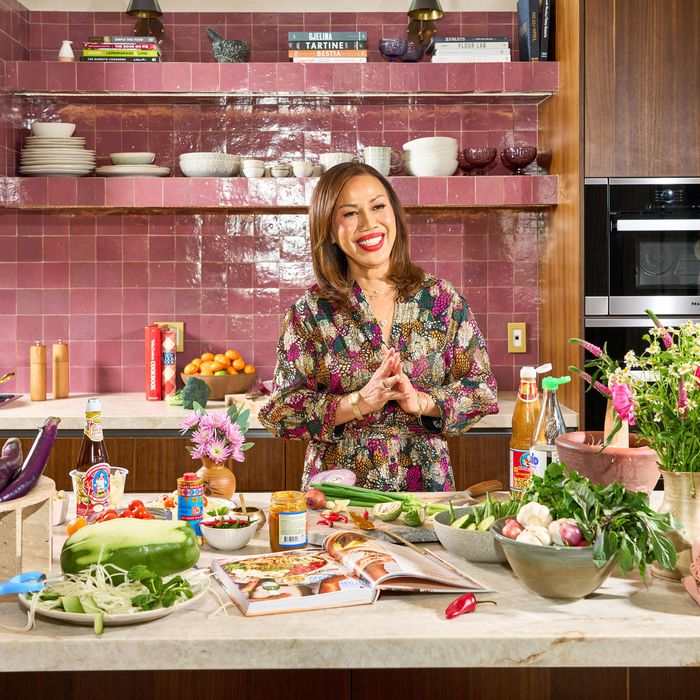 Teigen, inside the home she shares with her daughter Chrissy and her family.
Photo: Michelle Groskopf
It doesn't take long to figure out that Pepper Thai — a.k.a. Pepper Teigen, real name: Vilailuck Teigen — has perhaps the world's most appropriate nickname. "At Thai restaurants, they always ask you, 'How spicy? One through five stars?'" she says, grinning. "I always tell them, 'Ten.'" We are connected via Zoom. I'm on the East Coast, and Teigen is talking to me from a sunny California kitchen in the home she shares with daughter Chrissy, son-in-law John Legend, and her two grandchildren, Luna and Miles. From the other side of the country, she has agreed to teach me how to make a traditional papaya salad, which of course features two different kinds of Thai peppers.
"When I was growing up, I had no choice. We had to eat what my parents ate," she says of the early, fiery meals she ate while growing up just outside the northern Thai city of Korat. "There was crying and tears," she laughs, "but Mom would say, 'It's gonna get better!'"
Many may be familiar with Teigen primarily as the mother of multi-hyphenate Chrissy. But Teigen has become a star in her own right, with an Instagram account boasting over 400,000 followers and her first cookbook, The Pepper Thai Cookbook: Family Recipes From Everyone's Favorite Thai Mom, which will be released this week. And while Chrissy has become a force in the food industry with her company Cravings, it would be a mistake to believe that her mother is simply riding the coattails of a daughter's success.
Teigen, rather, began her cooking journey at the age of 6, when she, as the oldest of her five siblings, accompanied her mother to the market, arriving at two or three o'clock in the morning. Her earliest duty was simply to guard the large basket of food from being stolen, but she soon graduated to slicing and peeling fruit and vegetables. These became the backbone of the ten-plus dishes that her mother would serve at lunchtime, from a stand, to hungry children from the local school. Teigen, meanwhile, would come home from the market around 6 a.m. and then have sit through an entire day's worth of her own classes. "I didn't do very well in school at all," she tells me as she mixes together chili peppers, garlic, cherry tomatoes, and lime for the salad dressing. "And my uniform was always green from chopping all the papaya," she recalls. "The stains never came out!"
In 1984, with her then-husband Ronald, Teigen moved to America, where she would get her nickname. At Porky's Tavern, a bar in Longview, Washington, that the couple owned in the 1980s, she was known for munching on raw chili peppers while mixing up drinks for the incredulous customers. To this day, Teigen keeps them in her purse at all times, along with a mini pantry of emergency ingredients. "I have MSG and chicken bouillon traveling with me — I can do anything!" she says. "I went to a hot pot restaurant and dropped in my own chicken bouillon; it made the soup taste so much better!"
That's not to say she disdains American dishes or ingredients. She loves to add depth to a classic Thai chicken recipe with bottled barbecue sauce. "And what is that fish that's in a jar?" she asks aloud.
"Sardines?" Legend calls as he helpfully places a plate in the sink behind Teigen.
"Yeah! I love sardines."
When she and Ronald ran Porky's, she was also in charge of preparing much of the bar food for the customers, mostly dishes that she had never tasted before coming to America, like hamburgers and spaghetti and meatballs. She credits her mother, who never used recipes and cooked by intuition, for giving her the confidence to tackle unknown foods. She did, however, introduce egg rolls to the regulars: "I didn't know people loved them so much," she says, shaking her head, apparently still in disbelief all these years later.
But her time at Porky's wouldn't last long. Ronald's job as an electrical engineer meant the family would move every couple of years: first to Utah, where Chrissy was born, and later to California, Seattle, Idaho, and Hawaii, among other stops. "I'm so glad we got to move a lot," Teigen says. "It made me learn about people." (It also gave her fodder for her growing collection of American recipes: The time in Idaho, for example, allowed her to perfect scalloped potatoes, a favorite dish of Chrissy's that appears in the new cookbook.)
She did not, of course, realize at the time that cooking would lead to any kind of fame. But when she and the family visited Thailand just before the pandemic, she returned not just as the daughter of the school lunch lady, but a celebrity. "People recognize me," she says. "Especially at the market." Teigen, Chrissy, and Legend were even given the keys to the city: "We wanted to go back to Thailand now, but you still have to quarantine," Teigen explains. "I said, 'What about our keys to the city?'"
Teigen finishes plating her own salad onto an arrangement of lettuce leaves just as her grandkids come barreling through the door. She helps Luna clamber up onto the counter and prompts her to say "Sawadee ka" — "Hello" in Thai — and then shows her the freshly made dish, which prompts a "Yummy!" from Luna.
Teigen, of course, is teaching both her grandchildren not only how to speak Thai, but how to eat like a Thai as well. She tells me that Luna is just starting to experiment with some heat: "She's proud!" Teigen says — visibly proud herself. As we're about to log off, I ask her what's next after the cookbook launch. "I just want to be with my family, take care of the grandkids," she replies. "That's my dream."