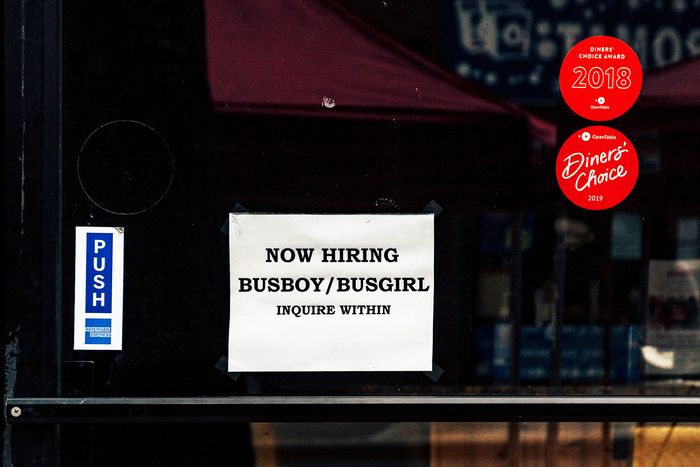 A "Help Wanted" sign outside a Brooklyn restaurant.
Photo: DeSean McClinton-Holland
It's spring in New York, fresh streeteries are sprouting up along the city's sidewalks, and "Help Wanted" ads — soliciting "experienced" line cooks, dishwashers, and bartenders "for immediate start" — are visible in an ever-growing number of restaurant windows and on social-media accounts. After a yearlong employment crisis, the city's hospitality industry is slowly coming back. In February, according to the latest data available from the state, there were 49 percent* fewer jobs than the year before. That seems to be changing, but now the people in charge of hiring face a new problem: There aren't enough workers eager to fill the available jobs.
"We would like very much to open Txikito," says the chef Alex Raij, who temporarily closed the Chelsea tapas restaurant last year, "but we just have such a reduced pool of talent."
Raij, one of the city's most accomplished restaurateurs, is hardly alone. New York's bar and restaurant owners say that the national hiring crisis is compounded in the city, where an exodus of hospitality workers during the pandemic has led to what they say is an unprecedented talent shortage. Adding to that, the city's immigrant population — which makes up the majority of restaurant labor, according to the state comptroller — has decreased "substantially" in the past five years, and the city's overall population fell by 126,355 in the months following the arrival of COVID-19 in New York. And still other business owners say that they have former employees who've simply exited the industry to, for example, get a graduate degree, go to mortician school, or focus on their primary careers, like dancing.
"When the second wave hit, I completely lost all of my staff members," says Marva Babel, a co-owner of Ode to Babel in Prospect Heights. "Everyone just decided to move outside of New York or to pursue other things that they were thinking of doing." Babel says that as she geared up to reopen for limited service, she reached out to other operators. "Everyone was saying, 'Good luck. It's been hell.'"
Sakura Yagi, the COO of T.I.C. Restaurant Group, which operates a variety of Japanese restaurants in Manhattan, says it's been the same for her company. "The people we've reached out to who used to work for us, they are no longer in the city," she says. "I just had someone come in yesterday, one of our best chefs at Sobaya — he moved upstate with his family."
For many, when the city's restaurants shut down, there was simply not enough incentive to stay. After months of looking for a restaurant job in New York, one cook, who is on a visa, moved to Houston when her former employer asked if she was open to relocating. Another moved to Pennsylvania, unable to afford the city on her reduced salary. And now that she's near her family, she just doesn't want to come back.
The pandemic amplified the many extant problems in the business model for bars and restaurants, and the past year only served to heighten the emotional and physical toll that's often inflicted on workers. One bar employee, Derek Nielsen, summed it up simply when asked what conversations he's having with friends who've left the industry: "All the good parts about service are gone. The dynamic just got really intense."
Kitchen work is especially marked by long hours, grueling physical labor, and low pay (often without the guarantee of health insurance). So, some owners are increasing pay or attempting to build a better business model to try to attract new employees. When Keavy Landreth and Stephanie Gallardo opened their Bed-Stuy bakery, Love, Nelly, in July, they committed to paying staff $20 an hour, and they implemented a no-tipping model in the hopes of providing more equitable pay among workers. Meanwhile, in Boerum Hill, Eric Finkelstein of HiHi Room says the restaurant has increased cooks' salaries, paying $20 to $23 per hour, up from the pre-pandemic wage of $18 to $20, and Yagi says T.I.C. has increased wages for some positions from $15 an hour up to $17 or $19.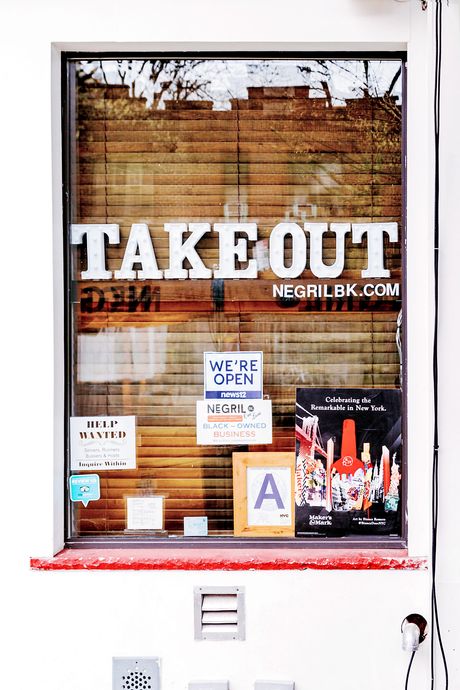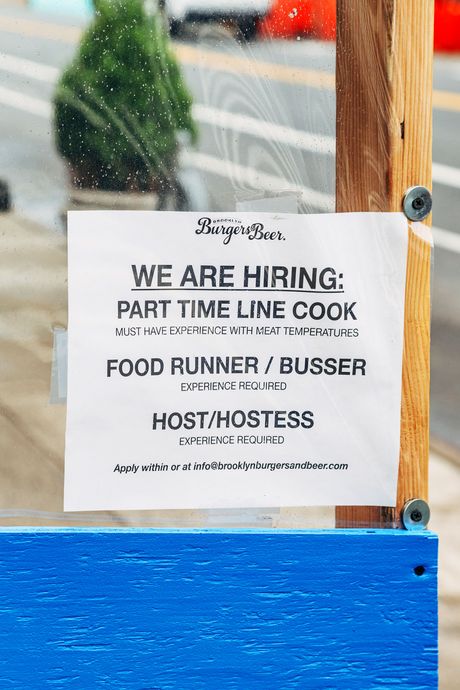 Still, not everyone wants out of the city — but they may not be looking for traditional restaurant jobs. Raij, for one, believes some of the cooks she may have previously hired have now taken jobs at ghost kitchens; other cooks and bartenders have been able to carve out their own spaces via pop-ups. And one former beverage manager of a Brooklyn bar says that when the business closed, he was "freaking out" about his lack of job prospects.
When an opportunity arose, he took a job working for a business-software company. Now, he has a stable schedule and benefits that he never got before — like paid time off — and is unsure if he'll return to hospitality work. "The things servers and bartenders have to do — it's not an easy job," he says. "I really loved my job, but some perspective helped me see how unhealthy it might've been in a lot of ways, and also how addictive it was."
For many, being forced to take time away from the industry was a chance to reexamine their place within it. "Since I became unemployed, I'm like, 'Okay, now I actually have to think about these things, and what do I actually want?'" says Gabby Namm, who, since being laid off in March 2020, has worked with her partner to open a Filipinx pop-up called Sweet Angel Baby's. While Namm recently took a job cooking a couple shifts at a bar, her previous experience in an abusive kitchen environment made her want to get out of working in restaurants and move on from the hierarchical structure inherent in many kitchens. "It's something I have been thinking about: I've been wanting to get away from this really toxic kitchen culture, but how do I do that?" Before the pandemic, leaving seemed impossible. "I wasn't really making that much money as a line cook," she says, "so how could I get away from that when I don't really have that much money to begin with?" As with others, after the shutdown forced her out of restaurant kitchens, the industry's low pay offered little incentive for her to return.
Unemployment benefits also offer incentive to delay returning to an industry with notoriously low wages. "For service-industry folks, it's super sick," says Cory Best, who was working as a bartender until the March shutdown. New York's Department of Labor determines unemployment benefits based on your highest paid quarter of the year, or as Best puts it "your highest-earning week, which is that freak week that you worked three doubles." He says he's making "more money than I've ever made in my life," but it's not as if he's flush with cash. Instead, the money has allowed him to set aside some savings for the first time, something he was unable to do while working. Still, it's only enough to last a few months.
Even one restaurant owner, who wished to remain anonymous, concedes that he understands the appeal: "Why would people work full time if they're going to get the $500 or whatever anyway? I can't blame them for that."
Landreth, from Love, Nelly, says this discrepancy is one reason she decided to rethink the pay structure at her new bakery. "The issue isn't that people are being paid more for unemployment," she explains. "The issue is that they're not being paid enough for their jobs."
That point, often made during the pandemic and subsequent shutdown, speaks to the larger issue, one with no immediate resolution in sight: If operators want to attract talented labor back to work, the onus is now on them to make the jobs more attractive. According to one report from last February, the average U.S. worker can no longer afford a family of four on a year's salary. Many restaurant workers feel the squeeze of income inequality — which the pandemic exacerbated — and find themselves impoverished or unable to afford to live in places like New York. The recent hiring struggle makes it clear that, for the workers who left the city or left the industry, returning to the way things were simply isn't an option any longer.
This post has been corrected: in February, 2021 there were 49 percent fewer jobs in New York City's food and drinking places as compared to February, 2020, not the 59 percent originally stated.