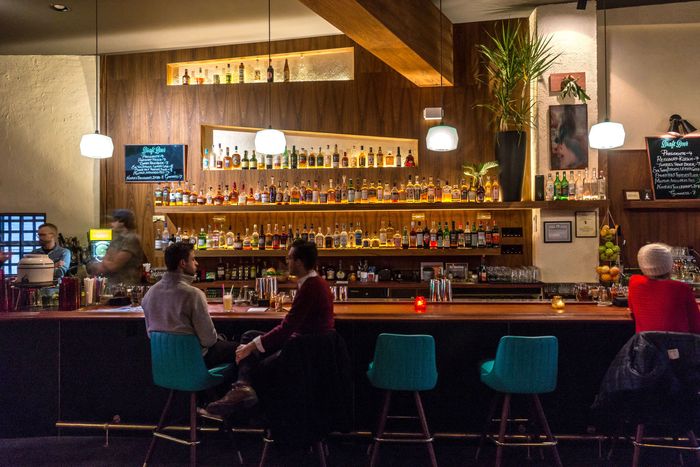 Diamond Reef.
Photo: Paul Wagtouicz
At the end of November, the owners of Brooklyn's popular Diamond Reef shut down the bar for what was supposed to be a temporary closing. Like many other restaurant and bar operators, they decided it was better to hibernate through the winter. Today, the coldest days of winter are now very much behind us, but the bar won't be reopening. In an Instagram post, the owners announced that Diamond Reef has closed for good, which they say is not because of the pandemic but a result of the building's sale to a new landlord. (They do add that they're looking for a new location.)
"The landlord had an option to terminate our lease starting at the beginning of 2021, which he exercised," Dan Greenbaum, who opened the bar with Sam Ross and Michael McIlroy, writes to Grub. "Our lease was set to expire in 2024, but the building — along with most of the block — was recently sold to a developer who plans to build a 490,000-square-foot building. We tried to get them to extend our lease and let us stay at least through the summer, but they weren't interested."
Located on a stretch of Atlantic Avenue with an auto-body center and a plumbing and heating supply store, Diamond Reef was a departure both from its immediate surroundings and the owners themselves. All three owners worked for the late Sasha Petraske, the bartender credited with bringing about the "classic cocktail revival," and Ross and McIlroy worked together at Milk & Honey and later teamed up to start Attaboy. Diamond Reef had a much breezier bent, more casual and drastically more tropical. When it opened, it felt like another sign of the shift away from more serious, buttoned-up cocktail bars (like Milk & Honey) with its frozen Penicillin (called, appropriately, the Penichillin) and very, very dirty Steakhouse Martini. Food was served from a taco truck parked in the backyard, which was one of the nicer places to hang out and drink a cocktail in the area.
The bar was popular with the Brooklyn media crowd — one editor I know says she feels like was there "every weekend of 2017" — and it was also a bartender's bar. Last year, one person in the industry told me that during the pandemic she spent her days bouncing between her apartment, the bar she worked at, and the bar she drank at. That last was Diamond Reef.
"Diamond Reef was one of my happy places; I knew I was going to have a good time there every single time I went," says Adriana Caguana Uyaguari, another fan who has worked at some of the city's more popular cocktail bars. "I have a lot of love for the people working there."