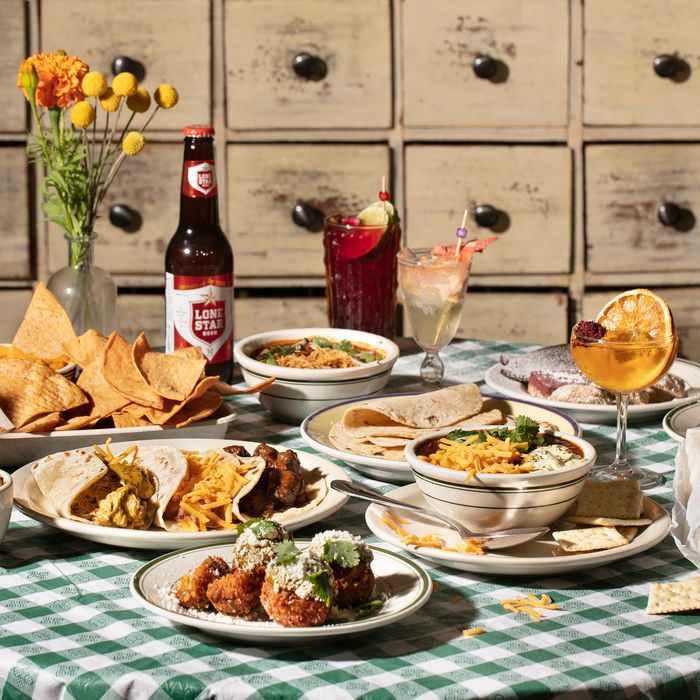 Yellow Rose, an East Village love letter to Texas.
Photo: Melissa Hom
It's hardly a secret that the coronavirus pandemic has been disastrous for New York's restaurants, but by now it's also common knowledge that, whether forced by circumstance or sheer force of will, dozens of enterprising operators have opened new businesses, even while the industry confronted an unprecedented existential crisis.
Those owners who are brave or privileged enough to make a go of it are taking advantage of more affordable commercial real-estate opportunities or different modalities for negotiating a lease. And fed up by certain inequitable structures of the hospitality industry, many owners have used the pandemic as a chance to finally see their visions through for the first time, now on their own terms.
Even in an era of ongoing uncertainty, one thing is clear: Despite the obvious risks of opening a new storefront amid a global catastrophe that has been uniquely devastating for the already-fragile hospitality business, plenty of new spots are opening across the five boroughs. Here is a breakdown of 78 such spots — an admittedly incomplete index, presented in no particular order — that are definitely worth putting on your radar immediately.
Chef Katsu: In Clinton Hill, a Japanese fast-casual spot with katsu burgers and rice bowls joins the neighborhood.
Pupusas Ridgewood: A new women-owned pupusa spot in Ridgewood serves casual Salvadoran bites in a space filled with family knickknacks.
Mao Mao: In Bushwick, a new cinema serving Thai street food has opened with vintage ephemera to boot.
Ursula: After Eric See closed his bakery the Awkward Scone during the pandemic, he decided to take a chance on a new business that's even more personal, this time in Crown Heights. Ursula focuses on the New Mexican delights of his childhood, such as sopapillas and burritos with Hatch chiles that complement baked goods by Lani Halliday of Brutus Bakeshop.
Kimpanadas: Formerly a pop-up at the Prospect Heights bar Finn's Corner, Kimpanadas has now opened as a brick-and-mortar in Cobble Hill.
Nene's Deli Taqueria: Andrés Tonatiuh Galindo Maria, an alum of Jean-Georges, opened his own taqueria in Bushwick with a focus on quesabirria.
Aunts et Uncles: A stylish vegan café and boutique selling clothing and music debuted in Flatbush from a local couple.
Native Noodles: A Queens Night Market vendor specializing in Singaporean delights gets the main stage at its first brick-and-mortar, now in Washington Heights.
The Acre: After a stalled opening, the Acre is bringing vegan poutine and tofu Wellington to Ridgewood.
Any Thing: A new cocktail destination has opened in Prospect–Lefferts Gardens attached to its sibling, the ramen spot Mo's Original.
Bạn Bè: Doris Ho-Kane's cookie tins quickly garnered a lengthy wait list. Now, Ho-Kane has opened her own Vietnamese bakery brick-and-mortar in Brooklyn with a more full-fledged menu to be unveiled in the coming months.
Keep in Touch:  MeMe's Diner co-owner Libby Willis is turning the former Prospect Heights restaurant space into an incubator for pop-ups.
Rialto Grande: Crown Heights has gained a new bar outfitted with gold tinsel and a menu of cocktails, natural wines, and beers.
Fat Choy: Fat Choy's vegan, "kinda Chinese" menu offers dishes like a mushroom sloppy made with a sesame pancake, salt-and-pepper cauliflower, and rice rolls on the LES.
Love, Nelly: Although boozy bakery and bar Butter & Scotch closed during the pandemic, its team is still bringing joy to Brooklyn. Love, Nelly, features a roster of Colombian-inspired sweets and empanadas influenced by co-owner Stephanie Gallardo's mother's cooking.
Xilonen: From the team behind Speedy Romeo and Oxomoco, Xilonen offers experimental plant-based Mexican bites near McCarren Park.
Yumpling: The celebrated Taiwanese food truck goes brick-and-mortar in Long Island City.
Bode Tailor Shop: After neighborhood fave the Classic Coffee Shop closed on Hester Street, menswear designer Emily Bode took over the space. Although it primarily functions as a tailor shop for customers of her BODE store next door, the Classic Coffee coffee-maker will remain to serve customers who stop by.
Bilao: A Filipino restaurant started by nurses opened during the pandemic to meet the needs of workers at nearby Upper East Side hospitals.
Cadence: Tireless restaurateur Ravi DeRossi's latest opening, a vegan soul-food concept in the East Village, is led by chef Shenarri Freeman.
Dame: The fish-and-chips pop-up from Patricia Howard and Ed Szymanski that garnered fanfare this past summer will soon open as a full-blown English seafood restaurant in the West Village.
Medan Pasar: A new member of New York's thriving Malaysian food scene brings curry laksa to the East Village.
Fulgurances, Laundromat: An outpost of the Paris chefs' residency, Fulgurance is set to open this spring in a former Greenpoint laundromat — hence the name! — with the intent to promote up-and-comers in the industry.
Public Village: A restaurant featuring Dongbei cuisine lands on the Lower East Side with spicy noodles.
Galioto's: A new vegan Italian deli from the folks behind the JaJaJa restaurants has opened in Little Italy with sandwiches, pantry staples, and more.
Daughter: A community-oriented coffee shop with a charitable mission joins the neighborhood in Crown Heights.
For All Things Good: At their Bed-Stuy café, Matt Diaz and Carlos Macías highlight their love of fresh masa in dishes such as tetelas — triangles of masa filled with hibiscus flowers and salsa chipotle — and egg-stuffed gorditas.
Burgie's: Roberta's has gotten into the burger game, opening this spinoff in East Williamsburg.
Followsoshi: A new noodle destination has opened as a stall inside a Flushing mall, spotlighting dishes from the Heilongjiang province of China.
Le Petit Monstre: French pastries are the central focus of this Brooklyn Navy Yard spot. All the offerings are vegan, which is also true of the team's other destinations: Izzy Rose and Clementine Bakery.
Edith's: After pop-ups at Paulie Gee's that garnered intense fanfare, Edith's is now its own permanent sandwich counter in Williamsburg.
Yellow Rose: A new restaurant inspired by owners Dave and Krystiana Rizo's home state of Texas offers carne guisada tacos and sheet cake with a dose of fun out of the East Village.
Milu: Eleven Madison Park alum Connie Chung's first solo project has already garnered some serious buzz for its fast-casual Chinese menu in the Flatiron District.
Nneji: Beatrice Ajaero, who owns Ibari, a stall at a Roosevelt Island weekend market, has brought her West African comfort food to Astoria.
Edy's Grocer: Taking over an old neighborhood Polish deli, caterer Edouard Massih took a chance on himself with his Lebanese grocer concept in Greenpoint.
Seitan Rising: A cooperatively owned, made-from-scratch vegan lunch spot and bakery debuts in Bushwick.
Pecking House: This chili-fried-chicken restaurant concept from Taiwanese-American chef Eric Huang has an ever-growing wait list.
Winona's: This new natural-wine bar on the Bed-Stuy–Bushwick border has been hosting several exciting residencies with chefs such as Elisa del Prato and the team behind Auxilio, a forthcoming Brooklyn culinary center focused on bringing more equity to the hospitality world.
Pulkies: Jewish-style barbecue is what's for dinner at this new comfort-food joint in Downtown Brooklyn.
Yun Café: An underground Burmese restaurant thrives in Jackson Heights.
Winner: This Park Slope bakery has hosted some of the pandemic's most exciting pop-ups, including Doshi and the Gueros.
Gage & Tollner: The landmarked Brooklyn restaurant's much-awaited relaunch (from St. John Frizell, Ben Schneider, and Sohui Kim) was thwarted by the pandemic. Now the team can finally bring in diners eager to see their meticulous restoration job.
What's the Scooooop: A family-run ice-cream shop with vegan options debuted in Ditmas Park.
Silver Apricot: After closing Little Tong Noodle Shop, chef Simone Tong set her sights on fine dining with this spot in the West Village.
Kokomo: A Pan-Caribbean restaurant that always feels like a party is humming along in Williamsburg.
Ruta Oaxaca: This mole-focused restaurant brings Oaxacan flavors to Astoria.
Blue Willow: A Hunan and Sichuan spot offers heat in midtown.
All Night Skate: This retro skate-rink-themed bar is cultivating the queer community in Bed-Stuy.
ACQ Bread Co.: A new kind of bakery with an anti-capitalist mission, ACQ launched a collaborative initiative with artists to raise money for bread donations to food-insecure folx in South Brooklyn.
Falansai: A reimagining of the shuttered Falansai at the same East Williamsburg location is now in the hands of chef Eric Tran for his take on Vietnamese American fare.
World's Wurst: Despite its name, World's Wurst is a downtown hot-dog stand specializing in sausages, burgers, and other handheld fast food that would be ideal for warm-weather park hangs.
Playdate NYC: A Flushing game center with Taiwanese cuttlefish balls and popcorn chicken attempts to bring back recreational fun.
Talea: The two women who own this Williamsburg taproom want to dispel the clichés of "chick beer" with an early focus on hazy IPA's and goses.
Cafe Moca: A vegan café and smoothie bar with takes on chopped cheese and chorizo y huevos is now serving in Ridgewood.
Bolero: A farm-to-table Vietnamese restaurant in Williamsburg taps into chefs Matt Le-Khac and Jimmy Tran's collective heritages using Le-Khac's family farm.
Chito Gvrito: Enjoy oozing khachapuri at this new Georgian restaurant in Gramercy.
Cozy Royale: The Meat Hook team expanded in Williamsburg with its first-ever full-service spot, focused on, you guessed it, meat.
Lhasa Tibetan Restaurant: Sadly, Lhasa's iconic speakeasy-style location in Jackson Heights burned down earlier this year. Thankfully, however, New Yorkers can still get their momos at an expanded Manhattan outpost, which opened during the pandemic in the East Village.
Cafe Calaca: Although this standout Bed-Stuy Mexican restaurant closed during the pandemic, the team is pivoting to a new café concept opening soon nearby.
Fin du Monde: An eclectic French restaurant that quietly debuted in Greenpoint with classic brasserie fare and zero white-tablecloth pretension.
Dhamaka: The long-awaited Essex Market restaurant from the team behind Adda takes a regional focus with its menu, introducing diners to a more expanded repertoire of Indian cooking.
Agi's Cafe: A new Eastern European Jewish–inspired lunch counter and bakery from Jeremy Salamon, the former chef at the Eddy, is opening imminently in Brooklyn.
Kjun: Jae Jung experiments with Korean and Cajun flavors inspired by her time spent working for soul-food icon Leah Chase in New Orleans. Currently, the concept is delivery only.
Impasto: Square pizza comes to Clinton Hill at this new takeaway spot from the team behind Aita (which is located across the street).
The Migrant Kitchen: Latin and Arab flavors meld in a new Financial District home for this restaurant and charitable organization.
Double Chicken Please: Top-notch chicken sandwiches and cocktails take the stage at this former roaming pop-up turned bar on the Lower East Side.
Peter's Crunch Red Tacos: Hailing from Tijuana, this Bushwick taco truck joins NYC's fast-expanding birria scene.
Sonia's Crab and Finn: A new seafood spot seems to be going swimmingly on Bed-Stuy's Nostrand Avenue.
Kimika: This restaurant brings rare Japanese-Italian dishes to Soho.
Fan-Fan Doughnuts: Celebrated chef Fany Gerson goes solo with her own doughnut concept, housed in the Bed-Stuy location of her former place, Dough, after announcing her split from that now-defunct venture's partners.
The Blue Light Speakcheesy: A nonalcoholic Greenpoint bar called Getaway is now home to one of the city's most exciting breakfast-sandwich spots.
Ras Plant Based: At this vegan Ethiopian restaurant in Crown Heights, everything is perfect for sharing.
Good Judy: Sleepy Park Slope has a new queer venue with drinks and (eventually) events at this sister to Bed-Stuy's C'mon Everybody.
Haizea: Chef-owner Mikel de Luis takes a risk on a Basque restaurant in Soho.
High Low Beverage Company: Stop by this low-key Vietnamese-influenced café and bar in Bushwick with a baked-goods menu developed in collaboration with Matthew Tilden of SCRATCHbread.
7 Grain Army: Tilden is also set to open his own bakery, a follow-up to SCRATCHbread, with a gluten-free pastry program in Williamsburg.
Louie's Luncheonette: A vegan deli counter with to-go sandwiches has landed in Greenpoint.
Cafedelia: The West Village gained the perfect place to have a Georgian feast of khinkali.