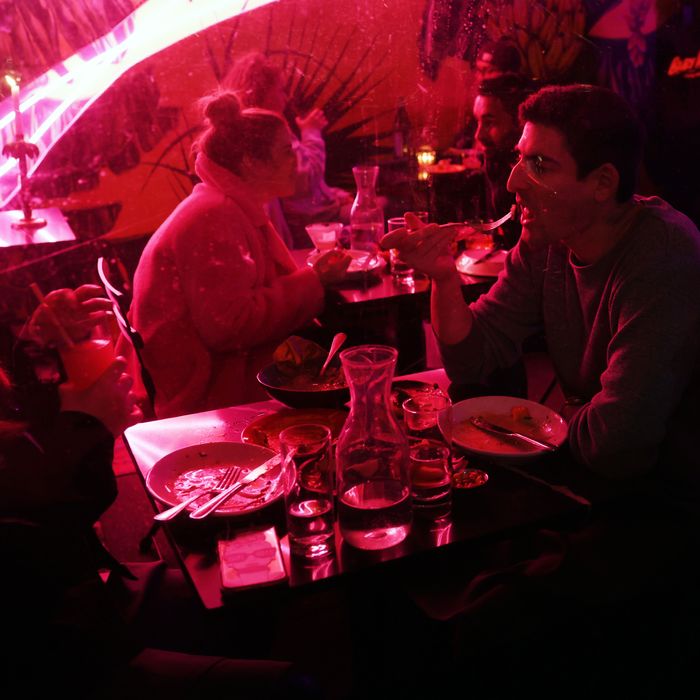 Diners in New York City who may or may not give up their table when they're finished eating.
Photo: Spencer Platt/Getty Images
At Cote, the Michelin-starred Korean steakhouse in the Flatiron District, everything is changing. Tables for two are growing to four- and six-tops. Customers are still socially distanced, but they're also having fun. They're even "rambunctious," according to proprietor Simon Kim. "They're ordering like they're on expense accounts — and they're not." But that's not all that's changed, he says. "People used to be busy. Now they like to hang out."
As New York City restaurants open to 50 percent capacity, customers are being welcomed back, but some owners and managers face a new, somewhat unexpected challenge. Amid happy reunions, ample drinking, and long-delayed special-occasion meals, the usual turnover time for tables is going out the window. Restaurateurs have spent the past year longing to get customers back into their dining rooms. Now, some of them don't want to leave.
Since people don't have to race back to the office after lunch, don't stop by for after-work drinks, and all eateries must close by 11 p.m., guests are concentrated into fewer hours at fewer tables. "We're not seeing that post-work rush. The suits are definitely missing from the room," says Scarpetta's Bryan Siegel, the director of guest relations and experience at LDV Hospitality. "Weekdays, the majority of guests come between 6:30 and 8 p.m."
Scarpetta is just one of many eateries where the staff members try to enforce time limits: The restaurant includes a written "90-minute policy" in confirmation emails, Siegel says, and also deploys an automated SMS message one hour before the guests' arrival "to remind them of the time limitation." Nonetheless, they try to be kind, he notes, "especially when so many have not been able to enjoy restaurants in quite some time."
As Tony Fortuna, the owner of TBar Steak & Lounge on East 73rd Street, puts it, "I think this past year has really made people appreciate the normalcy of being able to go to dinner with friends and not have to sit six feet apart to speak."
Overstaying guests can be particularly troublesome for Broadway-area eateries, which have already faced gut-wrenching drops in business. They used to be able to count on not only the brisk pretheater traffic but the fact that first-seating diners fled by curtain time. "Now, we have one seating," says Vlada Von Shats of Russian Samovar on West 52nd Street, down the block from the August Wilson and Neil Simon theaters. "And it's 6:30 to 11."
When she appears tableside to nudge lingering diners along, Von Shats says, "They say, 'Yes, yes, yes.'" But when "I come back to the table 15 minutes later, they say, 'Yes, yes, yes.'" So Von Shats wraps up any remaining food to go. "I have to apologize profusely — a lot." (She doesn't even bother approaching her Russian regulars, she notes, because they just won't move.)
On the Upper East Side, the lunchtime regulars, too, are back at the Mark hotel, as are guests who like to linger at the outdoor tables to people-watch on Madison Avenue. According to the hotel's general manager, Manuel Martinez, "The pent-up demand created pressure on our books." But the restaurant's team opted to nudge mealtimes rather than diners. So it upped total outside and inside seating to over 200, dotting 77th Street with black-and-white-striped umbrellas and patios, and has an all-day dining model: Breakfast, lunch, and dinner are available from 11 a.m. to 11 p.m. Now, "We have seen guests asking for dinner reservations as early as 4 p.m.," Martinez says. "We like being busy."
This busyness certainly isn't across the board — far from it. Thousands of New York restaurants are still shuttered or struggling to stay in business. But eateries like Cote and Michael White's Osteria Morini are booked to 100 percent of their currently allowed capacity. Of course, that's still about 50 percent of the business they'd normally have.
But managing the flow of customers is crucial, since staff members need cushions of time between parties to clean the tables thoroughly, and most customers don't understand how much time and effort goes into proper safety measures.
"It's challenging" to graciously move guests along, says Barbara Sibley, owner of popular NYU hangout La Palapa on St. Marks. With social-distancing measures in place, customers see empty tables "and think, Oh, they're not too busy." More people are taking their time as they celebrate delayed special occasions or reunions with friends, Sibley notes. "You used to be able to comp people at the bar to get them to move along but not anymore."
Nevertheless, restaurateurs stress that this is a problem they are happy to face and that they want to be very understanding with customers. Many restaurants have set up detailed and customized emails that tell diners what to expect, whether or not to dress warmly, what happens in the event of rain, etc. The note from Kyma, a Greek spot with locations on West 18th Street and Long Island, even reminds diners to "please keep in mind that dancing is prohibited." But most include time limits — generally 90 minutes for a couple, two hours for larger parties — just so there is no misunderstanding.
Of course, sometimes the lingerers look very familiar. Sibley says that at La Palapa, "There were always guests you couldn't get to leave before the pandemic, and sometimes it's the same ones now."