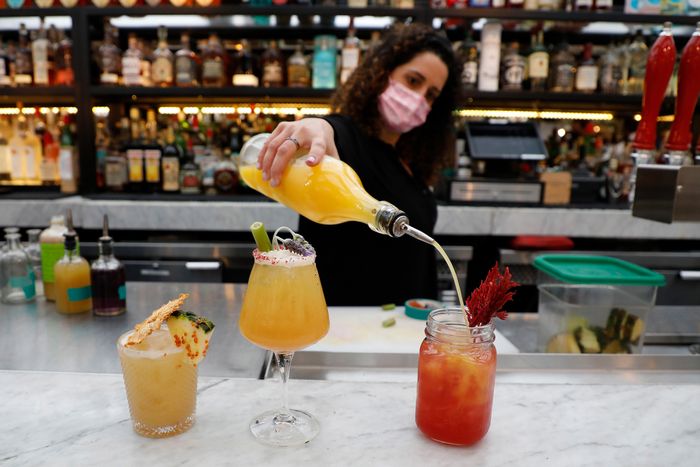 Photo: Taylor Hill/Getty Images
It is finally happening: Cuomo Snacks are done. The New York State Legislature is set to suspend the COVID-era requirement that all alcohol purchases at bars and restaurants be accompanied by the purchase of a "substantial" food item. For bar workers and drinkers alike, the news comes as a relief, allowing bartenders to free themselves from the burden of serving half-hearted grilled-cheese sandwiches, and drinkers to free themselves from ordering them.
The rule was well-intentioned. If patrons had to order a "substantial" food item with their first drink, the thinking went, then they wouldn't move around so much. "If you're not eating a meal and you're just drinking, then it's just an outdoor bar and people are mingling and they're not isolated at individual tables, and that's what we're seeing," explained Governor Cuomo when he introduced the snack mandate last July.
To qualify as "substantial," food had to be "similar in quality and substance to sandwiches and soups," and many bars across the state got creative in their offerings, which was briefly, grimly fun. One bar outside of Syracuse offered "some tater tots" for $1; the menu at a bar in Buffalo featured "a piece of meat" as well as "grapes." There were peanut-butter-only sandwiches and Cup-a-Soups and very, very occasionally, fresh sourdough pizzas.
Did Cuomo Snacks make anybody safer? It is hard to say. Then again, opponents argued that the food mandate would simply cause people to "gravitate to stoops, streets, and parks with open containers, creating less safe conditions elsewhere," and it's not clear that happened, either. Once, I ordered a plate of requisite French fries for the table ("shareable food item(s)" were allowed "so long as it/they would sufficiently serve the number of people in the party") and as we ate them with our semi-sanitized hands, I thought, This is the grossest thing I have done in months. Anecdotally, they were delicious.
Now, nine months after it was first enacted, the reign of the Cuomo Snack is essentially over, just as soon as it passes both legislative chambers, which is expected to happen later this week.
Also today, Cuomo announced further repeals of COVID regulations that will afford more freedom to diners: A 12 a.m. curfew for outdoor dining will be lifted on May 17, and the same curfew will be lifted for indoor dining at the end of the month. Lastly, bar seating will once again be allowed, beginning next week.