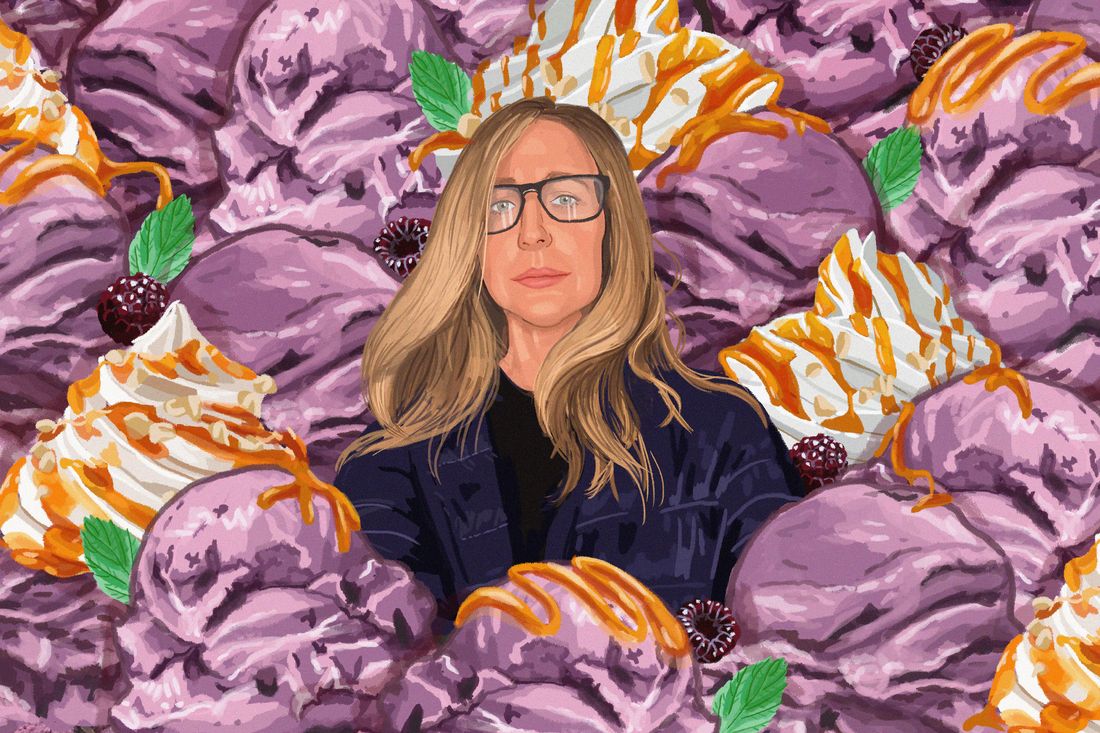 Laurie Woolever and her sundae.
Illustration: Margalit Cutler
This travel book, for sure, is not about answering questions about Tony's life or motivation," says Laurie Woolever of World Travel: An Irreverent Guide, the final book that Anthony Bourdain worked on. "This book is really about celebrating the work that he did while he was here." Published this week, the book was shepherded by Woolever — his assistant, friend, and, since 2016, co-author — who completed it almost entirely after his death. An editor and writer in Jackson Heights, Woolever has also explored what "New American" food looks like in her neighborhood, where reportedly 167 languages are spoken; she co-hosts the Carbface podcast; and she is currently at work on an oral history of Bourdain's life. 
Tuesday, April 13
I start the morning with a big glass of cold water and a big cup of coffee, with whole milk. I have dicked around over the years with various not-milks in my coffee, but the calorie savings are never worth it, to me, and half and half is too much. I use Café Bustelo in a pour-over pitcher. I can't believe I ever bothered with any other coffee. It is so good and strong, none of the weird acidity that seems to plague every high-end coffee. My local Foodtown often has it on special: two 10-ounce bricks for $5. I love Foodtown. It's where I feel most grounded. Lately their ice-cream situation has been a real shambles — there will always be pints covered with ice and frost, and you know they've been through a couple of thaw-and-refreeze cycles — and the fruit is overpriced and sometimes the music truly makes me want to die, but it is still one of my favorite places in my neighborhood, if not the world.
I really love ice cream. I don't fuck around with big tubs of Turkey Hill or Breyers. I want the little pints. Recently, I've started making a sundae for my son that I've loved since childhood. When I was a kid, I did things to entertain or annoy my older sister, and when I was 8, it occurred to me to order something a little gross, which is black-raspberry ice cream with butterscotch sauce, salted peanuts, and whipped cream. Everyone else thought it was disgusting; I ordered it to tweak them. And I loved the combination, sweet and savory. It's not a revolutionary concept, but as an 8 year-old in the early '80s, this was upsetting to people. I've introduced my son to it, and he liked it well enough, though he's more of a chocolate and marshmallow guy.
Since November, in dreaded anticipation of having my photo taken or possibly being on TV to promote the book World Travel, I have been, ahem, dieting. I use an app whose name rhymes with Zoom, or Stool Boom. "Oh, but it's not actually a diet, it's a lifestyle change. In this new lifestyle, you'll follow a strict calorie budget, and every time you choose certain foods, the app will subtly activate the years of guilt and shame conditioning around food and body image that are a fact of life for people of your generation." Cool, cool, here's several hundred dollars, thanks for the pep talk.
After an hour or so of obsessively refreshing social media and trying not to read the comments on An Important Piece of Press about the book, I make myself a slab of dry Mestemacher three-grain toast and put some kosher salt on it. It's that weird oblong brown bread in the packaging with a picture of a trim lady doing Pilates or running on a beach, and it's pretty horrible right out of the package, but good when toasted. I chase it with a half-shot of refrigerated Pepto-Bismol.
After a few phone interviews, I heat up a bowl of butternut-squash soup that I made the other night, using a reduced-butter variation on a recipe from Vegetable Simple, Eric Ripert's new vegetable cookbook, which comes out on the same day as World Travel, for which I did recipe testing and editing. Before I met this recipe, which is just squash, turmeric, ginger, butter, and water, I didn't understand the point of butternut-squash soup, but now I am a complete convert.
I take a nap and wake up in time to run to an appointment about opening a new IRA. On the way out, I grab the little bag of Cadbury mini eggs that I'd bought at half-price for my 12 year-old son, who is playing Minecraft and not paying attention, and I eat them on the way to the bank, which is of course a terrible decision.
I stop by Duane Reade to replace the stolen mini eggs and when I get home, I have a full shot of chilled Pepto and, later, some cold sliced leftover steak with lots of salt, a hardboiled egg, also heavily salted, and a Yasso frozen-yogurt vanilla bar, which is pretty light on flavor and body, but sweet enough, and cold.
I pick up takeout from the Queensboro for dinner — two orders of Chinese-style steamed flounder with tamari, ginger, and scallion oil, served with little containers of white rice and garnished with superthin spears of asparagus, and peas. It's just a perfect dish, and generous portions, of which I put some back in the fridge, and add some pressed tofu to the leftover sauce, to marinate overnight.
Wednesday, April 14
I haven't been sleeping very well lately. Is it because I make my coffee way too strong, and often drink a cup after dinner? Is it because I have been talking and writing and thinking nonstop about this book and my beloved late co-author? Is it because I am going through a painful, brand-new breakup and am not particularly hungry? There is no way, as the saying goes, of knowing for sure.
I make a pot of coffee and share a little bit with my son, who gulps it down with no sugar, which fills me with irrational pride. I make a toasted bagel (Lender's, in your grocer's freezer) with cream cheese for him, and have the leftover flounder and vegetables, with some of the marinated tofu, for myself.
I love my tofu press. When I got divorced a few years ago and moved into my own apartment, I was judicious about how much kitchen stuff I brought with me. I cook multiple meals every day using less than half of the equipment I had in my married-lady kitchen, and I try not to add anything new. Then, in a moment of weakness, I read an article about why you need a tofu press, and now I have one, and I fucking love it. To slowly crank down on the tofu like I'm operating an extremely gentle torture device is the kind of soft kink that I think we can all enjoy in these COVID times.
I do a radio interview, then go out to run a few errands. I shop for food every day, sometimes more than once. There's a new greengrocer in my neighborhood, in a prime corner store that used to be a GNC, which will be my only attempt at a "nature is healing" joke. I am thrilled to see that they have replaced the pristine National Retail Chain White walls and shelving units with wood paneling and dim lighting. Because the greengrocer is so new, their prices are insanely low — I get a mango, a bunch of seedless red grapes, two avocados, and a half-pound of mushrooms for $4. I feel guilty walking past my standby greengrocer, which is empty. I'll continue to shop there once the new place resets their prices.
Back at my desk, I eat some of the grapes and have some more coffee, and some seltzer. Later, I pull the last chunk of a frozen whole-wheat baguette out of the freezer and eat it toasted with salt, along with another joyless Yasso bar.
I do phone and video interviews all afternoon and just guzzle more seltzer and coffee. By the end of it, I feel like absolute shit, just aggrieved and exhausted and lonely and miserable. I eat some of the marinated tofu out of the container, standing up in the kitchen, and yet another fucking Yasso bar.
Later, while watching King of Staten Island, I eat more grapes, and the last of the butternut squash soup.
Thursday, April 15
Coffee, whole milk, water.
No interviews today, and my son is with his dad for the next few days, so I'm only responsible for my own food. I'm trying to finish writing an article about — surprise, surprise — the best food destinations, according to Tony Bourdain.
I set a timer for 30 minutes, do as much as I can, then pause to toast a piece of that Mestermacher bread, to which I add some mashed avocado and nutritional yeast. My fridge is full of healthy fruits and vegetables and leftover marinated tofu and hard-boiled eggs and cooked rye berries, but all I really want is permanent financial and professional security, and a slice of white cake with white icing.
I go into Manhattan to sign copies of World Travel at Kitchen Arts and Letters, then walk down Lexington to pick up a sandwich at Pastrami Queen. I stop first at Eli's Essentials to see if there's anything I might want to take home, like a slice of white cake with white icing, but that's not really their thing, and the big fondant-iced cookies with the names of the Oscar-nominated films painted on them are not really doing it for me.
As I'm looking around I realize that the beautiful blonde woman in expensive-looking workout clothes, sitting alone on a stool at the north-facing window, is former Real Housewife of New York City Dorinda Medley. The woman behind the counter hands her a bag of something and she says, "Oh boy!" with such genuine joy and excitement that it makes me really happy for her. I later see on her Instagram that she's been using and promoting Nutrisystem, so I suppose that being handed any actual food item at all would be cause for such a pure emotional response.
It's very quiet at Pastrami Queen, just one other customer there. I order the sandwich and carry it home on the subway. I think maybe I'll only eat half of it, but it is so perfect and delicious that I just go for it. I love it: the soft rye bread and the juicy pastrami, with a fleeting but distinctive hit of coriander that reminds me, funny enough, of the taste of the best stuff at Superiority Burger, a vegan place. The mustard comes on the side and it's just great, while the Russian dressing (also on the side) is sweet and wholly unnecessary. I make and drink the better part of a pot of coffee so I won't pass out on the phone with my shrink.
I'm full all day from that sandwich so I have dinner kind of late — the remains of the marinated tofu, mixed with some spinach and red lentils that I'd cooked earlier in the week. It's raining pretty hard but I want something sweet, so I walk a few blocks to Lety's, a very good and consistent local bakery, and get a macaroon. They're big, sized somewhere between a golf ball and my fist, and always perfectly caramelized and crunchy on the outside.
Friday, April 16
I'm up way too early to finish that piece, which I'm now behind deadline on. I reheat yesterday's coffee, drink a big glass of cold water, and, when the sun comes up, toast the Mestermacher bread and again put avocado, salt and nutritional yeast on it. This is something I can and do eat almost every day. Sometimes I'll get that frozen Ezekiel bread, but I don't love it; it tastes like the really boring ghost of bread. I tried Dave's Killer Bread, but I found it too sweet, and the whole "ripped guy with big guitar" logo is too overtly about dick-size anxiety for my tastes.
Mid-morning, I finish the last of the red lentils and spinach with a dollop of mango pickle from a jar, which is such an easy and great way to make lentils and vegetables interesting. I finish and submit the piece, then have back-to-back phone interviews, so I make a fresh pot of coffee and keep drinking it til the end of the last phone call, after which I take a full shot of cold Pepto and a very long nap, and wake up hungry.
I go out with some cash but no plan, and end up getting an order of beef momos from the Amdo Kitchen truck in my neighborhood. There are eight in an order, and they come with spicy pickled radishes, plus red hot sauce, which I later learn is called sepen, and a neutral white sauce to cut the heat. I grate a raw carrot and blanch some green beans and asparagus, and make a little dinner of it, which I eat while watching the first episode of Joyce Chen Cooks, from 1966, as preparation to record an episode of my podcast, Carbface, this weekend.
Once COVID hit, we kind of floundered around for a new Carbface format that didn't involve having guests in a studio, and my partner Chris suggested we watch and recap cooking shows. We just did a three-episode Julia Child arc, and are now watching Joyce make, tonight, egg foo young.
Saturday, April 17
I eat a mango and drink some coffee and water for breakfast.
I'm going to Portale for dinner tonight with my friend Jonathan, who is something of a regular there from pre-COVID times. As he is a man of science and medicine who takes it all very seriously, I trust his judgment about reserving an indoor table. It's the first time I'll be indoor dining since last March.
I'm working on some writing in the afternoon, and trying to eat really light in anticipation of dinner. At one point, I switch from writing my thing to writing an absolutely unhinged, angry email. I decide to save it to drafts and see how I feel after eating something small. I heat up a mug of Brodo beef bone broth to which I add some soy sauce. While it's in the microwave, I eat a few almonds and think, as I always do, about the fact that they are Barack Obama's favorite snack.
I'm a very late bone-broth adopter, only because it was so absurdly hyped at first, and I'll admit to sometimes rejecting trends on principle. I made one batch of my own, but the reward-to-work ratio felt unbalanced to me. It wasn't much cheaper to buy all those bones and aromatics, plus I then had to roast them, and tend this simmering pot for hours, and my apartment smelled like suet for days afterward, and the bones made an alarming amount of condensation in the trash can. The whole thing reminded me of Adam Driver famously giving up on his daily whole-chicken habit because "it got tiring" and "it's a mess."
I delete the angry email, eat a tablespoon of peanut butter, and go into Manhattan for dinner.
It's weird but not completely alien to be back in a dining room. There's a harmless vogue now for pretending that we have all completely lost every social skill as a result of being pandemic-isolated. I do think the past year has poked some useful holes in our collective social artifice, but I also think that artifice is going to regenerate, like a healthy young starfish, once we've got a critical mass of vaccinated people looking to reenter the physical world of work and sex and clout-chasing.
I order a bottle of still water before Jonathan arrives, because I've dined out with him enough to know that he'll disapprove with comic exaggeration, seeing it as an unnecessary extravagance.
I order the cappellacci with peas and pancetta, which is just terrific. We split an order of the herb-crusted cod, then I have the chicken with hen-of-the-woods mushrooms and cauliflower, and olive-oil cake with cherry compote for dessert. It's all so good and professional and pleasing; without a doubt the daintiest, fanciest thing I have eaten in over a year of cooking almost every meal for myself. I love the transparent dividers between each table, and I hope this becomes a new norm in post-COVID times. It feels great to be out in the world, among people, but I still don't want to overhear your dinner conversation.