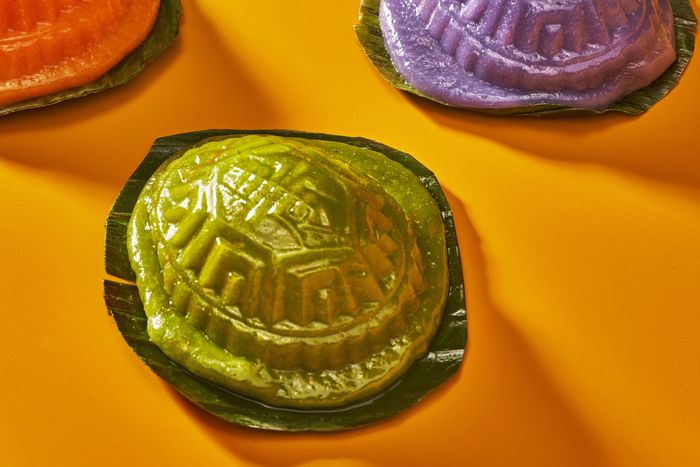 Angku kuih are traditionally made with sweet potato (top left corner). At Kuih Cafe, they're also flavored with pandan and ube.
Photo: Adam Friedlander
Every Tuesday, the owners of Kuih Cafe, which opened last February weeks before the restaurant shutdown, take to Instagram to blast out the week's menu. Often there's pandan, sometimes kaya (the coconut custard), likely ube or sticky rice — all ingredients that the Malaysian café's chef and co-owner Veronica Gan uses to make her specialty, Nyonya-style kuih. One week there may be kuih dadar, pandan-flavored crêpe filled with palm-sugar grated coconut; another time kosui, steamed rice flour with coconut milk, palm sugar, and grated coconut; or maybe pulut panggang, sticky rice stuffed with shredded coconut and dried shrimp, wrapped in banana leaf, and grilled.
Other kuih may be made with steamed sago, a starch that comes from palm trees, or grated or steamed cassava. New items are regularly introduced, like hae bee hiam, a savory butter cookie made with blended chili-dried shrimp paste. Other butter cookies, made savory with scallion or sweet with pineapple compote, are offered as well. While some of the city's other Malaysian restaurants offer kuih, including the nearby Kopitiam and Little House in Queens and Brooklyn, none specialize in kuih or offer such a variety.
A broad category of snacks that are often but not always sweet, kuih can include everything from cookies to cakes to dumplings. Often they're made with sticky rice or sticky flour, but mung bean flour, steamed or grated cassava, and steamed sago — a starch that comes from palm trees — are also used. Many are steamed, though some are grilled (like pulut panggang), and others are fried (like cucur badak, a sweet-potato ball stuffed with a spicy filling of shredded coconut and dried shrimp). These snacks have also been rare enough to find in New York that the opening of a café that specializes in them has caused a stir.
"All the Malaysian people in New York have been talking about this place," says Auria Abraham, who runs the condiment company Auria's Malaysian Kitchen. Over kuih one afternoon, Abraham shared some DMs she's received from others asking if she'd gone, or telling her she needs to. "I can die now," one person wrote alongside a picture of a pandan-flavored angku kuih, traditionally a tortoise-shelled cake made of glutinous rice flour that's made red by sweet potato. "It has been hard to find Malaysian food, especially in this category," Abraham says. While Kuih Cafe's owners are Malaysian, Abraham notes that many kuih can be found around Southeast Asia, "People want to claim things are theirs, but especially in Southeast Asia we have to be very careful about that," she says.
Gan opened Kuih with her husband, who works the shop with her, and her friend Barnny Lim, an FIT graduate who described his early role as a "business adviser" and now helps with operations and marketing. (He comes from a background in fashion retailing, and also went to a hotel-management school in Switzerland.) The storefront, which debuted in February 2020, could be easily missed if you blink. Currently, it's only open from Friday through Sunday, and there's only room for four stools at the counter (though there's no seating at the moment). The café is around the corner from Sara Delano Roosevelt Park, though, which on a nice day is better anyway.
Along with the kuih, there are always slices of chiffon and sponge cakes, in flavors like black sesame, ube-taro, or pandan layered with pandan kaya, and eggier Basque cheese cakes, made with durian purée or or spiced pumpkin. (Some of these cakes are less traditional, Abraham points out, like the recently introduced baked honey cheddar cake, finished with a melted cheddar cheese that is stoner bait.) Savory dishes are the coconut on top of the sweet mung bean cake: Gan offers one like Hainan chicken rice, curry cheong fun, or steamed savory pumpkin cakes with dried shrimp and Chinese sausage.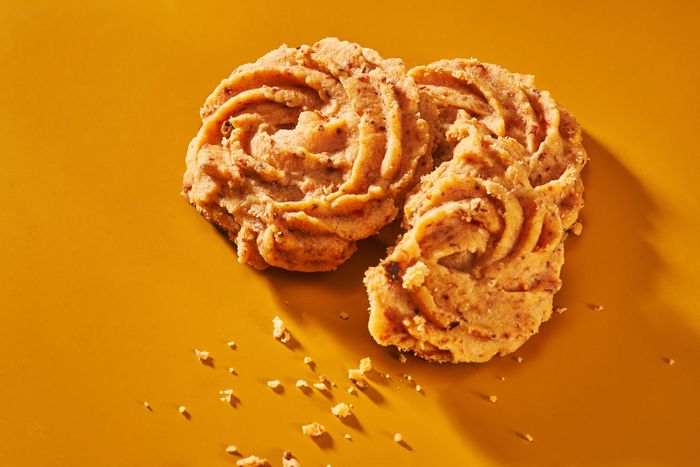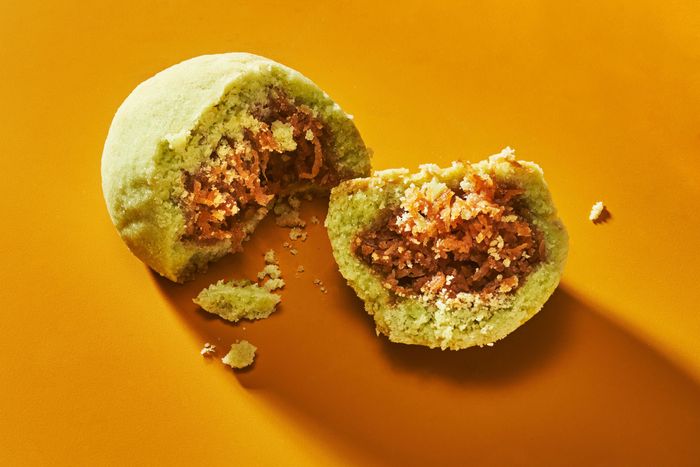 The team chose Chinatown in part because Gan's customers had found it inconvenient to pick up from where she lived in Queens. ("Everyone goes to Chinatown anyway," Lim says.) That is, until the coronavirus pandemic, which caused sales to plummet in the neighborhood earlier than elsewhere, and later prompted the restaurant shutdown. "It was pretty much managing the day-to-day process of producing and selling, and then 30 days later we had to close," Lim says. "There was really no time to reflect on anything at all."
In some ways, Lim says they were lucky, because the lockdown forced them to rework their menu. Before, they had sold individual kuih, and there are always slices of cakes available. After the shutdown, they pared down the selection of kuih, offering only a couple a week, and changing it weekly. "It was more out of necessity than actual strategy or thinking. But obviously it fits us well and we'll continue that," he adds. "The positive side is it brings people back every week because there's something different."
Back in Malaysia, Abraham says, kuih are a specialty that require an expertise in steaming and specialized equipment. Doing things traditionally means spending time pounding and squeezing juice out of pandan, and grating cassava. "It's very laborious, painstaking work," Abraham explains, giving angku kuih, which are made using a wooden mold that gets sticky, as one example. She also points to kuih lapis, a cute layer cake that's made from rice flour turned shades of pink. "It's not easy to make those layers. There's not a machine that does it, there's a person that does it," she says. "Because each piece is so intricate and it takes so long to produce these pieces they don't really make anything else."
Fans of Kuih Cafe know to look for their favorites, and things they've had a hard time finding in New York, regularly. Hai-Li Kong goes every other week, usually when she's visiting her sister nearby. "I'm not there every weekend," she says, but "I'll make a point to go there whenever I'm in Chinatown." She's always on the lookout for one special treat: "I actually haven't tried the thing I'm most curious and nostalgic about, which is the angku kuih," she says. "My mom used to make them every Mid-Autumn Festival, but I have yet to have it because every time I get there it's too late."
When Kong was growing up, kuih were a special-occasion food, typically something she'd have when she visited family in Singapore. In particular, angku kuih created a sense of belonging for her, including during the time she visited her mom's hometown. "I was just in the city and I didn't speak Chinese very well and everything felt so crazy and foreign to me, and I was like how can I feel so out of place in a place that should be like my hometown in a way?" she recalls. "And then I saw this cake and I was like, Oh, I know this cake, and I can call it by its name, and point to it, and communicate with the shop owner — that was pretty powerful for me."