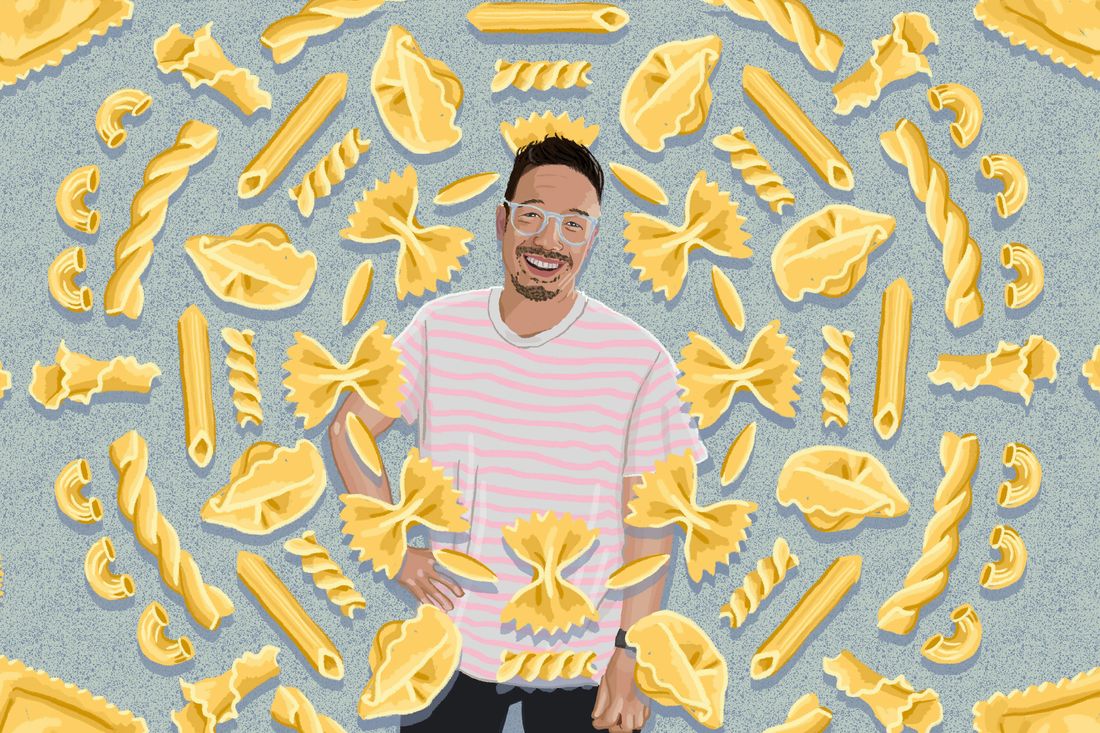 Jason Concepcion and his pasta.
Illustration: Margalit Cutler
When Jason Concepcion moved to Los Angeles, he had a revelation the first time he ate Night + Market's pad thai. "It's something you have a million, billion times from any number of places," he says. "I just was not aware that the dish could actually taste like that." After spending the past decade sharing his pop-culture enthusiasms and NBA hot takes for Grantland and the Ringer, Concepcion joined Crooked Media, where he's hosting the web series ALL CAPS NBA and co-hosting the podcast Takeline with former WNBA player and activist Renee Montgomery. In L.A. this week, he made spaghetti with pesto sauce, ordered his preferred comfort food (fried rice) from his regular Chinese restaurant Northern Cafe, and ate a whole lot of peanut butter.
Monday, April 5
The cup of strong black coffee I started the day with was especially welcome because of the earthquake that struck at 4:45 a.m. like a goddamn coward. At the time, I wasn't sure what had happened, just that my eyes were open when they definitely should not have been. Twitter confirmed the tremor and informed me, much to the detriment of my prospects for continued sleep, that it was preceded by a "swarm" of smaller quakes. I lay there thinking about my emergency kit and batteries and bottled water and how much gas was in the car and where the safest places in wood-framed buildings are — and, you know, just survival in general — until my alarm went off. Then I rose from the sheets like Dracula squinting against the daylight. The coffee was French vanilla flavor, from Hemisphere Coffee Roasters.
Pre-pandemic (P.P.), I did not cook. I'm a busy guy, and I figured, Here's a way to save time. Kind of like the way Einstein and former Sixers General Manager Sam Hinkie wear the same outfit everyday to reduce "decision fatigue." For a long time, I subsisted happily on oatmeal, yogurt, granola, and various nut-centric snacks from Trader Joe's. I had a handful of recipes I could pull off: scrambled eggs, omelets, my grandmother's fried rice, spaghetti alla puttanesca. I just chose not to. Plus, in Los Angeles it is easy to get healthy food on the run.
In lockdown, my recipe list has grown. I'm baking bread now. As many people noted on my Instagram when I first posted my bread, everybody did that Q1 quarantine, and I didn't start doing it until Q3 or Q4. If I interrogate why I decided to bake, it's probably because I was crushing episodes of The Great British Bake-Off. I was just like, Bread is good, I enjoy bread, why don't I start making some at home? That show is extremely soothing for my anxiety. It's also one of those shows where I watched two episodes, and I knew next to nothing about baking, and I was like, "Come on, that will never rise like that, you've underbaked it, what are you doing?" All of a sudden, I'm yelling at the screen at these people: "You can't do that!!!"
I mention this all because my first meal this Monday was a basic-protein shake and I don't want the readers of this diary thinking I'm one of those dudes who drinks weird green drinks all the time. I do drink them, but definitely not all the time. They actually taste good. Anyway, the shake was one scoop of chocolate-flavored whey-protein powder, some peanut butter, and some almond milk, which is bad for the environment. I drink it while on a Zoom call.
That afternoon, after recording my podcast, Takeline, I had a chicken-pesto-parm salad from Sweet Green. I've gone through phases where I order this exact salad three or four times a week. There's a particular kind of disappointment that I relate with stepping outside my comfort zone, and then thinking, That sucked, I'm so mad, and it just ruins my day. So, when I like something, I have no problem eating it every single day. There was a taco place, Tacos Moreno, near me when I lived in northern California, and I think I ate there 14 days in a row at one point. Same order every day.
At 6:30, I have a couple spoonfuls of peanut butter straight out of the jar while watching Baylor breakdance on Gonzaga's face in the national championship game.
I try not to eat after 7 p.m. unless it's peanut butter, again, straight out of the jar.
Tuesday, April 6
This is mostly a day for creative meetings for my web show, ALL CAPS NBA. I start the day, again, with black coffee.
For lunch, I have some Shake Shack chick'n bites and fries. As a New Yorker who recalls having to log into the webcam to check the length of the line at Madison Square Park, ordering Shake Shack on my phone and having it arrive in a reasonable amount of time is bizarrely thrilling. Are the squirrels there still monstrously huge? I once saw Phillip Seymour Hoffman tucking into a double cheeseburger at the Madison Square Park Shake Shack as a Kaiju-size squirrel stood on the chair next to him waiting for a chance to strike. This squirrel had a beer belly and plumber's crack and was the size of a toddler. All these thoughts go through my mind as I eat. I don't know if I'm imagining this, but I think, back in those halcyon days when there was only one Shake Shack, Goldman-Sachs had a dedicated cashier or a direct hotline that allowed them to skip the line. I might be inventing that, but I'm pretty sure it happened.
Coming from New York, tacos and Thai were the two revelations around L.A. cuisine for me. Everything they do at Night + Market is amazing, and just kind of changed what I thought Thai food could be. Luv2eat, on Sunset in Hollywood, is another one. If you are a person who is not prepared for heat, just hold on to your horses.
After getting screamed at by Cody Rigsby for a half-hour, dinner was a post-Peloton protein shake with, once again, peanut butter. I love peanut butter. A couple years back, I traded in basically all my snack options for peanut butter direct from the jar. It began as a form of existential surrender and has since evolved into a lifestyle.
Wednesday, April 7
After recording ALL CAPS, I ordered poke from a place that will remain nameless because I hated it. To be frank, I was feeling the pressure of writing this diary and the dread of having my food choices immortalized and so I reached for something I hadn't ordered in a while from a place I had never ordered from. It was a mistake. I ate it joylessly out of a sense of duty. As an attempt to just, like, feel something good, I chased the poke with a Munk Pack keto nut-and-seed bar.
For dinner, I made spaghetti with Osteria la Buca's pesto sauce. (Their pesto is really, really good, and it is an extreme pain in the ass for me to make. I also just don't have that much basil around.) The first time I dined there, soon after moving to Los Angeles, I saw Andre Holland eating at the bar. That was my second L.A. celeb sighting, the first being the time Brett Gelman warned me that the foxtails in Elysian Park could get in my dog's ears. That was solid advice.
The spaghetti I've had around. One of the things I did early in quarantine was buy 25 boxes of both linguine and spaghetti, and I've just been working my way through them. I have not yet expended the entirety of my very, very early pasta purchase. I'm down to maybe the last 12. I do make a good pasta sauce, a decent bolognese. I let it cook all day. I would credit Anthony Bourdain and his various adventures for that, but I've always had an affinity for the cuisine of the Italians.
I stay up until about 2 a.m. writing with only occasional visits to the peanut butter jar. I might have had some unforeseen snack bars.
Thursday, April 8
Breakfast was a PB&J bowl from Backyard Bowls, a place that's like the avocado-toast meme in physical form. They do have avocado toast, and it's great. My friend and co-host of the Old Man and the Three podcast Tommy Alter introduced me to Backyard Bowls and it quickly became one of my favorite places to work on the weekends. I also ordered a Hercules smoothie (acai, banana, blueberry, pea protein, and peanut butter), which I save for lunch. My smoothie habit is reluctant. It feels very easy to do and healthy, but also the picture in my mind is of the person who has all the jars of the smoothie stuff. I'm not that person. But I am that person. I have become that person.
Thursday was wall-to-wall meetings and interviews. I had an in-person interview with a trading-card show scheduled. Then I started thinking about how shockingly dumb it would be to contract COVID days before my final shot just to do a trading-card podcast. So I rescheduled. The producers were understanding.
I skipped dinner and stayed up late to catch the latest episode of The Falcon and the Winter Soldier. After starting the outline for an upcoming Twitch stream, I went to bed around 2:30 a.m.
Friday, April 9
I skipped breakfast and, since it was Friday, splurged for lunch: a Nozawa Trust Me sushi spread from Sugarfish. It came in a handsome tray-shaped take-out box which had detailed instructions printed on the inside of the lid. Folks, I didn't follow the instructions. I apologize to the chefs. When I'm back to eating inside the restaurant, I will honor the chef's wishes and do as I'm told. But my apartment is my castle, and in here, I choose.
For dinner, I ordered Chinese from Northern Cafe: fried rice with chicken, stir-fried green beans, soup dumplings, and pork-and-fennel dumplings. Chinese food is one of the things I really miss about New York. I like rice dishes, and fried rice in particular. I think I make it really well, actually, and when I want something that's comfort food for me, that's what I order. I grew up on my grandma's. She made it the way Filipinos do — garlic-fried rice with soy, onion, occasionally Spam, and an egg mixed in there. You can make it in 15–20 minutes with day-old rice. I'm not eating Spam on the reg, but it was definitely a thing my grandmother introduced me to.
When I was a kid, before my father passed away, my parents used to take me to the old 456 restaurant in Chatham Square in Chinatown. It served mainly southern Chinese classics — pan-fried noodles over beef in dark, salty sauce; soup dumplings. I loved those weekend excursions; they felt special and worldly and adult. Northern Cafe's pork soup dumplings bring all of those feelings and flavors back.