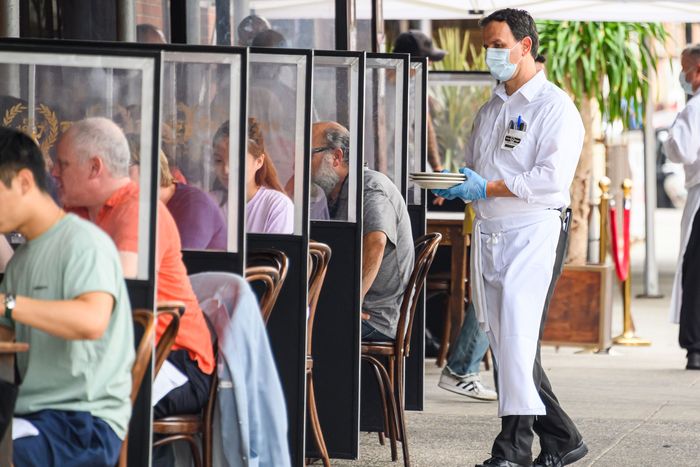 Photo: Noam Galai/Getty Images
Starting at 9 a.m. ET this Friday, April 30, business owners can begin registering for the Restaurant Revitalization Fund program, part of the $1.9 trillion aid package Congress passed in February. The applications can be submitted starting at noon on Monday, May 3, through the POS system or on the Small Business Administration website. The funding will be equal to pandemic-related revenue. Operators who have one location can apply for up to $5 million, and those with multiple locations can apply for up to $10 million. Restaurant groups with more than 20 locations and publicly traded companies are not eligible.
For the first 21 days of the program, the Small Business Administration is prioritizing applications from women, veterans, and socially and economically disadvantaged individuals. The Payroll Protection Program was criticized for reasons including the unequal distribution of funds, which went disproportionately to businesses owned by men and white people. As Vox put it, the program "failed many Black-owned businesses. (President Joe Biden also changed PPP rules to help the smallest companies, which weren't necessarily able to get aid.) The $28.6 billion fund will be distributed accordingly: $5 billion is reserved for applicants with 2019 gross receipts of no more than $500,000, $4 billion is reserved for applicants with 2019 gross receipts of $500,001 to $1,500,000, and $500 million is reserved for applications with 2019 gross receipts of not more than $50,000.
In a press release, the SBA advises applicants to review official guidance before applying, prepare the required documentation, and attend a live virtual training webinar today at 2:30 p.m. ET or tomorrow at 1 p.m. or 2:30 p.m. ET. Anyone eligible should submit their application as soon as the portal opens, and after the first 21 days, the funds will be doled out on a first-come, first-served basis.