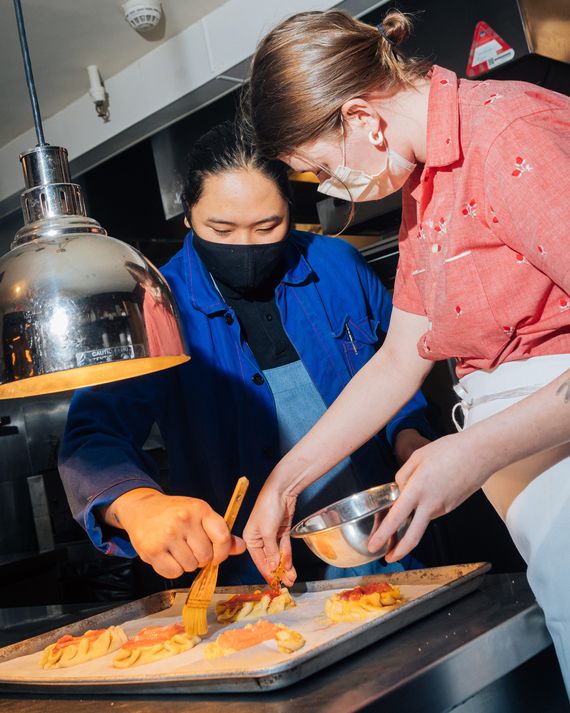 Ha's Dac Biet's Anthony Ha and Sadie Mae Burns in the borrowed kitchen at Frenchette.
Photo: Poupay Jutharat Pinyodoonyachet
Anthony Ha and Sadie Mae Burns met cute in 2015 while working as line cooks at Mission Chinese Food on the Lower East Side. They arrived there by different routes. Ha, who grew up a first-generation Vietnamese American in New Jersey, had never heard of the place when he saw an ad for a dishwasher on Craigslist. His formative industry experience, at age 14, was juggling coffee orders at a Dunkin' Donuts in West Long Branch, where his mother would drop him off before her shift at a nail salon across the strip mall's parking lot. When they met, Burns was a seasoned pro by comparison: After high school in the New York suburbs, she studied at Ballymaloe, the cooking school in Ireland, and when she returned Stateside, she landed in the kitchen of Franny's in Park Slope, a plum gig that on a cook's résumé has come to represent the East Coast equivalent of a stint at Chez Panisse.
But something about Ha's superb organizational skills, his lightning-quick reflexes, and his way with the Hobart impressed his Mission colleagues. "He was so immediately great at his job — extremely energetic, always thinking ten steps ahead," says Burns. "People were like, 'Why are you washing dishes? You should be cooking.' " Soon enough, he was. The two moved in together but went their separate professional ways (Ha, eventually, to Frenchette; Burns to Roman's). While working apart, they realized they liked cooking together best. They're the type of couple that tends to enthusiastically finish each other's sentences, and you get the impression that's also how they cook. After retooling a secondhand paletas cart into a traveling Vietnamese-street-food kitchen, they began setting up shop in their off-hours outside Brooklyn bars, drawing crowds with bánh mì and noodles and food they'd cook on a portable grill. They called the pop-up Mr. Fish Sauce, after the nickname Ha had earned for his penchant for the condiment, but later rechristened it Ha's Dac Biet, which translates roughly to "Ha's House Special," taking inspiration from the makeshift outdoor setups they came across on trips to Vietnam.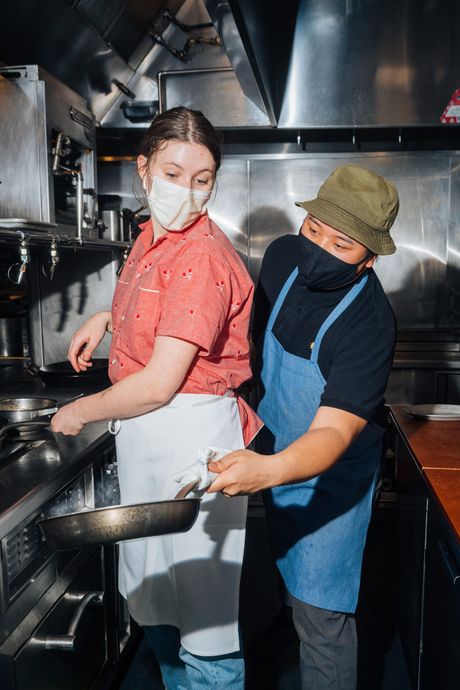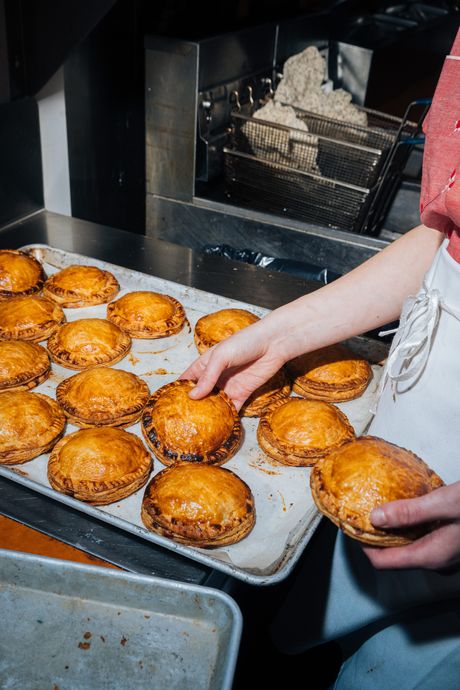 Their youth notwithstanding — Ha is 28, Burns 25 — the cooks are by now old hands at the pop-up game, and when indoor-dining restrictions cost them their jobs in March 2020, they had their passion project to fall back on. One pop-up begot the next, as bars raced to add the required food component to their drink menus and restaurant kitchens shrank their operating schedules, creating openings for visiting chefs. A sense of community pervaded the pandemic-era pop-up circuit, and a fortuitous Greenmarket encounter with a pastry-chef friend led to collaborating on a pop-up at Superiority Burger, which led to another at Dame, and so on and so on. The game changer, Burns and Ha agree, was a stint at Vinegar Hill House last winter on nights the restaurant was closed. Not only were they able to offer delivery through their host's accounts, expanding their base and brand, but "we had the whole kitchen at our disposal," says Ha. "It allowed us to be more creative."
It also helped them evolve their menu into something they call Vietnamese bistro — homey, unpretentious cooking that lets them incorporate their restaurant experience and their personal taste. They have since moved on to a Sunday-and-Monday-night gig at Ha's old Tribeca stomping ground, Frenchette, where access to equipment like the rotisserie has shaped set meals, like a recent one that revolved around lemongrass-infused crispy-skinned chicken ($40 bought a quarter-bird, along with nuoc mam dipping sauce, tender steamed yu choy, plush eggplant caramelized with fish sauce, fragrant chicken broth, and perfectly cooked rice). They expect to be there through early May, and — "Fingers crossed!" says Burns — anticipate a summer residency at 99 Scott in East Williamsburg, the next step on a journey to one day opening their own restaurant.
Until then, they plan to keep experimenting and looking for intersections between culinary traditions, like a Vietnamese recipe for pork and beans that recently inspired a cockle dish, or an Asian allium that shares a flavor profile with the Greenmarket ramps they pickle. And then there is pie — a mutual obsession for the duo, who have filled flaky crusts with everything from curried vegetables to coq au vin. They point to pâté chaud's presence in postcolonial Vietnam and to Burns's high-school job at a shop called Pie Lady & Son. But mostly, as with everything that makes its way onto Ha's Dac Biet's rotating menu, the driving force is to cook the food that makes them happy. "Pies are fun," says Burns. "Everything tastes good in a pie crust."