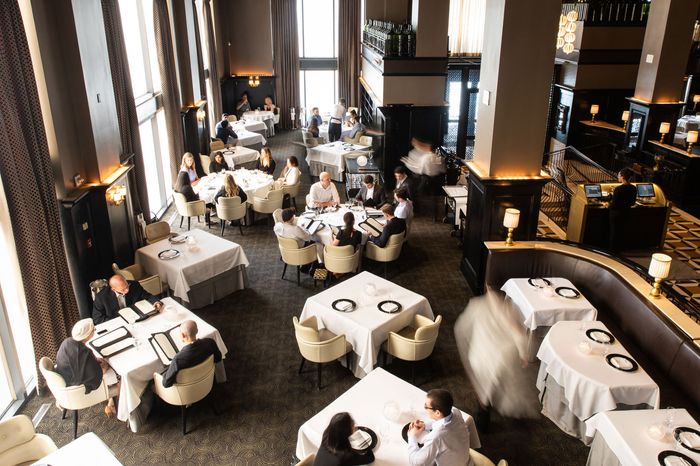 Del Posto
Photo: Nitzan Rubin
In a not very subtle video featuring burning sage, restaurateur Jeff Katz announced that Del Posto, where he has been the general manager since 2006, is gone for good. Once the fine-dining jewel of disgraced chef Mario Batali and Joe Bastianich's restaurant group, Del Posto and its lease have been purchased by Katz, the restaurant's executive chef Melissa J. Rodriguez, and Crown Shy chef James Kent. (Katz is also the co-owner of Crown Shy.)
In its place, the New York Times reports, the trio will open three businesses in the palatial space: a cocktail bar, a more casual restaurant with wood-fired ovens, and a high-end restaurant in the style of Del Posto. Katz tells the paper that this will be Rodriguez's restaurant, and she adds, "There has been a lot of change in fine dining over the last few years, and we want to figure out what that means for us."
At its height, Del Posto was considered the most important fine-dining Italian restaurant in the country. In 2010, it became the first Italian restaurant to get a four-star review from the Times since 1974, and Eater described it as "America's high church of pasta" back in 2016. (The Michelin inspectors weren't as big of fans.) The ambition of the restaurant's kitchen was evident in former chef Mark Ladner's 100-layer lasagna, which New York reported took three kitchen stations to assemble.
Now, Katz says he and his partners want a clean break from Bastianich and Batali, whose reputation had gone from being synonymous with Italian food in America to the systemic problems in the restaurant industry. In 2019, Batali sold his shares in what was then called Batali & Bastianich Hospitality Group following accusations of sexual harassment and assault. Bastianich was also implicated in fostering a boys'-club culture at the restaurants and was recorded making racist and sexist comments on Italian TV.
The closing of Del Posto is another contraction for the restaurant group — recently rebranded as RSC Management Services, which is very close to the name of a real-estate-management company, RCS Management — which closed its pizzeria, Otto, in November.