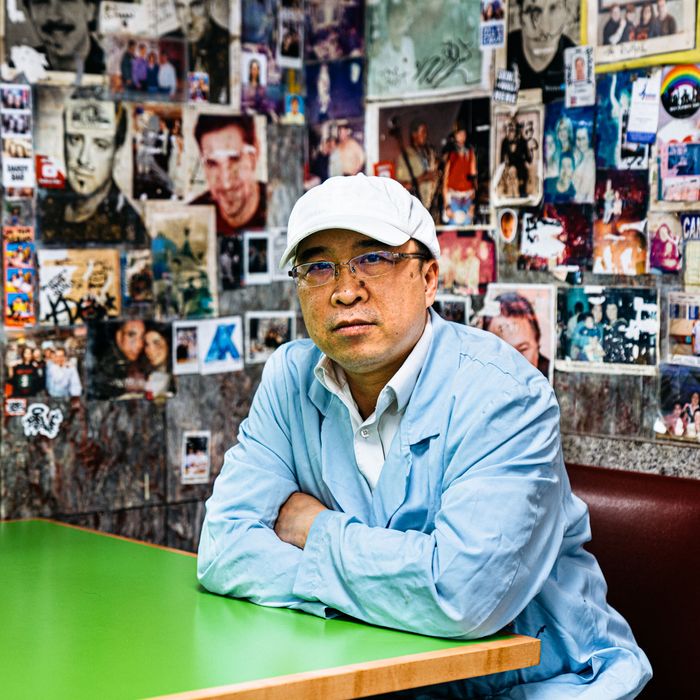 Danny Liang, at Wo Hop, where he was worked for the past decade.
Photo: Janice Chung
Danny Liang is a waiter at Wo Hop, a restaurant at 17 Mott Street in Manhattan that has been in business since 1938. Originally from Guangzhou, China, Danny has been working at Wo Hop for the last ten years, with the exception of the four months in 2020 when it was closed.
In early 2020, seeing how China was dealing with COVID-19, I knew that this was never going to be something that just comes and goes quickly over here. There was no doubt in my mind that it was going to be a long journey. This was a very serious disease, and if China took it that seriously, it was something really deadly for sure.
Once all nonessential businesses were forced to close in mid-March, I remember walking through Chinatown and it was like I'd never seen it before. It was dead, deserted. I felt a sense of hopelessness and despair. I just couldn't see a light at the end of the tunnel, and didn't know how we were going to get out of this. I have two kids and have to pay rent, so not having income from my job was a huge obstacle. My oldest child, a son, is 21, and my youngest, a daughter, is 5. My wife is a home health aide, but because of the pandemic, she also has to take care of our daughter at home. So she can't work as much, maybe two or three days a week at most.
I applied for unemployment benefits. It wasn't easy. For the first two months after applying, I didn't receive any benefits. In the meantime, I had to rely solely on my savings. In Chinese culture, we try to save money for a rainy day, so that was my rainy-day fund.
We reopened at Wo Hop in July. While it was closed, the management tried to do as much as possible to help out the staff. If someone ever needed money, they would forward our next paycheck in advance, just to give us a little leeway. We have a staff of 21 people, and before the pandemic, the restaurant was open for business 24 hours a day. So we used to have people working the day shift and the night shift. Now that there are restrictions on hours of operation, we can't possibly be open 24/7 with everyone working as many hours as before. Currently, we're open from 10:30 a.m. to 9 p.m. The management wanted to bring everyone back to work and ensure that everyone gets a fair chance at working shifts and getting paid. So, since reopening, we have greatly reduced hours, with most people only working two days a week. For me, the money is just sufficient for food. I am still receiving some government aid, and together, it's okay for now. Pretty much everyone who works here also receives some government aid.
Over the last year, I have definitely felt less safe. There's a lot of anti-Asian rhetoric that's been going on, but I don't want people to think that everyone's like that. The majority of the people I've interacted with are nice, and are nice to Chinese people. It's just some people.
The city allows restaurants to stay open until 11 p.m., but we close at 9 p.m., just to give the workers time to get home before it's too late. I take the bus and subway. Pre-pandemic, I used to work the night shift. I would come into work at 9 p.m. and get off in the early morning. Back then, I never felt scared because once I left, there were people in the streets. Bars were still open. But now, because of the pandemic, the streets have been deserted.
There was a stabbing not too far from here, on Worth Street, and since the incident, we have been telling people to be extra cautious when we're out and about. That's all you can do, just be more careful. My family will sometimes call me to see where I am, and to make sure I return home safely. Pre-pandemic, if one of my family members called me, it would be like, "Hey, can you grab something on the way home?" But now it's like, "Hey, where are you? Are you home yet?"
I haven't been targeted by any hate crimes over the last year, fortunately, and I don't know anyone who has been, either. But I've noticed that now, when I go places, I feel that I get looked at a little differently. I feel the stares on me.
Overall, most people are really nice to us, and after the rallies the other weekend, there were a lot of other minorities that came out to support us, whether they be Black or other Asian American groups, like Indians. I hope that I can support other minorities as well, and I hope we can all unify and just live in peace.
I was working when the rally was going on. Afterward, people streamed into Chinatown and a lot of people came to Mott Street, so the street was full — the restaurants were really busy, because everyone was trying to help support the businesses here. It was really exciting to see that many people back, and to see the streets bustling again.
Now, I do sense some hope and see some light at the end of the tunnel. Pre-vaccinations, I didn't really have much hope. But now, with the vaccinations, there's a sense that it's going to get better. There have been a lot of businesses in Chinatown that closed down permanently over the last year. So I did have that fear that Wo Hop could close for good, and I didn't really have a plan for that. In the midst of the pandemic, the restaurant closing was only one thing, because at that point, I didn't even know how I was going to leave home to work again. But now we've turned that corner. I hope the government ramps up vaccinations so we can turn the corner even faster.
I hope that the restaurant goes back to normalcy, where everyone works as much as they need, where everyone's united, and there's no anti-Asian sentiment. In order for everyone to succeed, everyone needs to unite.
All immigrants move in the hopes of having a better life, a better future. When I came here, Wo Hop provided that. To us, Wo Hop means "big family." The words actually mean "togetherness, or "co-existing." But when I started working here, I soon found that everyone acts as a family. The owner treats all the staff well, like just one big family. And we're going to continue to support one another.