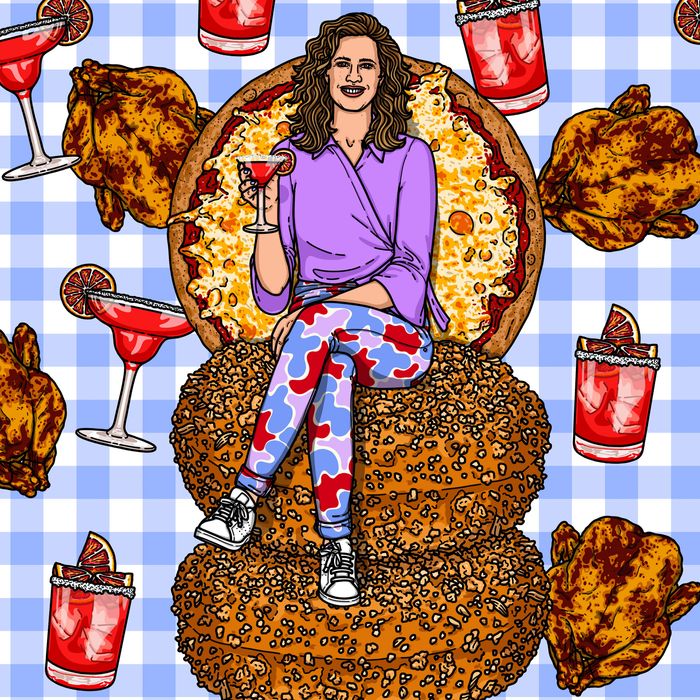 Illustration: Eliana Rodgers
It's been 15 years since Pies 'n' Thighs first opened in the back of Rock Star Bar, serving biscuits and fried chicken. The Williamsburg of 2021 might be a very different place, but Pies 'n' Thighs — which reopened in its own space in 2010 — has remained the same. "I'm not sure our clientele is in our neighborhood," says Carolyn Bane, who owns the restaurant with Sarah Sanneh. The last year has been a "roller coaster" with a lot of long days, but Bane says that Pies 'n' Thighs has gotten through it… okay. "Obviously so much is terrible in the world," she says, "and it was a really hard year personally and emotionally, but at least here it didn't have to be hard?" Meanwhile, this week, Bane wondered why she bought so many blood oranges, ate a lot of Winner sourdough, and made some biscotti.
Thursday, March 25
To decide who'd do the column, Sarah and I did a coin toss, which I won and immediately felt bad about it. (Sarah's response was, "I eat carb-free bagels, so this is for the best.")
Rural Coffee Peruvian blend, made by my husband, Dan. Eight years ago, he gave me a burr grinder, one of the greatest gifts I've ever received. It died three months ago, and we've been buying ground coffee. Maybe no difference? Maybe there's an advantage, because I want that space that the grinder took up. I'm not giving up those eight square inches on my counter.
Workout: I did a five-minute ab video. I'm squeezing something, anything in, because the pandemic has made life just constantly a trade-off. My son Wade has a three-hour pod on nonschool days, and some days there's school, but a lot of times I'm standing in the playground for hours. It might seem from the outside like I have a work-life balance, but it feels like the inverse because I'm falling behind at work. But I know I'm so lucky to have an amazing team at the restaurant that makes having this flexibility possible.
Second coffee and avocado toast on Winner's sourdough miche. I think it's the best sourdough, and it's in Park Slope, where I live. It's really moist, pretty sour, dense. It just … if you slice it, the whole piece of bread is there, not a lot of holes.
I mixed turmeric-ginger powder into water and drank that to attempt health. I should've added more. It lacked pep, and I thought of the turmeric tonic at Saltie, which made my cheeks flush!
At Pies 'n' Thighs, Ben from the Meat Hook dropped off a sample of our collaborative chicken-biscuit sausage, which they are selling at the butcher shop this coming weekend for our 15-year anniversary.
It's Pies 'n' Thighs' 15th anniversary, and friends and former employees around the country are creating dishes inspired by the restaurant. Meat Hook, Konbi, Han Oak, Tandem, Cicatriz in Mexico City, and Dough Mama. This group is so amazing I get teary, and Sarah and I are deeply moved that they are doing this during what is already a hectic time.
I sent Ben off with our black-eyed-pea salad and a donut. I was sliding into need-sugar territory, so I had our rotisserie half-chicken and a salad, and it was the right move. I wrapped up the breast to take home.
Ran home (not literally). I emptied my bags out, and I found the apple that I knew I'd put in my bag the day before plus a Cara Cara. I put them in my fruit bowls.
I love having fruit bowls. They look nice, they free up space in my adult-looking but college-size refrigerator, and I'd rather have room-temperature fruit. The downside is that my son eats five clementines and leaves the peels all over. Two blood oranges also turned up, so I put them on my desk (a.k.a. my dining-room table), where I knew (hoped?) I would eat them. I love the idea of blood oranges, but I buy them, and I don't eat them. I bought probably 15 in the last three months. I've ended up juicing all of them for a cocktail, or my son sees me juicing them and then he wants a glass of juice. I'm like, I have to get rid of these things.
Picked up my son from school. I ate a blood orange out of a sense of duty, and he had clementines. He's in a running club in Prospect Park, and 15 minutes before it started, he asked for an omelet, and I just needed cooperation at that point, so I made one really, really fast and ate the bite left behind in the pan. Dropped him off and then jumped on my computer.
As part of the original bargain to get him out the door, I promised I'd bring something sweet when I picked him up. My candy-drawer options were Hershey's Kisses, Jolly Ranchers, jelly spearmint leaves, and gummy stars from Whole Foods. No one under 80 actually likes spearmint leaves, but my mother sent them to me, and I appreciate the gesture. Anyway, I ate two gummy stars and took six for him.
For dinner, I grilled the chicken-biscuit sausages and Martin's potato rolls. I tossed arugula with pea sprouts, sliced tomatoes, and Feta. The sausages were juicy and spicy with a little snap, and I was happy and thankful for such a good, simple dinner. I had a glass of Pinot Noir from a case of wine left over from gift bags we gave to the staff at Thanksgiving.
Later, I watched an episode of Call my Agent!, and Dan made me a cup of peppermint tea.
Friday, March 26
Woke up at 7, made coffee.
I put a stick of butter on the counter to make cookies, because all we have is one lonely oatmeal cookie and one checkerboard einkorn cookie in the cookie jar.
I Googled molasses cookies and saw the Smitten Kitchen gingerbread biscotti. My friend Irene makes these for our Christmas cookie box, and I was seeing her Tuesday, so I thought it would be nice to bring her some. Biscotti might seem over the top, but making cookies is quick, and biscotti's not much more effort. Pro tip: I put parchment down on the counter and formed the biscotti log right on it, and picked up the parchment and put it on the cookie sheet so the mess was nonexistent. One time I saw Tara Norvell, a chef I know, post on IG that she subbed preserved lemon (from Tart Vinegar) for salt in a cookie. She must've posted that a year and a half ago. It stuck in my head, and I finally remembered to try it. I'm trying to get out of the trap of thinking I don't have time to exercise, so I did a quick streaming workout (if stretching is a workout) while they baked.
Working from home, midmorning I had Erivan yogurt, which is watery and very tart. It's not for everyone, but I've been buying it forever. Drizzled wildflower honey on it. It tastes so healthy — it's got so much acidophilus in it. I first got it where that health-food store on Bedford used to be (now the Apple Store, so that's ancient history), and I see it around more now.
Lunch: I picked up my son from school and made him another omelet and ramen with Sun noodles, peas, and corn. For myself, I made a chicken salad with the leftover rotisserie breast, walnuts, celery, Haven's Kitchen Turmeric Tahini, and green goddess from Pies 'n' Thighs and put it on toasted sourdough with potato chips.
The day started gray but became beautiful, so I rushed my seedlings from the windowsill onto my ramshackle, slightly scary deck. I have peas and cucumbers in containers. I didn't label anything well, so I think the eight sprouting things are tomatoes. I know there's a squirrel out there all the time — I see it. I have to get the netting.
Last year, I did tomatoes, and that was a medium success. By medium, I got maybe two handfuls of cherry tomatoes and four beefsteak tomatoes, so the bar is low. This year, I decided to go hard(ish). Last year was probably a response to quarantine — we were grasping at straws for anything to do, and because I had dipped my toe in, I felt like I could do a little better. What I picture in my head is me with a sun hat and a basket of "crops," which is completely insane. In reality, I'll be lucky if I can battle the squirrel for a few cucumbers.
I went to get water for the plants and absentmindedly ate a biscotti. I caught the preserved-lemon flavor and had to be sure, so I ate a second biscotti. The first time Irene made them, she used dark muscovado sugar that was a little clumpy so you'd bite into these little clusters of crystal-y sugar, so hers will always be the best.
I made holy-basil hibiscus tea for later.
We headed to Pies to taste beers from Talea, the new female-owned brewery in Williamsburg, with Roberto, our front of house manager. I can't imagine the past year without Roberto. Sarah and I are unendingly grateful for his commitment. He's been with us for years, knows the restaurant better than we do. The beers were great, all hazy IPAs and fruit sours.
After that, we went to Ace's for Detroit-style pizza with another server, Elaine, and Rinzin, a former server, good friend, and current de facto mayor of Williamsburg. We ordered shared slices and wings and sat on the sidewalk. Pizza was crispy and light. I loved it.
It was beautiful, so we walked over to OddFellows on the river. I ordered a passion-fruit-pistachio cone, and my son got cookies and cream. He tried a lick of mine, just looked at me, and we switched. I tossed the Oreo after a few bites because I knew I'd get my cone back. I did.
Went home, practiced the ukulele, my pandemic hobby, and went to bed early.
Saturday, March 27
Up at 7 with coffee. I had some Bourke Street Bakery challah, which is so heavenly fresh that even at two weeks old, it was fine for French toast. The challah is $12 or something, so it's a splurge. I don't even especially like challah. But we'll go through two sourdoughs from Winner a week, and it can't always be sourdough.
I had sugar mixed with grapefruit zest hanging around, so I added that. Felt fancy, possibly didn't make a big difference? I ate a piece of French toast and a Cara Cara.
Went to the farmers' market at Grand Army Plaza. My son was hoping to buy "killer-bee honey." We got eggs, apples, half-sour pickles, and a blueberry muffin.
We met up with two of his friends for a parkour class in the park. It was the first day, and the amazing thing was that the teacher, Natalie, was on Netflix's Ultimate Beastmaster — she was the one who cut her elbow and smeared blood on her cheeks. What can I say? If you know, you know.
Then we got smoothies — pineapple, coconut, celery, cucumber, lemon — and headed to the playground.
When we left, I stopped at the grocery store for a few basics, including a giant bag of grapes, thinking what I always think, which is, Why do grapes come in a huge bag that's hard to store in my baby fridge and hard to use up before they get squishy? I could take some out of the bag, but that seems weird, and we are all in this together, buying too many grapes.
At home, I ate a half-sour pickle, which I was psyched about because I forgot I was carrying them around for four hours, and had a few sour-cream-and-onion chips (best chip flavor IMO) and the holy-basil iced tea. Clove-y.
My brother and his family live five blocks away, but we haven't seen each other much this year. I had a bottle of Cenote tequila I bought last month in a panic-stricken $250 alcohol spree, because all we had was some gross wormwood thing, dry vermouth, and the like, and this is no way to live. Made blood-orange margaritas (voilà, gone!) and brought one of our sour-cherry pies that was in my freezer.
My brother grilled swordfish and veggie kebabs, and I had two margaritas and pie. It was great. The night ended with the kids screaming and spraying whipped cream into their mouths, for real. As soon as I got home, I noticed a blood orange sitting on my desk/table (damn!). It's shrinking slowly day by day.
I put my son to bed, acknowledged the giant mess in my apartment, and ate two jelly spearmint leaves. Later, I ate some biscotti, and Dan made me a chamomile tea.
Sunday, March 28
Dunked a biscotti in my coffee and then made scrambled eggs on Winner sourdough. It just keeps on giving.
Later, I opened a bag of "bananas Foster" pecans, but they were crazy sweet, so I saved them to add to cookies. Those were weird.
I shifted gears and had the last few bites of turmeric chicken salad and an Oroblanco grapefruit, which Sarah turned me onto. I have so much citrus.
Midafternoon, I had a big bite of ramen with soy sauce and sesame oil, before I gave it to my son, along with half a kombucha. Ramen is in, and omelets are definitely in right now. Pizza has been removed from his diet.
More holy-basil iced tea.
At 4 p.m., I ordered pizza and Greek salad for the babysitter and child who may or may not eat the pizza and broke free of the bonds of motherhood (woo-hoo!) to meet Sarah to go over the week ahead. We made our way over to Diner, our ancestral homeland, and sat outside. We ordered fluke crudo, brandade croquettes, chicken-liver pâté, a Caesar salad, and they sent us a squid, radicchio, and bacon salad. I had a Hemingway daiquiri, Sarah had a spiced-gin drink, and then we drank Schloss Mühlenhof "Das Ist Keine," a bone-dry skin-contact Riesling blend. I love wine, though I'm not super-knowledgeable about it, but it was delicious, and I'm, you know, keeping this diary. They sent us a chocolate-rye-whiskey mousse and Antica Torino amaro. All in all, an absolute feast.
I took an Uber home and had hot water with half a teaspoon of Calm, a vitamin powder with 2,000 five-star Amazon reviews. Questionable move that feels like a total walk of shame to admit, but we're among friends.