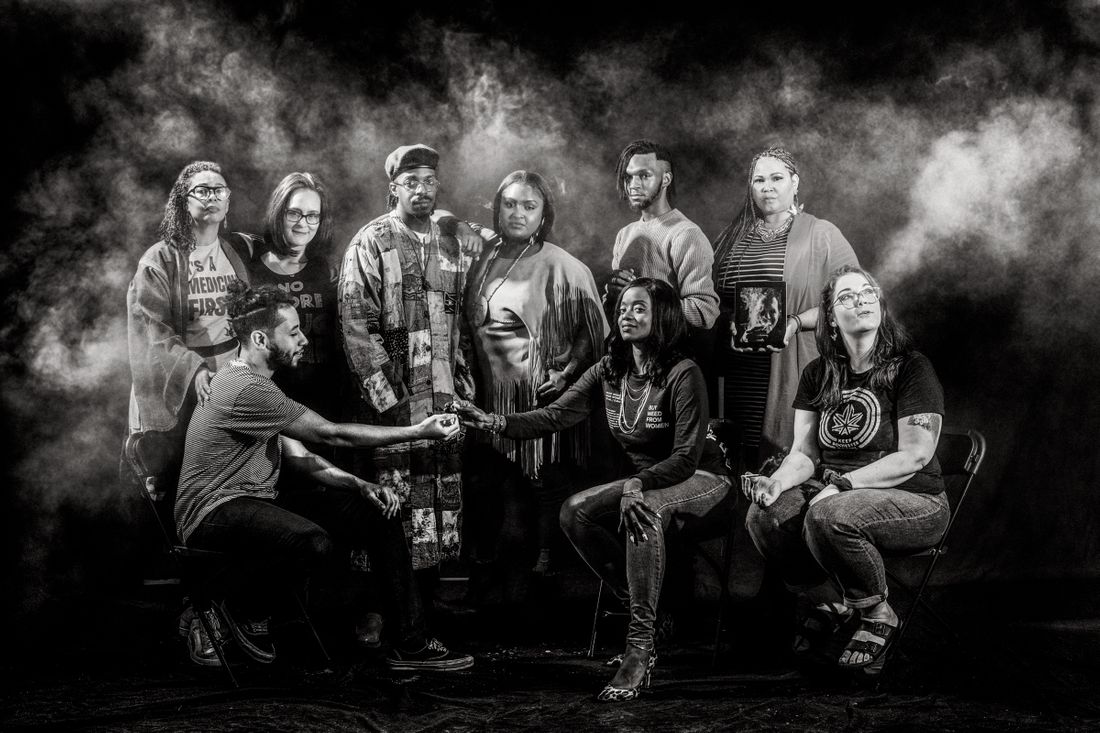 From left: Saki Fenderson (
Tainted Love
), David Hernandez (
Happy Munkey
), Cristina Buccola (
CB Counsel
), Grizzly Bocourt (
Cannaware Society
), Chenae Bullock (
Little Beach Harvest
), Mary Pryor (
Cannaclusive
), Jawanza Williams (
VOCAL-NY
), Gia Morón (
Women Grow
; the late Doug Greene, former legislative director of
Empire State NORML
, is pictured on iPad), and Mary Kruger (
Roc NORML
).
Photo: Devin Oktar Yalkin for New York Magazine
Jawanza Williams remembers the day in 2019 when adult-use marijuana legalization didn't pass in New York. As the director of organizing for VOCAL-NY, he had been advocating for nearly a decade, and he thought this time his group might have it. Now, he was at the Capitol with his fellow activists, talking through the loss. In the end, it had come down to the money: Progressive legislators wanted to direct half of cannabis revenue to minority communities, but Governor Cuomo wouldn't commit in writing. "We were outraged," Williams says. But for him, the outcome contained "a seed of hope." A compromised bill might have resulted in a form of legalization that ignored "the experiences of Black, brown, and poor people who have been catching hell as it relates to this one plant," he says. "So even though we didn't win, we also didn't exactly lose."
Williams is part of a grassroots coalition of activists, lawyers, businesspeople, growers, patients, and wonks who believe that legalization is less about weed than about equity and restitution. The bill they had been fighting for — the Marijuana Regulation and Taxation Act — was first introduced in 2013 and has been reintroduced at every session since. Among other provisions, the bill sets aside revenue to be reinvested in communities affected by the war on drugs, expunges criminal records, and builds in ways to help legacy sellers access licenses. It was finally signed into law on March 31.
When other states legalized weed, white-owned businesses had first-mover advantage, allowing them to acquire licenses, real estate, and capital. ("Cannabis is like polo," says attorney Cristina Buccola. "It takes a lot of cash to play.") Gia Morón, president of Women Grow, which cultivates female leadership in cannabis, took notice. "What people were being sent to jail for, whole companies were being built on," she says. "I thought, This is a commodity. This is an industry that's going to need janitorial services, PR, accountants, attorneys. You don't have to be a grower or own retail spaces. You can create the packaging." For her, the opportunity afforded by legalizing weed in New York is to build an industry that gives Black and brown communities a way to profit too.
One woman Morón has worked with is Chenae Bullock, a member of the Shinnecock Nation and the managing director of the tribe's cannabis business, Little Beach Harvest. In the coming months, the company will break ground on a new cultivation facility as well as a dispensary, and it has begun preparing Shinnecock members for more than 100 anticipated jobs. "Whaling was the first cash cow of this continent," Bullock says. "And who did the settlers learn that from? From my direct lineage. And what happened? We were not able to own ships. They controlled the market." This time, she says, "it's important to make sure we're not left behind."