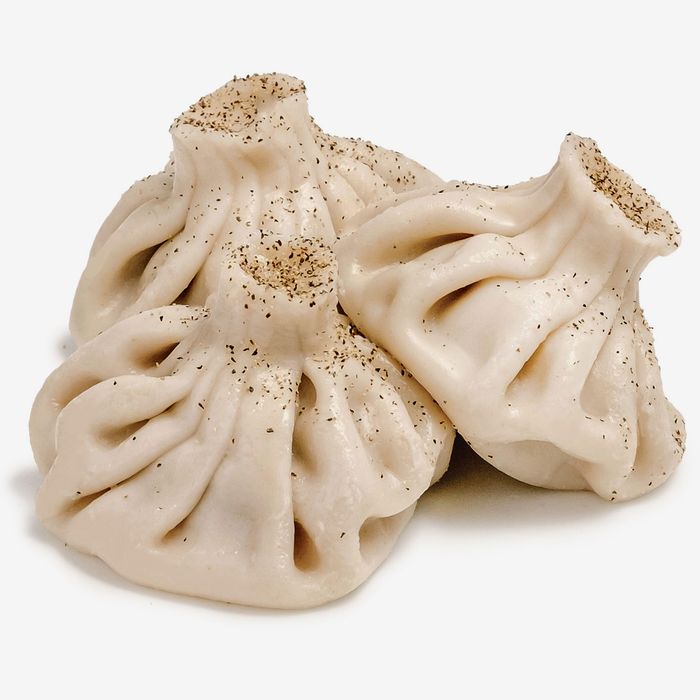 Cafedelia's khinkali.
Photo: Cafedelia
Whenever the Underground Gourmet goes on the hunt for something new and exciting to eat in Greenwich Village, we head straight to 8th Street. The blocks that run from Broadway to Sixth Avenue attract their share of chains, including a Dunkin' Donuts, a Chipotle, and a Domino's Pizza. But interspersed among them lies a small fleet of indie gems. The only problem with this fleet is that it is fleeting. Good restaurants come and good restaurants go. No sooner do you discover the purveyor of a first-rate Persian ash-e reshteh than it is packed up and replaced by a Yunnanese tofu-pudding specialist; blink and the Basque cookie bakery has morphed into a French wine bar.
The latest player in this game of culinary musical chairs is the 12-seat counter-service Cafedelia, an unassuming little Georgian restaurant that recently moved into the kitchen of the late great chickpea master Sunshine Hummus. All the cheesy breads and hearty dishes of the Republic of Georgia that have become increasingly popular in New York are here. Business partners Ramaz Kiknadze and Zurab Kikiani say the menu is a fast-casual version of their Georgian Deli and Bakery, a takeout shop they run in Bath Beach. All too aware of the mayflylike life span of the average 8th Street restaurant, the U.G. adopted a get-it-while-the-getting-is-good tactic and ordered practically the entire Cafedelia menu the other day. Most everything was good, and what wasn't good was great. The chicken-meatball soup was rich and herby. The spicy beef stew called chashushuli had everything you could ask for in a spicy beef stew, plus salad, pickles, and an un-Georgian helping of mashed potatoes on the side. The adjaruli khachapuri (the baked-to-order bread bowl shaped like a canoe, its belly brimming with melted cheese and an egg yolk on top) did not disappoint — how could it? And our order of khinkali (three juicy meat-stuffed dumplings pleated like old-fashioned hangover ice packs) made us wonder why xiao long bao is the last word on the subject of soup dumplings in this town. For dessert, the honey-caramel cake gave the lie to the notion that Georgians do not take their sweets seriously. All told, our Georgian feast left us tremendously full and wholly impressed. We're adding Cafedelia to our list of 8th Street gems. We hope it sticks around for a while.