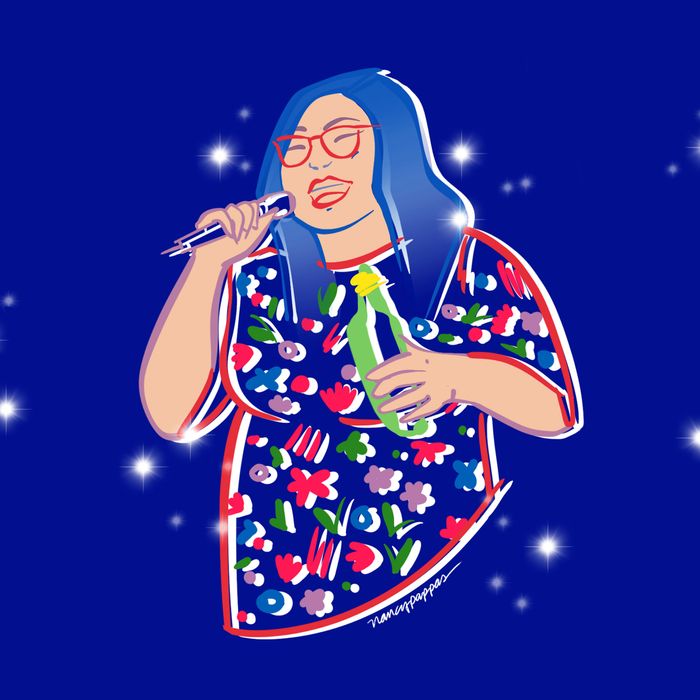 An illustration that was once commissioned specifically for the author's birthday party.
Illustration: Nancy Pappas
During the final minutes of March 5, 2020, three friends and I were drunk on the afterglow of a Celine Dion concert and too many martinis. Having just seen Dion perform in Brooklyn, we hopped in an Uber and headed straight to Koreatown, stumbling into Gagopa Karaoke around 1:30 a.m., which I guess means the last time I sang karaoke was technically March 6.
We passionately butchered almost every song in Queen Celine's catalog. Since COVID hadn't fully arrived in New York yet, we also sang Hilary Duff's "Come Clean" and tweaked the lyrics of Enrique Iglesias's "Escape": "You can run, you can hide / But you can't escape COVID." We laughed and shared bottles of soju and of course had no idea how catastrophically, devastatingly right we would be. Around 4 a.m., the staff gently asked us to leave, so I took a selfie with my favorite employee, Lee, and rode the shaky elevator down to the empty Koreatown streets, figuring I'd be back soon.
I was a regular at Gagopa. The strobing disco lights. The red pleather booths that lined the semi-soundproof rooms. The framed posters of Lady Gaga and the Jonas Brothers. They were all so familiar to me; Gagopa was my second home. Other people went to clubs or bars. I took groups of friends — 10 people, 25 people — to Gagopa and we sang until we lost our voices. For quicker fixes, I'd drop in with a couple of friends for happy-hour karaoke, trying out niche songs that might not play as well with a big group, and finding out which songs are way out of my range. (The chorus of Paramore's "Misery Business" is, miserably, too high.) Everyone at Gagopa knew my name; they had buckets of ice ready to chill the wine I'd bring thanks to their outstanding BYO policy, and they made sure my mic stand was in my favorite room when I arrived. I had gotten to the point where they made me feel like karaoke royalty, but it took a while to get there.
I'm Korean American, but was adopted by white parents and raised in Binghamton, New York, which is not exactly a hotbed of karaoke bars. During my first year in Manhattan, my Craigslist roommate invited me to her birthday party at Gagopa. She was into show tunes. She and her friends broke out a full-scale performance of "Cell Block Tango," from Chicago, and an impassioned duet of "Take Me or Leave Me," from Rent. I had a good-but-not-classically-trained voice, thanks to years of musicals and choir in school, but I didn't sing solo in front of strangers that night. Instead, I just sang along when someone picked a Spice Girls song.
My second trip to Gagopa was with co-workers for a boss's farewell party. Now, surrounded by people I knew, I led the charge, scream-singing "California," by Phantom Planet, and Gavin DeGraw's "I Don't Want to Be" — a back-to-back homage to the golden age of early-aughts TV.
From that point on, I spent almost a decade looking for any excuse to karaoke, and it became a go-to birthday spot. The BYO policy meant it was more affordable than a bar or restaurant, and we could bring our own food, too. It started with getting pizza delivered to the private room, and evolved into ordering fried chicken from Bonchon, arriving with whole cakes, or even having a friend cater homemade crab rangoons and popcorn chicken when I celebrated a new job in 2019. My parties gained a reputation for being dinner and the show. "This is Alyse," people would say when they introduced me. "She's a karaoke queen."
Colleagues and acquaintances became fast friends because once you let loose and scream "You Oughta Know" together, you're bonded for life. I met the friend of a friend, who brought gimbap and dueted Evanescence's "Bring Me to Life" with me in perfect mezzo-soprano pitch. A fellow adoptee that I met in a rideshare in D.C. came to a summer-kickoff karaoke while she visited NYC. A couple that I met during a limo ride to Atlantic City were also Gagopa fans, and they're now two of my closest friends. I was able to create a community born out of a shared appreciation for highly specific bangers from the mid-'90s and early-'00s and the beauty of using a chicken drumstick as a second microphone, all of us bonded by drunken renditions of "I Want It That Way."
The nights were spontaneous, but they always began with "Mr. Brightside," usually sung sober as a crowd-pleaser to help everyone warm up. The other constant was "Nobody Wants to Be Lonely," the highly underrated Christina Aguilera and Ricky Martin duet that my best friend Izzy always did without fail, harmonies included. Many other friends had their go-tos — Elizabeth rocking "Girls and Boys," by Blur; Joel channeling his inner Bowie for "Space Oddity"; Regan leading "Like a Prayer"; Melanie doing "Shoop" flawlessly; Ben slowing it down for the only show tune, "Mr. Cellophane," from Chicago; Karen, Jess, and Marianne leading Hoku's "Perfect Day"; Frances being the Sheryl to my Kid Rock for "Picture"; and Carolyn pulling out "Stars Are Blind" by Paris Hilton — but there was enough randomness to make every night feel different. The best moments were the odd songs that no one expected, like Izzy and AJ doing the Nelly and Tim McGraw duet "Over and Over," or Kelsey reminding everyone of the bop that is "On the Way Down," by Ryan Cabrera. Almost every song eventually became a group sing-along, but the heavy hitters were "All Star," "The Middle," "I'm Not Okay (I Promise)," "Hands Down," by Dashboard Confessional, "Bye Bye Bye" (complete with dance moves), assorted High School Musical numbers (mostly me and Izzy), and, of course, Semisonic's seminal "Closing Time" to end the night.
The night after Celine was especially spontaneous; there was no mic stand set up ahead of time, and we didn't bring our own anything. Instead, we had fun singing together and we figured we'd be able to do it again soon — until it became very clear that we couldn't. Since that final Gagopa night, I've also moved across the country to Los Angeles, and while everyone else was busy baking banana bread and sourdough, I was trying to DIY a karaoke bar in the living room of my fourplex one-bedroom. Unlike my small studio in New York, where I could touch my bed and couch at the same time, I had the space to set one up.
I have a gold mic set that takes permanent residence on my mantel underneath the TV, the same microphone covers (more like condoms, really) they use at Gagopa, a $10 monthly subscription to the karaoke-catalogue app KaraFun, and two disco lights flashing around my living room. I'm also lucky enough to have neighbors who love karaoke, so we formed a pod and sang on weekends. Right beside the TV hangs a custom illustrated portrait of the street entrance to Gagopa by artist Jen Toth (complete with the creepy door decal of a woman's silhouette that scares me every time) as a constant reminder of where my karaoke journey began.
There are perks to singing karaoke in your own apartment — no lines for the bathroom, you can control the temperature of the room! — but the energy is all off. There aren't laminated binders of song names, or weird music videos made out of stock footage. Spontaneous group sing-alongs don't happen as often and, most disappointing, there's no funny little Sunfly mascot. Karaoke at home is like the radio edit of "It Wasn't Me"; it makes you miss the real thing.
Now it's been more than a year and I don't know how much longer it will be before I can get back to Gagopa, or if it will even be there once I can. I don't know every song I'll sing, either, but I do know how the night will start — just as it always has, with "Mr. Brightside": Coming out of my cage, and I've been doing just fine. Gotta gotta be down, because I want it all …