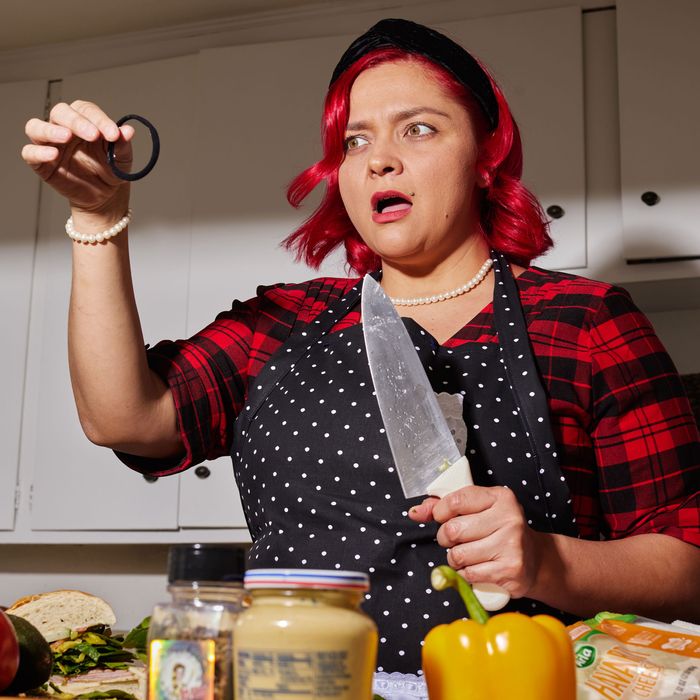 Unique Miranda runs one of TikTok's most mysterious, and entertaining, accounts.
Photo: Maggie Shannon
This article was featured in One Great Story, New York's reading recommendation newsletter. Sign up here to get it nightly.
For months, TikTok has been overwhelmed by videos of people baking whole blocks of feta cheese into beds of cherry tomatoes, the combination cooked down until it becomes a fatty, acidic, creamy sauce of sorts. The trend got its start in Finland, but the most intriguing of these videos by far comes from the account @CheeseDaily. "Last night, I found this rubber band in my husband's car covered in brown hair," says an unseen narrator. "Clearly, my hair is red." She speaks in the kind of dulcet tones usually reserved for ASMR hosts as a hand examines a gnarly discarded hair tie. "I did not make a fuss over this — instead, I whipped my husband up this amazing meal," she continues, the hands now coating tomatoes with olive oil and basil. "I wanted to cook him up something delicious. I knew he'd take one bite and swallow it."
A surprise comes when she spoons the baked mixture into a wrap, instead of the pasta that's typically used in the recipe. Then, another surprise: "I added black olives, to disguise the fact that I had diced up this bitch's rubber band." The hands saw through the pieces with commendable precision. "My grandma said never to wear rubber bands like this because they give you split ends, and I imagine this bitch is covered in split ends. Anyway, let's just hope this gives this motherfucker constipation."
I am one of the millions of viewers who have been riveted by @CheeseDaily's videos since they started to appear on the platform in 2019. There are now just over 70, and they last about 40 seconds each. All pandemic long, we've followed this saga as the videos have evolved into a daily soap featuring a loving wife and the man who wronged her — the 2021 version of a pulpy, serialized Victorian novel about a great betrayal that leads to delicious revenge.
Each video is flooded with comments from fans who demand to see justice served: "Drop him sis, you deserve better," they advise. "Is this a true story?" they wonder. "Cook the husband," they command. The person behind @CheeseDaily doesn't engage. Instead, she posts another video. "My grandma taught me I should obey my husband at any cost," our narrator intones as she mixes cinnamon (and some broken eggshells) into banana French toast. "But I have not been giving a fuck because I find things like rubber bands."
The woman who runs @CheeseDaily is Unique Miranda. It's a Saturday in late February when we meet over Zoom. The East Coast is dreary and snowed in, but it's bright and airy where she sits. Unique — it only feels right to call her by her first name — lives in Fontana, California, about 45 miles east of L.A. Her Day-Glo red hair is tied into a low ponytail, and her voice during our Zoom call is as soothing as it is in her TikTok narration.
I tell Unique how thrilled I am to actually meet her. And then I ask — there's no gentle way to ask — is the husband real?
"Yes, I'm really married," Unique says, laughing. She and her husband have been married for 18 years. After watching so many videos of Unique preparing meals ostensibly made for him, I'm surprised to learn that he's actually a chef, one who doesn't engage with the mystery surrounding his own existence — which is to say, he doesn't watch Unique's videos. "He's just very private," she says. Unique tells me she "took over" the kitchen in the house and handles most of the cooking at home.
I'm almost certain she doesn't really dose any food with the remnants of a tawdry affair, but as we talk about Unique's life, it nevertheless feels like learning the backstory of a beloved TV character. She tells me she grew up in East Los Angeles with her brother and sister, all three raised by a single mother. "My mom didn't cook," Unique recalls. "We ate out a lot. You know, a lot of Top Ramen. She struggled as a single mom."
Unique says she mostly learned to cook as an adult and from her grandma. "She's just a classic good cook," Unique says. To this day, she turns to her grandmother's fideo and sopita recipes when she needs comfort; the sopita was the first thing she made after her family recovered from COVID-19 in December.
In the videos, Unique's narration constantly calls back to advice her grandmother passed along, advice that plays to such outdated housewife tropes ("I did not make a fuss about my husband being late because my grandma taught me from a young age to pick and choose my battles") that it at first made many people wonder whether the @CheeseDaily videos could possibly be serious.
Unique insists that this isn't an act and that she aspired to be "a very old-fashioned housewife" like her grandmother. "I really love that about my grandma, and I love to be like that. I love to serve my husband — that's all true," she tells me. "I love to make sure he has food when he walks through the door for work. I love to keep a tidy house for him. I love to wake up before him and make sure he has breakfast and coffee. That's my love language. I know some people find it unbelievable."
She has a day job as a caretaker for special-needs adults, she has three daughters and a son, and recently adopted a rescue kitten named Finn ("We're just so happy he's alive"). All four of the kids make appearances on Unique's YouTube channel, Unique Daily, which is completely different from her TikTok and focuses mostly on her love of Mini Brands, the incredibly popular miniature grocery toys, which Unique unboxes with her viewers.
Unique started using TikTok in 2019. Her youngest daughter was on the platform, and one day, while cooking, Unique announced that she would be joining too. "I told my kids, I'm going to make a TikTok just about cheese — 'cause I love cheese," she says. "I grew up eating government cheese, and I put cheese in almost everything I make." I ask Unique to name her favorite cheese, and she tells me it's whatever is sold in bulk: "I must spend $70 every week at Costco on cheese."
At the time, she says, her kids were skeptical: "They were like, 'That's so weird. Nobody's going to watch that.'"
Unique's earliest videos make good on her promise of an all-cheese channel. Instead of a voice-over, she soundtracked them with a TikTok feature that pulls popular audio clips. In her first video, characters from Parks & Recreation chant "Don't be suspicious" while Unique demonstrates the proper way to doctor a bag of Doritos in a convenience store (add cheese and pickled jalapeños from the nacho station). In another video, Unique stuffs burger patties with Flamin' Hot Cheetos under the sound of a child singing Lady Gaga's "Paparazzi." (Gordon Ramsay featured the video on his TikTok account; Unique says she's honored to have been called a "doughnut" by the chef.) Eventually, she ditched the TikTok audio and decided to layer her videos with her own voice and tell stories about her life, most notably about her grandmother and husband.
As Unique spreads mayonnaise onto white bread, chapter one of the @CheeseDaily chronicle takes shape: "When I was younger, my grandma said the way to a man's heart is through his stomach. And can I just say, this woman has been married for 50 years. Happily married. So of course I took her advice and learned how to whip up a bomb-ass sandwich. And you guys," she says, layering the sandwich with a sheet of pepperoni, slices of avocado, and ample submarine dressing, "literally, my husband will choose this over any other meal that I can make him. And he's happy. And we're happy."
Controversy soon spun out in the comments section: "This sounds so old fashioned, no thanks," reads one. "My mom has gone through 2 divorces if only she'd known how to make a sandwich," goes another. Other commenters defended Unique: "Instead of making it about you just be happy she loves her husband of 17 years." And then, some skepticism: "Is the husband real?"
As a rule, Unique rarely replies to comments. "I love that people have all different opinions. I understand that. It's okay," she says. What's more, she's not interested in arguing with her followers, and she's not trying to be coy. "It's there. It's in the public records. I'm really married. I'm not going to defend myself or prove anything. I'm never going to do that."
As her popularity grew, Unique doubled down on the theme of domestic bliss. "Today, my only goal was to please my husband," she says in a video featuring pulled-pork sandwiches. "It was a very special day because he received his PlayStation 5."
Even though Unique doesn't reply directly to her followers, the dramatic progression of her videos makes it feel as if she's having a conversation with us. Even as @CheeseDaily blurs fact and fiction, the warm monotone of Unique's voice is a poker face. She riles us up as she discusses her husband's rules and her daily chores; she placates us with shots of perfect birria and breakfast sandwiches that bleed egg yolk. Other creators grow their audiences through wide-eyed, earnest enthusiasm; the appeal of @CheeseDaily is its gentle subversion of followers' expectations, of algorithmic timelines that favor fleeting trends, and of TikTok in general. Yes, you can watch Unique make a textbook example of TikTok's viral tortilla creations, but instead of a pop-music soundtrack, she will tell you a story about setting an ex's car on fire.
Recent videos have begun to suggest marital trouble. In one, the voice-over describes a false eyelash found in the laundry: "I knew it wasn't mine because I'm not allowed to wear false eyelashes." So it gets cooked into a grilled cheese. In another, a pair of pink panties she found is chopped up and rolled into a carne asada burrito: "I would never wear panties like this because they are just so tacky. And cheap. I imagine this bitch was itching in them." The video ends abruptly: "Hopefully, he chokes."
The panty video has been viewed 28 million times, and the drama has resonated with followers — sample comments: "I AM LOVING THIS NEW PLOT OMG."; "CHARACTER DEVELOPMENT!" — but Unique doesn't consider herself a storyteller. ("I've never thought about that," she says.) I ask about the shifting, ever-more-sinister tone of her videos, the chopped-up rubber band, the pink panties. The characters aren't fictional. Are the stories real? And if they are, are they cathartic?
Unique smiles. "Everything I talk about I've been through at some point in my life," she says. "Yeah. I've had it tough at times, you know? But I don't think I have it tough anymore. Like, I'm good."
She talks about her toughest time in a YouTube video posted three and a half years ago called "My Baby Died Inside Me One Day Before Her Due Date." In it, Unique sits on a park bench. It's overcast and breezy. She lifts her blue pendant to the camera's frame; her late daughter's ashes are inside. "I get to carry her everywhere with me," she says, before explaining how her doctor told her and her husband that the baby had no heartbeat. She describes how she got rushed to the hospital in an ambulance without sirens. Once there, she says, "They took me to a room where people are giving birth. Babies are crying all around you. Women are screaming from giving birth. And here I am, taking five different ultrasounds, with a baby who has no heartbeat in me. I think that was the hardest thing I've ever gone through."
The hospital cleared the room for Unique and her husband. She pushed three times: "I held her. My husband held her. We stayed with her until her little lips dried."
Unique made the video, she says, to connect with and help families experiencing the same kind of loss. "You're going to smile again, and it's going to be real," she says. "Because when you're in it, you don't feel like that. You feel like you're going to — you don't want to live anymore, just because it hurts so much."
She returns to the earlier question of catharsis. She doesn't see the TikTok videos as that, exactly. The pain she went through makes her impervious to other pain. Forget the rubber bands, the eyelashes, the chopped-up underwear. "After I lost my baby," she says, "I just see things differently now. Things that used to affect me before don't affect me anymore. Does that make sense?"
Over Zoom, Unique has agreed to show me how she makes a sandwich, and her kitchen counter is arrayed with the fixings. She takes out two slices of wheat bread with oats baked onto the crust. "I always go with bread that's fancy on top," she explains. She applies a fine layer of mayo to each one.
A great sandwich, you see, is about layering. After the mayo, you layer on the cheese. You fold each slice of meat over itself, deli-style; laying it flat takes away from the volume and texture of the sandwich. Unique then lays down a blanket of pepperoni. "I don't want a bite of just pepperoni, so I take my time with that," she explains. Next, she adds the briny elements: olives and peperoncini go on one side, followed by pickles.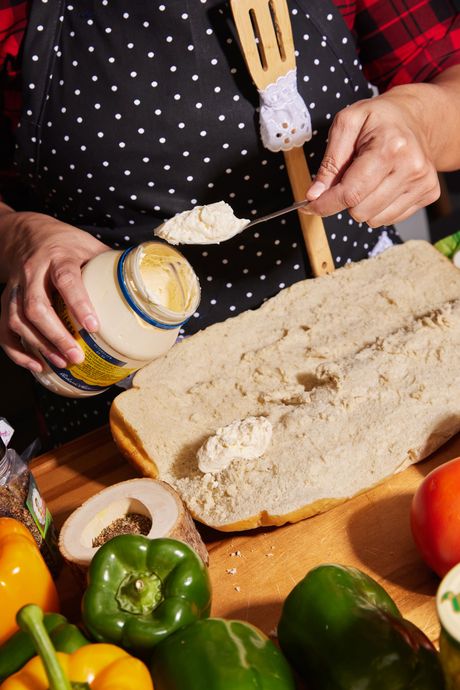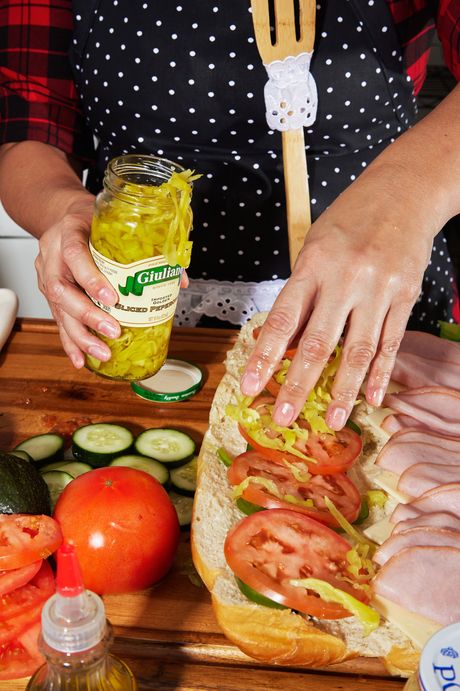 "I don't have a specific brand," she says. "I get what's on sale. That's how I shop. Whatever's on sale, we can make it work." She adds tomato, bell-pepper rings, and spinach. She shakes a bottle of submarine dressing and applies it artfully to the halves of her sandwich. "This will take your sandwich to a whole other level," she advises.
She adds Mom Cave spices in the flavor Queen's Dressing, which feels fitting. Little jars from the brand feature prominently in many of her videos, so much so that at first I thought the entire account might be some kind of social-marketing gimmick. Unique assures me that's not the case; she just likes the product.
When she says this, she sounds as she always does — unremittingly earnest. I think that's what has kept me so fascinated. Even when the drama is opaque, she is transparent. Her videos aren't a pitch for a Netflix show or a brand trying to adopt the language of the internet to sell frozen food. They are by a woman working through real emotions and misgivings, then turning those feelings into something messy and new and fascinating.
With Finn slinked around her ankle — "He thinks I'm his mom" — Unique cuts the sandwich in half, and I want to reach across the laptop screen and take a bite. Instead, I wonder if she's going to give it to her husband. If she does, I'm sure, for once, that she doesn't actually hope this motherfucker chokes on it.