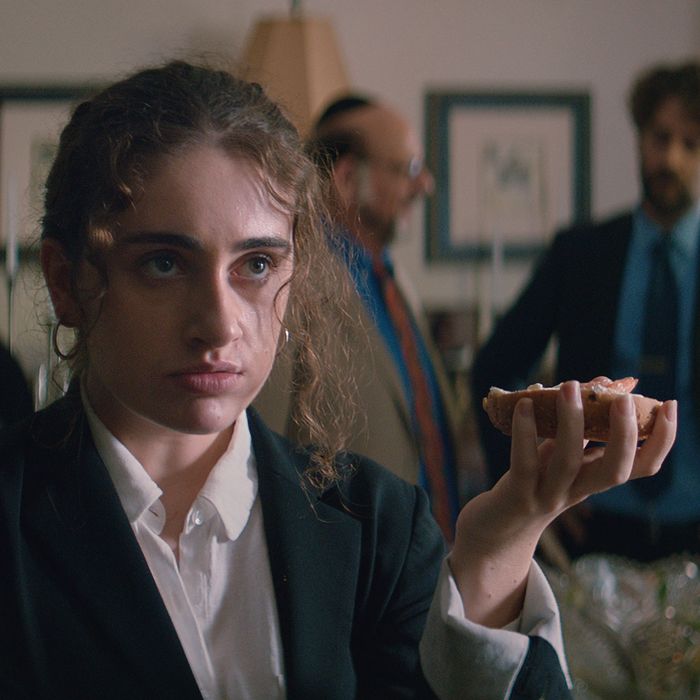 Rachel Sennott stars as Danielle in the new film "Shiva Baby."
Photo: Maria Rusche, Shiva Baby
By July of last year, I'd already grown used to receiving email invites to attend a "virtual shiva" — at least, as used to that sort of thing as anyone could get. At first, it was bizarre, a bunch of mourners in our little Zoom boxes. Even the people who had lost loved ones would crack up at the weirdness of the whole thing, with random folks "dropping in" to pay them a visit. But when the summer came, and another person I know lost somebody, there was one line in the invitation to virtually sit with the mourners that stood out: "Please bring something to eat." It went on to explain, "Dad would have found it weird if you didn't have food at his shiva."
I obliged by spreading a thin schmear of Acme whitefish salad on a plain bagel I procured from Greenberg's just for the occasion. I topped it off with a few thin slices of lox and slivers of onions and logged on. Part of me worried I was going to be the only one actually eating, like that meme of the person who dressed up like the Babadook for an otherwise costume-free Halloween party. As soon as I logged in, though, I saw a few other people eating bagels. Another was munching on grilled cheese, and one guy said a few words about the deceased after eating what looked to be some sort of very delicious dipped sandwich. It was odd, eating over Zoom with a bunch of strangers who were brought together to celebrate a life and mourn its ending, but it was also the closest I had felt to just about anybody throughout the pandemic because there was food involved.
Shiva is the week of mourning following a death. And while it may seem somber to people who have never paid a shiva call, it's ultimately a reminder to those in mourning that even though somebody close is gone, there is a community of people out there who want to help. And, in normal times, they'll feed you.
"Food really helps that process when we are in person," says Rabbi Ariann Weitzman. "I have heard many people express dissatisfaction with Zoom shiva because there isn't a sense that it is acceptable to just be silent, there is no way to just sit with another person without it being awkward."
Even though food is meant to help comfort, it serves another purpose for shiva calls where mourners are supposed to be approached in silence: a buffer. "Most of us have a very hard time just being present, and eating is a socially acceptable thing to do while being silent in each other's company."
While there are too many Jewish traditions to even try and list, the one I've always found fascinating is our connection to food. As Rabbi Weitzman points out, "eating reminds us that we are still alive even in the face of death."
Another Jewish tradition I love is mining our most awkward and often painful moments for material. This is maybe what first made me notice Shiva Baby, the new movie that debuts in theaters and on streaming this week, and which fits comfortably into a certain, very specific canon of 21st-century movies — along with the Coen brothers' A Serious Man, and the Safdie brothers' Uncut Gems —that are darkly humorous and anxiety-provoking in equal measure.
"I always thought shivas were funny to me in a perfectly Jewish, morbid way," says Shiva Baby's writer and director Emma Seligman. "At least in the reform, Ashkenazi way I grew up, they felt like they could have been any other family event."
Seligman originally made Shiva Baby as a short student movie. In translating it to a full feature film, she knew it would be crucial to re-create the authentic shiva experience. "I don't want to say I'm an expert in shivas," she says, "but I did grow up going to a lot of them." She says she's lost track of exactly how many she attended, but did pay attention to the things she saw and heard — especially what people were eating. Food is both central to the new film and loaded with meaning: An ex-girlfriend takes a cookie from a tray carried by the main character, Danielle; is it flirtatious or an actual power grab? In another scene, Danielle chows down on a bagel and lox, even after she told her mother she wouldn't eat fish because she's a vegetarian — a signal that we're about to witness her descent. There's a lot of eating in Shiva Baby, and, to repurpose a line from the famous 1960s Levy's rye bread ads, you don't have to be Jewish to understand how significant food is to this movie.
Seligman knew it was crucial to nail the spread. "My production designer and art team were just like, We get it. You need bagels."  Then they kept going. "At first there were just bagels and lox," Seligman says, "but I was like, "Where's the cream cheese?" So I kept stressing the whole bagel spread. I was like, 'Tuna. Egg. Cream cheese.'"
Food is so central to the Jewish mourning process that shiva food has become its own small cottage industry. Jewish appetizing shops know how important the spread is to almost any Jewish gathering, be it bris or wedding, but especially the shiva, and have made it a part of their business to provide food for mourners. Zabar's, for instance, has a shiva and sympathy basket that includes a chocolate babka, mandel bread, cookies, and a pound of coffee. Russ & Daughters, Barney Greengrass, and Ess-a-Bagel are all included on the Shiva.com "Trusted shiva delivery in New York" page. And Shelsky's in Brooklyn even sells a shirt that reads, "YOUR SHIVA WE DELIVAH." Over the first few months of the pandemic I got to know all of the shiva offerings, as I looked over websites trying to figure what to send various people I knew who lost loved ones over the last year.
But smoked fish is expensive, and it didn't take long for me to realize that if I spent the pandemic sending sable and pastrami-cured salmon to everyone who lost a loved one, I'd be broke long before we all got access to vaccines. Gift cards became the easier way to tell people I was sorry for their loss and hopefully they can get a pizza or bánh mì and find a tiny bit of comfort. But it just wasn't the same.
The act of eating around other people who are mourning is not one I particularly enjoy, but it is one of the deepest and most profound eating experiences there is. Maybe that's why Shiva Baby has resonated with me so strongly. I happen to think it is an objectively entertaining film — there is just enough enjoyable cringey humor, and the relentless score will have you white-knuckling it at moments — but it also had me longing for something deeper, thinking about how we've all been in mourning over the last year, and how, at some point soon, it will be safe to go sit in a restaurant with the people that I love.
My hope is that between now and whenever that can happen, I don't have to tell anybody else how sorry I am for their loss. When my friends and I sit down and have a meal together for the first time, I want it to be a joyous occasion. There can be lox and bagels, but I'd be just as happy if it happened over dim sum at Nom Wah, or with a few Superiority Burgers snuck into a dive bar. Mostly, I want it to fill a purpose similar to eating at a shiva — to be the collective act of trying to get through loss, and moving on together.