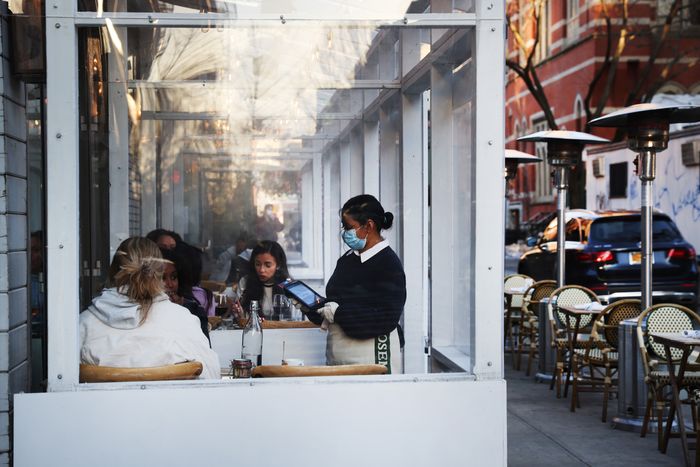 Local Law 1932-A has helped New York City restaurants hang on.
Photo: Spencer Platt/Getty Images
For many restaurant and bar owners in New York City, Local Law 1932-A has allowed them to get through the pandemic. One business owner went so far as to describe it as "not only necessary but crucial to our survival." First introduced last May by New York City Councilmember Carlina Rivera, the law suspends enforcement of the personal liability provision in leases for tenants affected by the COVID-19 pandemic. The law is set to expire on March 30, but yesterday Rivera brought it back to the Committee on Small Business to extend it through the end of June. Before the extension is official, it will be introduced in today's meeting and has put to a full vote Thursday, March 25.
Even with glimmers of optimism, there is still a long road ahead for anyone who works in or operates restaurants and bars. Over $1 billion in rent is currently owed to New York City landlords, and according to the New York City Hospitality Alliance, 92 percent of surveyed restaurant owners couldn't pay their December rent. Grub talked to Rivera about why she thinks the city can't afford to let the law expire.
Why do you see it as important and necessary to extend this law right now?
I think we've seen that our businesses are still closing. On a citywide basis, the percentage of operating small businesses has decreased by almost 40 percent. We also saw in data from the Downtown Alliance, a staggering 12 percent of all businesses in lower Manhattan have permanently closed. So when we first passed the bill and then made that first extension, we were hearing from so many businesses and advocates that this was essentially going to save their shop.
Whether it's sending a message to landlords that trying to enforce this clause is not something that should be done during a pandemic, or even having that comfort in knowing that when you do close your business your life savings won't be wiped out, we knew it was an important message to send to people. Today, the Committee on Small Businesses is going to hear the bill and extend the prohibition of the enforcement of personal liabilities provisions involving a COVID-19 tenant.
I hoped that by now our efforts to halt the COVID pandemic would've gotten us to the point where most New York City businesses could fully reopen safely. But only one in five Americans has been vaccinated already, and benefits from the recently passed American Rescue Plan haven't reached small businesses yet.
Obviously people are optimistic — the darkest days of winter are over — but this has been an economically devastating time for countless people, and there's no switch to flip to fix things automatically. I think the figure is almost 3 million people in New York City have been vaccinated, so it's getting there, but it's still not —
And in the middle of a public-health and economic crisis, I don't think any small-business owner should have to choose between closing their store or risking their life savings because their landlord is threatening to enact the personal liability provisions in their leases. So, this extension will help ensure that when the pandemic ends, when we get to that higher number of more people getting vaccinated, that New York City will once again be a place for small businesses to thrive.
Do you hope it doesn't have to be extended further?
That's the hope. The hope is we're going to add another two months to the bill because the funding hasn't quite reached these businesses. They're still struggling. We're seeing the staggering statistics on which have permanently closed, which are really struggling, and the hope is that this can give them a little bit of room so that they don't feel threatened. So that they don't feel in jeopardy that their personal assets will be taken away from them while they close and lose their life's work. We've just been in contact with countless small businesses since the first pandemic shutdown last year, and when talking about this bill and a potential extension, many said it was a rare bright spot in a very dark time for New York City's small businesses.
You're hoping we can bounce back and things can change. But we have to get creative with our solutions, and that's what I'm trying to do as a City Council member. To bring a little bit of relief in the way of policy.
Is there anything else the City Council is working on to help small businesses as we come out of this?
We're exploring other legislation to see how we can address some of the fees and fines that a lot of these businesses have incurred. I do think there has to be a more proactive approach from city agencies in terms of how they interact with small businesses. Sometimes the first time a business will be in contact with the Department of Sanitation or Consumer Affairs is because they're getting a summons. We're trying to look at how those tickets, what seems excessive and what is absolutely necessary.
When we're looking at funding and passing a budget, there also has to be a focus on what services and what programs make the most sense, and how can we push the mayoral administration to expand on some of the programs that have been really helpful. There's a program called the Commercial Lease Assistance Program; it's the only city-funded program where there's a lot of help given to minority- and women-owned businesses.
As we saw, some landlords were ready, willing, and able to negotiate the lease considering the times we're in. How can we make sure business owners have the resources they need and that they have the legal support to have those conversations and go into a negotiation fairly, so that both parties come out with what they need?
Are you worried about unscrupulous landlords if Local Law 1932-A was to expire this month?
Yes, absolutely, I would think this would start becoming a thing in a lot of communities. I have a background in tenant organizing because of some of the predatory landlords who have large portfolios or own buildings here in the district I represent. So I know these individuals are out there, these bad actors are ready to pounce and go to court and pretty much drain them of anything they have and own. And I'd like to prevent that, considering this was something nobody could've predicted.
I know there was some opposition from landlords. 
Yeah, and I understand they're also looking for their own relief, because they still have to pay taxes and expenses. I was hoping the state would also step up and figure out how we can provide some kind of relief to those who truly need it. I haven't quite seen that legislation emerge from Albany.
After being taken to court over this legislation, and it being upheld, I think we drafted, introduced, and passed something really strong. Considering it has worked thus far, we don't want to jeopardize that.
Hopefully by June, things are better. But will you keep extending this as long as necessary?
We're hopeful that by June — there is already a kind of commitment from the president that we'll all have a chance at being vaccinated. So I think it's going to be a very different-looking city. But all things are on the table to continue supporting the places we all know are the lifeblood of our neighborhoods. If we have to, we'll reconsider.
My friend works at a West Village restaurant and tells me they've been really busy. Over there, you have all these people who are higher-income, worked from home, saved a lot of money. On the other hand, you have people in more working-class neighborhoods dealing with piles of debt. It's going to take people a long time to get out from under that. It's crushing.
That's why the unemployment extension was so important, why the stimulus check is so important, people are riddled with debt. Looking at the differences between neighborhoods, and clearly every district is different, and we have so many families who were already living in poverty pre-pandemic, and maybe they were undocumented and working for cash and that suddenly dried up when the restaurant they were working at shut down. Then you have a group like the Deliveristas, they were working around the clock because there was such a dependency on that service. We got a real close look at how bad their conditions were.
It was just one kind of crushing reality after another, of how this situation has been bad for a long time, and it's been bad for low-income, immigrant New Yorkers, and so how are we taking care of them? We had to fight to get delivery workers on the list, and so it just has continued. For me, this bill is about: How do we save these businesses, how do we save a piece of our city's economy that employs so many, and so many of the people that desperately need to have a job back?