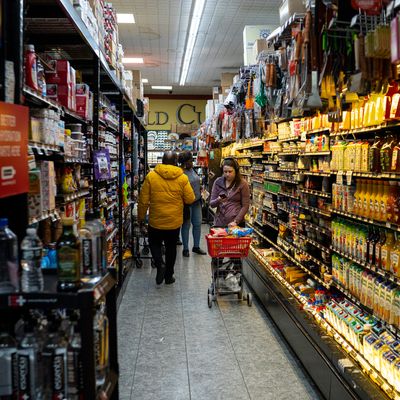 Shopping inside an atmospheric Key Food last March.
Photo: Robert Nickelsberg/Getty Images
At the end of May, the Food Emporium at Union Square will slide its doors closed for the last time, and in its place will rise a Target. And though we'd known that this was coming —the Post reported Target had signed a lease for the 14th Street space more than a year ago — we had not seen it coming quite so soon. Food Emporium was supposed to make it through until the spring of 2023; now, the blog EV Grieve reports, it has three months.
In itself, the Union Square Food Emporium was not special. It was — and is! (until May 30) — what one might call "serviceable," which is to say that it does indeed sell groceries and has two stars on Yelp. But it is emblematic of its kind. It is, like Key Food and Foodtown and C-Town and Gristedes and Associated and Bravo and D'Agostino, a quintessential New York City chain. Are these stores largely mediocre? Of course, but they are distinctly mediocre. And while there are recognizable differences between them, such as quality and ownership and location, spiritually, they are the all same.
A proper New York grocery store is dark. Not psychically, but literally; literally, there is a dearth of light, as though 35 to 40 percent of the overhead light bulbs have blown out. Except — the local twist — they haven't! The light bulbs are consistently functional. They are on. There is nothing wrong with them, except that they are not, in the conventional sense, producing light. This makes exiting and entering slightly disorienting, as though you have been mildly concussed, but still managed to buy lettuce.
Perhaps the ambience is an effect of the linoleum? All true New York grocery stores outfit at least some of their square footage with a whitish-gray linoleum exactly the color of fresh slush. It is meant to disguise dirt, I think, but instead what it disguises is the possibility of cleanliness.
And then there is the smell, which is not bad so much as singular. It is a little bit like cleaning solution, but with notes of parsley, or perhaps wilting spinach, and a delicate top note of what might be mustard? It does not smell like any one thing, exactly, because there is no equivalent in the outside world. If I were ever kidnapped and blindfolded and taken to a New York City grocery store, I would know immediately that I was in a C-Town or Foodtown or Key Food, although unfortunately I would still not know my own location, because they all smell the same.
That is not to say these stores are interchangeable. The prices vary wildly, for one thing, as does the quality and freshness of certain merchandise, but make no mistake: There is no obvious correlation between these things. On the bright side, this allows you to live in a perpetual state of low-grade surprise. How much will an avocado be, and how does that compare to a box of cereal? Ah! That is the thrill.
The midsize local chain supermarket is oft-maligned, by which I mean that I have oft-maligned it, complaining about "the produce selection" or "the inexplicably high prices." But this is incorrect. There is, in fact, no better place to buy three out-of-season tomatoes, a six-pack of Sierra Nevada, and a box of Entenmann's powdered sugar donuts. I'd gone to the Union Square Food Emporium to pay my final respects, but left so high off the experience that I was compelled to stop at Key Food, and also Foodtown, and finally a C-Town before returning home.
And yet the midsize New York chain grocer is an increasingly endangered species. I do not say this to romanticize them. They are not an endangered species like red pandas, which are adorable, but rather an endangered species like Coffin Cave mold beetles, which live exclusively in one county in Texas and have no eyes.
Their decline nevertheless throws off the city's ecosystem, as the New York Times lamented in a 2016 article about the plight of the city's midsize chains. That summer, the upscale purveyor of free cheese samples Garden of Eden filed for bankruptcy. A decade earlier, D'Agostino had 26 stores, but now it's fewer than a dozen, and only with a bailout from Gristedes, which itself had just closed two locations, and would close more. "The rent is too high — nobody is making 'money money,'" Gristede's owner and sometime-mayoral candidate John Catsimatidis told the Times, noting the rent, which had once consumed 2 percent of sales, was by then eating 10 or 12 percent.
What the environment has been good for, though, is a slow influx of big-box grocery giants. "What's transpired over the last number of years is you've seen the entry into the market of two major players: Whole Foods and Trader Joe's," said Alan Schmerzler, vice chair of the commercial real-estate firm Cushman & Wakefield, in an interview with New York Business Journal this summer. "Whole Foods has continued to be quite aggressive — Trader Joe's, the same thing."
Amazon also has its eye on the city for its new grocery concept, which is not a Whole Foods, Schmerlzer pointed out — it's already taking over a pair of now-defunct Fairways in New Jersey — while twin European discount giants Aldi and Lidl are "looking in the boroughs."
The story is not quite as simple as hulking national Goliaths devouring old-time Davids — for one thing, the local chain Food Bazaar is expanding — but the shifting balance is unmistakable. The Union Square Food Emporium will become a Target. In October, a big Key Food closed in Astoria. In its place, there will be a Target.
We can value the city's lesser local grocery chains without insisting that the Gristedes on 26th Street is especially charming since, much like the rare Coffin Cave mold beetle, it is not. Gristedes and Met Foods are, I like to think, our mold beetles: presumably essential for overall environmental maintenance, even if it is not, to the untrained observer, abundantly clear why.