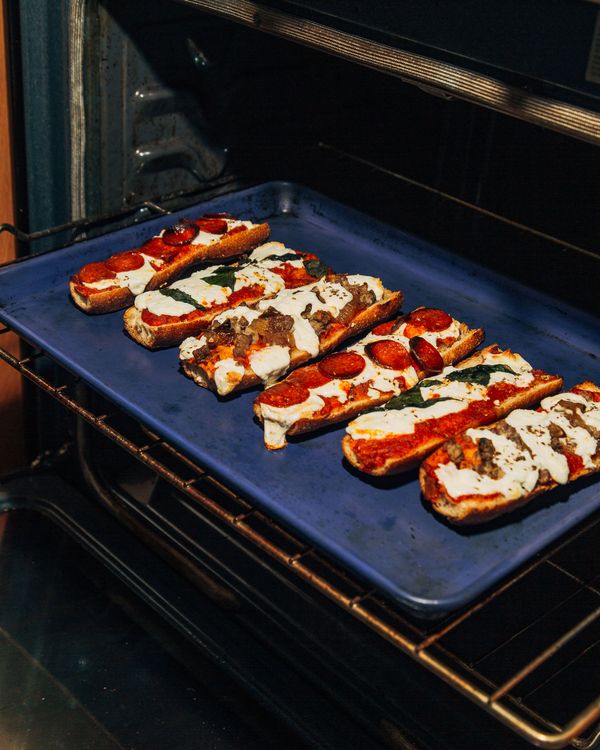 Hearth at Home's frozen French-bread pizza, fresh out of the oven.
Photo: DeSean McClinton-Holland
Ribollita soup, yes. Potato gnocchi, okay. Braised rabbit and Anson Mills polenta? Absolutely. But Stouffer's French Bread Pizza isn't what you think about when you think about Marco Canora. The chef-owner of Hearth grew up in the pastoral Hudson Valley on what we had always presumed was a steady diet of his Tuscan-native mother (and accomplished cooking teacher) Laura Sbrana's cucina Italiana. This is a woman who learned to cook intuitively as one of nine siblings in Lucca, plucked peak-season ingredients from her upstate kitchen garden for young Marco's lunch, and later converted a Martha's Vineyard sea captain's house into an elegant inn and restaurant where she taught and Marco moonlighted in between gigs at Gramercy Tavern and Craft.
So imagine the Underground Gourmet's surprise to learn that despite this rarified gastronomic upbringing one of the culinary highlights of Canora's early life was snarfing Stouffer's French Bread Pepperoni Pizza in front of the television, a Saturday-night ritual that could only happen on his mother and stepfather's weekly date night. The memory was so vivid and the spell of the frozen snack food so mesmerizing that in a fit of pandemic-induced nostalgia Canora recently added his own FBP to his Hearth at Home's burgeoning frozen-food line.
The winner of a James Beard Best Chef Award admitting to a youthful predilection for frozen pizza is one thing; putting it on the menu of his restaurant is another. How could this be? What would Canora's mother say? We called the chef for an explanation. "I'll tell you," he said. "Saturday night was the one time my mom would say to my sister and me, 'What do you guys want to eat? Whatever you want.' And we'd go shopping at the local Grand Union and we'd always grab Stouffer's French Bread Pizza." From the seasoned perspective of a trained chef with free dietary will, does he still crave them? "Oh my God, yes. They're addictive."
Of course, Canora's interpretation bears his particular stamp. Instead of seasoning the sauce with natural hickory smoke and paprika per Stouffer's recipe, Canora uses peperoncino and dried Sicilian oregano. The biggest difference between a Hearth at Home French-bread pizza and the Stouffer's model, though, is that the former is built on a She Wolf Bakery baguette. "I walk through the Greenmarket three days a week," says Canora, "and I'd been grabbing those baguettes for myself because they're insane, and they're kind of what spawned the idea." Having burned the roofs of our mouths on many Stouffer's FBPs in our time, we've got to say that the baguette is an inspired choice — at once super-crunchy around the edges and soft and tender within — and that the highest calling a She Wolf baguette might now aspire to is to serve as the base for a Hearth at Home FBP.
In keeping with the everyman gestalt of the freezer-case icon, toppings are straightforward. There's a margherita, a pepperoni, and our favorite, the housemade sausage and onion. Nothing trendy. No chef-y distractions. Nary a drop of Ranch dressing. This French-bread pizza is less reinvention than tribute, and something worth stockpiling in your freezer and heating up in your toaster oven any night of the week — date night, pandemic, or no.