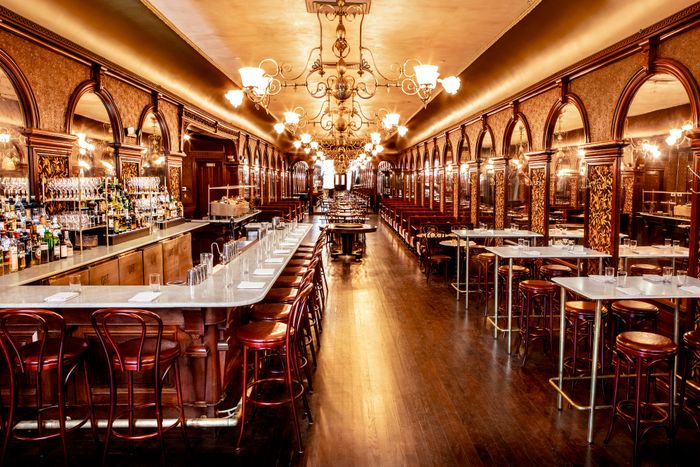 The recently refurbished bar and dining room at Gage & Tollner.
Photo: Lizzie Munro
At long last, Gage & Tollner has announced an opening date and activated its reservations page. Three weeks from today, dinner service will commence in the glowing, mirror-lined dining room that last saw customers in 2004. As you might recall, this isn't the first time we've written about the grand reopening of the Brooklyn landmark by its latest caretakers, St. John Frizell, Ben Schneider, and Sohui Kim. In a cruel twist of fate, the owners were ready to officially unveil the painstakingly preserved 19th-century premises last March 15, the very day before the COVID-19 pandemic brought indoor dining to a close. After crowdfunding upwards of $450,000 from 375 small investors and honing the interiors back to their original Gilded Age splendor, they were ready to go: chandeliers polished, beefsteaks dry-aged, martini glasses chilled, staff trained. And then on March 14, after an anticipatory flurry of preview dinners and private events, the owners realized the gravity of the situation and shut the operation down before it even began.
"This project started when Ben and I first saw the space, and there we were almost exactly three years later, ready to open," says Frizell, in a philosophical mood. "And there was this microbe on the other side of the world that had its own plans for the future, and we didn't know that our paths were going to intersect on this one day in March that we had picked to open." Like most people, they thought the delay would be short-lived — a month, six weeks tops. And when you're talking about an establishment that's lived through Prohibition, the Depression, two world wars, and the Spanish flu, what's six more weeks in the grand scheme of things?
When it became clear that the ending was not nigh, the partners kept the restaurant dark, concluding that their Fulton Street frontage did not lend itself to outdoor dining and that they didn't want to make their grand entrance onto the New York restaurant stage in a cardboard delivery box. Luckily, they were able to survive the shutdown by working out an arrangement with their extremely supportive landlord, who forgave the rent for as long as indoor dining was prohibited and has since begun charging an amount based on capacity. (He also happens to be an early investor in the venture.)
Frizell, Schneider, and Kim waited for two things to happen before committing to an opening date: seating capacity to increase enough to merit the investment, and vaccine eligibility to extend to restaurant workers. With their staff protected and their dining room slightly reconfigured, they're ready to start serving dinner next month. And they even provided a taste of what's to come in February, when — despite their initial reluctance — they devised a delivery program for heat-and-eat meal kits to cook at home, and a full menu of Asian-inspired snacks and drinks from the upstairs bar, Sunken Harbor Club. It wasn't exactly how they'd planned to kick things off, but when it comes to adapting to present circumstances in this age of the great pandemic pivot, even circa-1879 sleeping beauties aren't exempt.