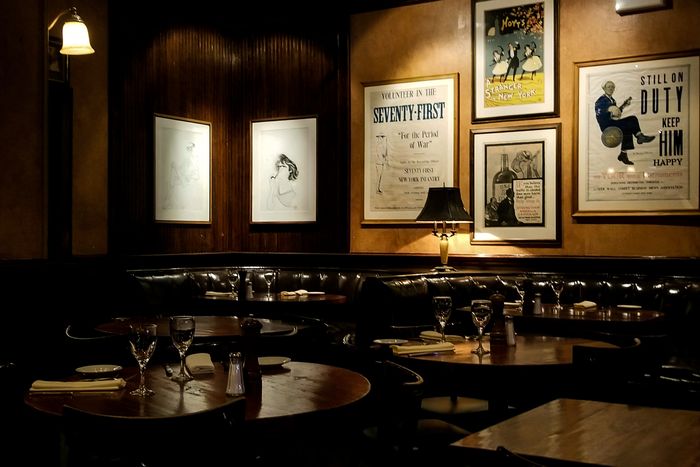 The Knick.
Photo: Andrew Nash
Between establishments that have formally announced their closing and those still plodding valiantly along lies a vast restaurant limbo of darkened windows and no visible activity but, thankfully, no FOR RENT signs either. One local landmark that falls into this category is Knickerbocker Bar & Grill (the Knick, for short), a Greenwich Village mainstay that opened in 1977 on the corner of University Place and 9th Street and has preserved much of its vintage charm as well as its seasoned clientele. The Knickerbocker is known for its live jazz, its horseshoe booths, its solid American-chophouse menu, and a categorically unpretentious vibe that somehow appeals to everyone from multigenerational families to local celebrities (Isaac Mizrahi, Simon Doonan, Chris Noth, and F. Murray Abraham have all sung its praises). Its musical talent has included the likes of a young Harry Connick Jr., for one, who claims his twice-weekly gig in the late '80s helped launch his career; more recently, Noah Baumbach used the carpeted, poster-hung premises as a location for his film Marriage Story starring Scarlett Johansson and Adam Driver. Although we can't attest to what the joint looked like on opening night, we can say, having lived in the immediate vicinity for years, that it has remained remarkably unchanged, down to the familiar faces at the bar and the welcoming ones at the door.
Given some hope by a small sign on the window, we recently reached out to managing partner Ron D'Allegro, who happened to be on-site getting the place in shape. He has great news to report: Not only will the restaurant be reopening within weeks, he says, but "I'm just about to re-sign a new lease for another 12 years." The only thing holding him up, D'Allegro says, is permits and inspections. "We had to have the original exhaust system updated and have construction done," he says. "It was supposed to be three months, but it turned into an eight-, nine-month project — a million dollars and a year later, here we are." Time to do necessary repairs was the upside to being closed; the downside was the 48 employees furloughed March 15. The restaurant received a PPP loan and set up a GoFundMe, which has raised nearly $70,000 to date (F. Murray himself graciously kicked in). And many former employees are returning, including Clara O'Marde, a commanding kitchen presence for 35 years and the executive chef for the past four. (The Antiguan immigrant is to thank for the new farro salad and occasional jerk-chicken special.) When O'Marde visited the restaurant to meet with D'Allegro recently, passersby noticed and asked for an update. "Everyone was like, 'Oh my god, when are you opening?' " says O'Marde. "That makes me more excited, you know, to see that they actually really want us to come back. I'm like, 'Very soon! We're cleaning up, give us a couple of weeks.' "
When you're reopening during a pandemic, it's good to have a real-estate titan like Stephen Siegel, chairman of CBRE, for a business partner: "He knows the owners here and said, 'Look, let's renegotiate the lease,' " says D'Allegro. "They're going to base our rent on capacity, so that's a big help." And then there's the loosened restrictions on outdoor dining. "We've been trying to do that for 20 years," he says. "The building's condo board kept shutting us down." Now, it's full steam ahead — despite the handicaps of a crosswalk and a fire hydrant, which reduce the available space for seats. (It helps that he can expand in front of the shuttered Meurice Garment Care next door.) Considering everything — the extent of the repairs, the limits on indoor capacity, which will prevent the return of live music for the foreseeable future — some might have taken the current situation as some sort of sign. "Oh yeah, my partner did say that, but he's older than I am," says D'Allegro. "I'm only 59. I need a place to work."
*This article appears in the March 1, 2021, issue of New York Magazine. Subscribe Now!