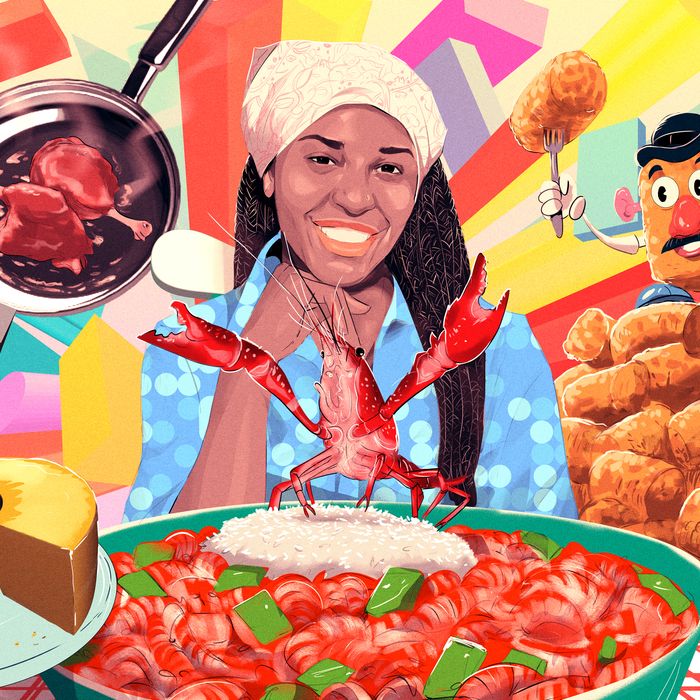 Illustration: Ryan Inzana
Kia Damon, who was head chef at Lalito while it was open and is a recent winner of Food Network's Chopped, has been busier than ever. Along with a series of pop-ups, virtual events, and private cooking jobs, Damon has co-founded Auxilio — a food-centered space that supports queer, Black, trans, and indigenous communities in New York — and founded the Kia Feeds the People Program, another nonprofit aimed at combating food apartheid. With everything else going on, she is adjusting her home-cooking routine accordingly.
Monday, March 1
I had oatmeal that I cooked on the stovetop. I eat a lot of oatmeal. Rolled oats with the matcha-almond beverage from Trader Joe's. Cacao nibs, pumpkin seeds, pepitas, sunflower seeds, butter, maple syrup, and sea salt. I also had the same oatmeal for lunch 'cause it was sitting on the stove and I was like, I will absolutely not be wasting this. I am broke, honey! I don't wanna leave this house. 
Working from home, eating from home, cooking from home — it all blends into one experience. I try to play hooky, getting up to walk outside. I've been trying to practice a lot of that. Taking walks, heading to Herbert Von King Park, just to bring some humanity back into my schedule.
It's a little difficult because I'm trying to cook for myself but also getting ready to cook for a job. But then I'm also like, Hmmm … I haven't posted anything on the Instagram, so then I'm like, What do I post? Do I post the oatmeal? I'm trying to practice putting my phone on the other side of the room hours before I'm ready to go to bed, then waking up in the morning and sitting in the silence, stretching, creating my own commute at my home. Then I'll wake up and have the emails going by nine. Whatever freaky schedule the rest of y'all are on — waking up at six and working by seven? — I don't live that life. It is a lot, though.
Dinnertime is when my girlfriend, Stasia, kinda steps in, and she's like, "Uhh … what the hell are we eating?" And she made nachos, which were really good, quick nachos with stuff we had chillin' in my refrigerator. Chips, shredded cheese, hamburger meat. "Hamburger meat" — I sound like my mom. It was ground beef.
Stasia's a very good cook, and it actually takes a lot of pressure off me sometimes 'cause I'm just like Yo, have at it, dude. There are rare moments when she's like, "So what are we gonna eat?" And I'm like, "I know you're not asking me. If it's up to me, we're eating oatmeal." 
Tuesday, March 2
Oh shit, our refrigerator broke. It was shut down for the day while we had to let it melt and restart. I went to this place BK Bagels on Broadway after the gym with Stasia and got a chicken-caesar-bacon wrap. It was so good. One of the baristas was playing a lot of nostalgic songs from old anime and games like Kingdom Hearts. When I walked in, I was like Whaaat! That was a cute moment.
After that, I made Louisiana-style red beans and rice in my Instant Pot because I had some ham from Chelsea Market. It was my first time seeing tasso ham in New York. So that was a moment. I made the red beans for what felt like a second lunch and also ate that for dinner. I'm all about eating the same thing twice, maybe three times, a day. Making multiple meals right now? That doesn't make any sense to me.
I make sure I mash the beans up a little bit to get that real good starchy goodness, and it's rare that I ever cook my beans without some type of seasoning meat, you know? I'm gonna find some kind of meat to put in there.
My mom taught me how to cook for multiple moments and also taught me the power of leftovers. Now that I live alone, I'm like, How do I knock all these pins down with one ball? My mom really instilled that in me 'cause it wasn't just me. It was my stepdad, my brothers, her. I work in an industry where a lot of people eat with their eyes. A lot of people look at food for content; brands are looking for new whatever. It's a lot. Yeah, I'll do that, but what's most sustainable for me is to make sure I have something I can eat for two days. If I ate something for dinner, I'm probably going to put an egg on it and eat it for breakfast. It's like how to repurpose a shirt for five different outfits. We gotta save money out here.
We watched the Bachelor that night. I still have to watch the last episode, but I know who Matt chose. This season is just not giving what the girls said it was supposed to give!
I know it's reality TV, but I shouldn't know it's reality TV. You can see the way the producers are pulling the strings, like freaking Victoria? I was like … they really have the knife to his back. Someone bring back Big Brother. That's some good reality TV.
Wednesday, March 3
I ate the beans for breakfast. Turned the refrigerator back on. I basically got all my groceries from my landlord below me. Great people, fun people. Put the groceries back in there and was like, "We need to get out the house and go do something." We won't be able to eat things for a while, so we decided to go for a walk.
We went to Saraghina and got some tea and a brioche loaf. Walking even farther, I wanted a pastry from Pilar, but they were closed so we walked farther to Clementine, which is vegan. We got some poppin' strawberry vegan cream-cheese Danishes. I had never experienced a vegan version of that. I was very impressed! I have to note I don't have a gigantic sweet tooth. It just really has to hit me. I also picked up a super-chunky fudge-y walnut brownie they had.
We then just took a really beautiful scenic walk around the neighborhood and back home. That day was really nice. I think that was one of the first days that it actually warmed up. The girls were out and about, wearing their outfits, so that was really nice.
For dinner, Stasia pulled together this red-sauce pasta with leftover sweet Italian sausage I had frozen. We used some canned tomatoes I had up in the pantry. I was like, Wow, love being quick on your toes — love an improv.  We used cavatappi. Some swirly, childish-lookin' pasta is my go-to 'cause it holds on to the sauce.
Thursday, March 4
We had that brioche from Saraghina, so I woke up wanting a breakfast sandwich. I try to keep bacon in the house at all times. Bacon needs to be a staple seasoning in this apartment. Egg, avocado, garlic Vegenaise, and bacon. That was real good.
I did a demo for Women of Nike. They had this fun internal event. I hosted Nike's Athlete's Cookbook season two, and they invited me to do that again. I didn't do lunch; I just went and bought what I needed for that event. And then I made mango-tahini no-bake granola bars.
If I had it my way, I would take an entire week to prepare for one virtual event because it wipes me out. It wipes me out every time. I have tripods set up, and I have a bakers rack. I have my phone in case I need it. I use my laptop and kind of prop it up on some cookbooks, so I can talk to people and then I have the ring light behind that. It's not sustainable, I have to be frank. I'm like, Someone, please just come and give me a show and let me record in their studio. It looks a little crazy. When I'm done with an event, I don't even clean up. I go sit on the couch.
Stasia came and made me a burger when I was done that I ate on the couch. She's really good at that, too. Just a very big burger and some tater tots. When I'm trying to save money and not cook as well, Stasia just plays Chopped with my home and figures it out.
Friday, March 5
I ate the maple-tahini bars that I made for Nike. I ate those in the morning, then I was lounging around, not trying to do anything, and then I remembered, Oh my God, my second vaccine appointment! So then I rushed out with no charge on my phone to get my vaccine. That was a very joyous experience. They told me this one would be a little tougher, and I said, "Yeah, sure! It'll be fine!"
I made some po'boys, recording it for my YouTube channel, and that was very exhausting. I really felt like it took all day. But they were really good. Was I satisfied with the filming? No. We'll have to do that again. But Stasia and I had the po'boys.
For dinner, I had the mango sorbet. I just ate it straight from the container and then I went to sleep — only to wake up thinking I had died. That second shot knocked me on my face: chills, a 101-degree fever. I wanted my mommy. It felt like, I gotta go home from school 'cause I'm scared. Other friends said they only got a little feverish, so I guess it's a mixed bag.