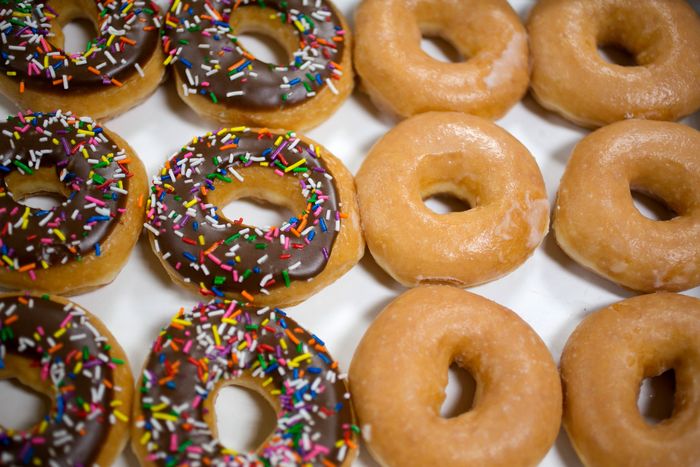 Deal applies to Original Glazed only.
Photo: Andrew Harrer/Bloomberg via Getty Images
It used to be that the reward for getting vaccinated was relative immunity from a given disease, but Krispy Kreme has raised the stakes. Now, in addition to protection against COVID-19, the newly vaxxed are qualified to receive a free Original Glazed® doughnut by presenting their vaccination record card at a participating location.
"We all want to get COVID-19 behind us as fast as possible and we want to support everyone doing their part to make the country safe by getting vaccinated as soon as the vaccine is available to them," Krispy Kreme representative Dave Skena said in a press release.
In theory, this is the trade-off that brand executives love: You, the vaccinated, get a free doughnut (retail value: $1.59) — or potentially, many free doughnuts, since you are technically allowed to take advantage of your doughnut status once per day until the end of 2021 (theoretical value: $448.38) — and it, the brand, gets a lot of press, like this.
But what if you can't get the vaccine, or — more surprising — for some misguided reason, you don't want to get vaccinated? Why should that disqualify you from getting free reward-for-getting-vaccinated doughnuts? Krispy Kreme understands. "Choosing to receive the vaccine is a highly personal decision," the company's small print explains. "If you have made the personal decision to not receive the COVID vaccine, please visit us on Mondays, 3/29/21 – 5/24/21, to receive a free Original Glazed® doughnut and a medium brewed coffee to get your week off to a good start."
This is sort of like when one sibling is upset because everyone is celebrating the other sibling's birthday. Why do they get all the presents? Except instead of a parent patiently explaining how birthdays work, that parent instead says, "Fine, you can have a birthday, too, and you can have a medium coffee as well." Is that good parenting? Is Krispy Kreme making the right decision? Something to debate while you wait in line for your vaccine, perhaps!