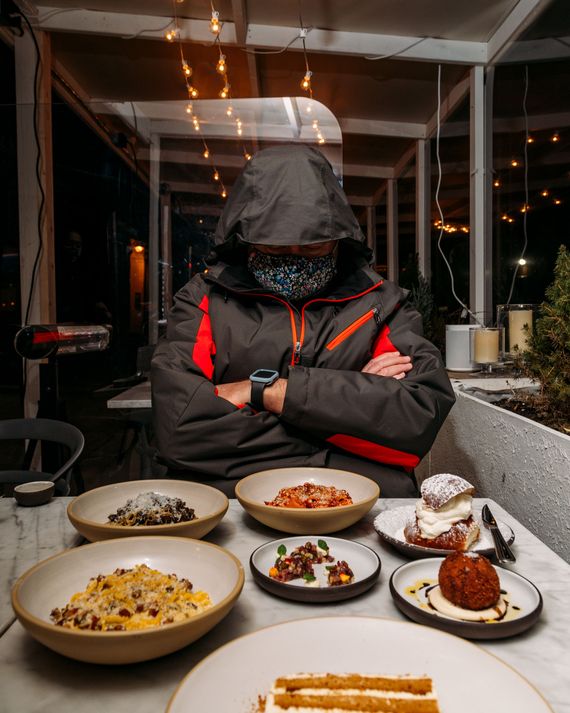 Alfresco dining at Forsythia.
Photo: DeSean McClinton-Holland
Compared to the sprawling, elaborate outdoor setups we're seeing around town these days, the sidewalk accommodations at Forsythia, on the Lower East Side, are modest in scale but pack a considerable punch. The five tables in the little dining cabin on Stanton Street are topped with white marble and set with painted Italian plates, each one holding a folded menu and silverware rolled in a white napkin. Boxes of mini pine trees line the traffic-facing side of the space, the white painted rafters are decked with strings of lights, and, as Italian pop music emanates from the tiny speakers and darkness begins to obscure the piles of dirty city snow outside, it's possible to imagine for a second or two that you're not huddled in Gotham anymore but enjoying dinner in some ski village up in the mountains outside Turin or Venice.
Could your pasta-deprived, travel-deprived, quarantine-addled critic be overstating things just a bit? Of course, although it occurred to me, as the first dishes clattered down on our frigid table, that you might have a difficult time finding food as fresh and polished as this even among the tourist-trap restaurants and cafés of the Dolomites. There was a fried meatball made with a generous mash of braised short rib in our first chilly salvo of dishes, along with small spoonfuls of lamb tartare cured in citrus, among many other things, and folded with fried capers and mint. There were also freshly tossed salads to choose from and soft cheeses (honeyed ricotta, stracciatella with blood oranges) and eight varieties of pastas, all of which are rolled in-house every day beginning around noon.
Forsythia started life as a downtown pop-up this summer between the former Olmsted maître d' Jacob Siwak and the highly credentialed chef Mark Coleman, who, in pre-pandemic times, helped run the kitchens at two of the city's great pasta destinations, Rezdôra and Michael White's Marea. This probably explains why the version of spaghetti carbonara I tasted had a strange, almost fluffy lightness to it, despite the presence of the usual whipped egg yolk, plenty of Pecorino, and a crackly, barely visible scattering of guanciale. The same was true of the rigatoni all'amatriciana preparation and a deliciously eggy tangle of that delicately thin noodle of the Piemonte, tajarin, which the kitchen tosses with a dense and damn good mushroom ragù touched with truffle butter.
Apparently, it's not easy to obtain one of the five outdoor tables at this unlikely new pasta destination even in the depths of this frigid COVID winter (I was on Resy's dreaded "notify" list before being granted a table at 5 p.m.). But I think I'll be back when the weather warms up for a taste of enticing-sounding dishes like the fried cacio e pepe risotto and the tortelloni stuffed with ricotta and a touch of nutmeg. Huddled deep in my ski parka, with only a faint sense of feeling in my fingers and toes (sadly, we neglected our ski gloves and extra pair of socks), I sampled a multilayered honey cake (finished with a little too much olive oil) for dessert, although the dish I'll be returning for is the fat, sweet maritozzo, which is powdered with sugar, just the way it is in the restaurants of Rome, and filled, like some opulent, pre-COVID mirage, with a cloud of Chantilly cream.
*This article appears in the March 1, 2021, issue of New York Magazine. Subscribe Now!