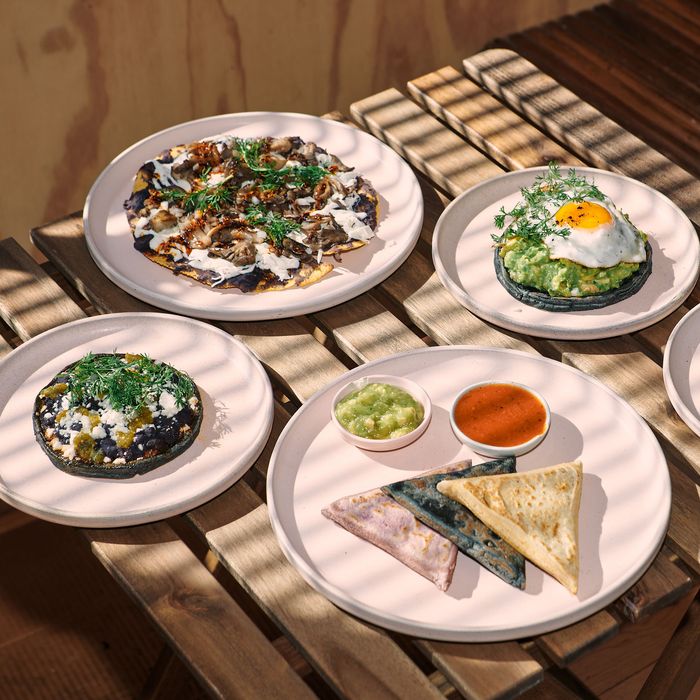 A selection of offerings from For All Things Good, which opened this summer in Bed-Stuy.
Photo: Christian Rodriguez
Last year, while the world baked sourdough, Matt Diaz was at home perfecting his tortilla recipe. He began with a rotating roster of ten to 12 varietals of heirloom corn, imported directly from Mexico, which he nixtamalized by soaking the corn in a calcium-alkaline solution for a couple of hours. Then, he'd let the nixtamalized corn rest for another ten hours before hand-milling it through a volcanic-stone molino. The soft, slightly damp masa was finally ready to be pressed into vibrantly colored tortillas reflecting the hues of the original corn: smokey chocolate, cerulean blue, burnt red, deep purple, and sunflower yellow.
It's a labor-intensive process, but when the pandemic arrived in New York, Diaz had the time. In February of last year, he and his business partner, Carlos Macías, had begun work on a new café on the corner of Franklin Avenue and Greene Avenue in Bed-Stuy. They called it For All Things Good, a translation of "para todo bien," a common phrase in the mezcal bars the friends had grown to love while traveling in Mexico. But then COVID ground their plans to a halt, giving Diaz extra time to geek out on masa.
Finally in July, he and Macías were able to open, and share their obsession with their neighbors. Masa makes up the foundation of the menu at For All Things Good, which is prepared by chef Milton Revilla in the café's open kitchen, and is devoted to Mexican street foods. Diaz says he wants customers to realize more can be done with masa than shape it into simple flat circles. "We wanted to expand people's understanding of Mexican food, specifically in relation to masa," Diaz explains. "It forces people to learn and not lean on what they already know."
So, you'll find a variety of stuffed masa snacks like tetelas (triangular hot pockets of masa filled with hibiscus flowers and salsa chipotle), memelas (small masa pies with fluted edges topped with mole de cafe and queso fresco), tlayuditas (crisp tortillas piled with hen of the woods mushrooms, Oaxaca cheese, black beans, and salsa macha), tlacoyos (oval masa patties filled with spicy refried pinto beans and salsa macha), and gorditas (similar to tlacoyos, but split in half and stuffed with eggs and queso fresco).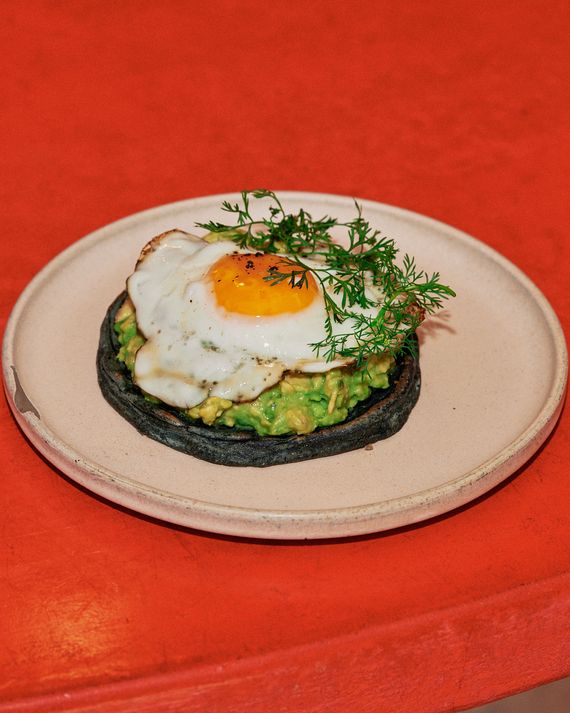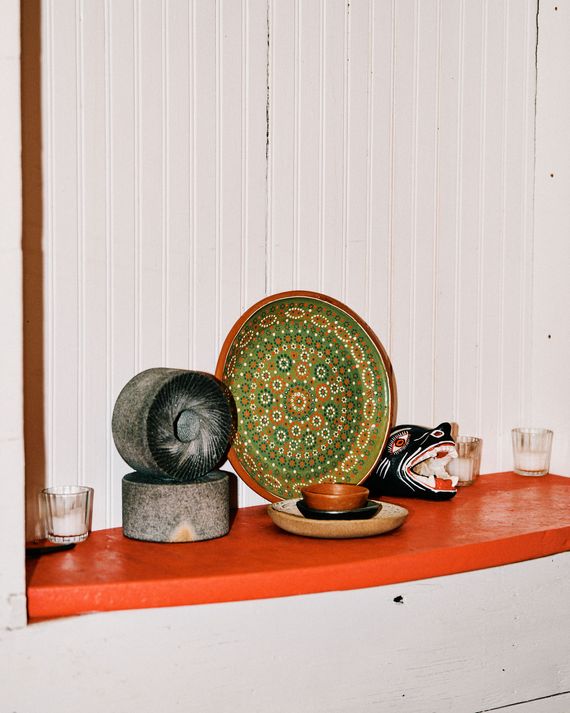 Their menu is also unique in that it honors the concept of "milpa" agriculture, a traditional crop system that keeps soil fresh by focusing and rotating corn, chiles, beans, avocados, and squash. This means that their menu is inherently vegetarian, except for limited meat options during pop-up taco nights.
The guys also run a little in-house pantry where they sell their homemade salsas, Mexican coffee, chocolate, honey, fresh tortillas, and packages of their hand-milled masa by the pound. While the fresh masa program started off slow, it quickly found fans. "It was not a best seller at first," Macías admits, "but once our neighbors tasted the food, that all changed." Now, the café goes through about 280 pounds of corn a week and sells out of its retail masa each day.
Sean O'Tyson was working around the corner when he discovered For All Things Good this past summer. "I just came in for coffee, and then I saw this beautiful blue-corn quesadilla folded over stuffed with squash blossom and I thought, Wow," he recalls. "I had not seen a quesadilla like that since I was in Xochimilco in Mexico City."
This is the kind of reaction Diaz had hoped his customers might have. "The more I learned about heirloom corn, the more I wanted to share that story," he says. "It has so much biodiversity, and it has this amazing history on the anthropological side. It is one of the oldest cultivated crops in the world and yet in our society it has been demonized and has no real value." (Only one percent of the corn grown in the U.S. is meant for human consumption, the other 99 percent is grown for animal feed and ethanol.)
Diaz wants to change people's perceptions, but didn't grow up planning to be a masa evangelist. He studied anthropology at Hunter College before moving to Buenos Aires to learn winemaking. There he met Macías, who was studying architecture. The two became fast friends, sharing a love of Latin American food and culture. Diaz often visited Macías in his native Mexico City and would spend weeks eating his way around the country. "I fell in love with the huge variety of food that exists in Mexico and seeing it just totally unadulterated," he says.
Diaz has been encouraged by the enthusiastic response of his community, too. In addition to his new regulars, like O'Tyson, he also regularly chats with a group of molinos — masa millers — who have sprung up around the country in recent years, from places like Nevada and Nashville. "It's nothing formal, we just chat and lend each other support," Diaz says. "But it's nice to know there are others out there."