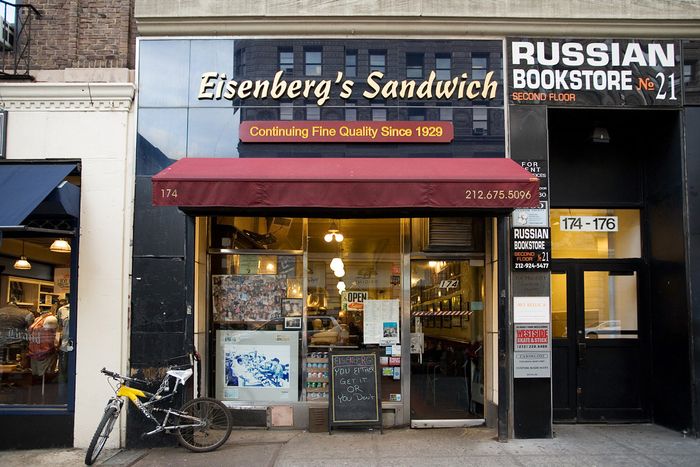 A New York institution.
Photo: Konstantin Sergeyev
Eisenberg's Sandwich Shop, one of New York's great remaining old-school diners, has closed. Today, writer and editor Susan Chumsky shared a photo of the Flatiron storefront with a fat, ugly "For lease" sign in the window. She captioned it, appropriately, "NOOOOOOOOOOOOOO!!!!!!!!" Although a source familiar with the situation says the space is being openly shopped to new operators, this person adds that it's the landlord's desire to reopen Eisenberg's.
According to this source, Eisenberg's owner, Warren Chiu, hasn't paid rent since before the pandemic, and revenues were down significantly before it as well. Chiu is a hotel scion whose father founded Warwick Hotels in 1980, and when he bought the storied lunch counter in 2018, he said his goal was "to keep Eisenberg's the way it has been." Last Year, Chiu brought the Eisenberg's menu to San Francisco's Warwick International Hotel; however, a call there didn't yield many answers. An employee of the hotel would say only that "the owner had moved the menu out to San Francisco."
Rumors of the shop's demise have circulated before. As it stands now, Eisenberg's future is at best uncertain. It's never a good sign in New York when a place closes, but in a surprising twist, it's been said that Chiu doesn't own the intellectual-property rights — so maybe you'll get to eat that tuna melt or the cream-cheese–and–chopped-olive sandwich again.