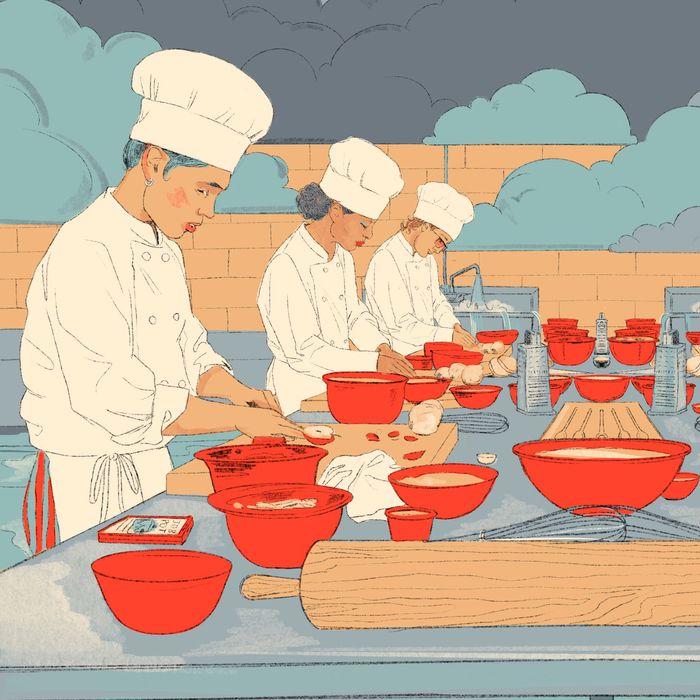 Illustration: Lindsay Mound
Few industries have suffered during this pandemic like the hospitality trade: An estimated 2.5 million restaurant jobs have been lost, at least 110,000 restaurants have closed "permanently or long-term" across the U.S., and even for those who are working, the mental toll can simply be too much. What does that mean for the culinary-school students who have sometimes spent years striving (and potentially paid upwards of $16,000 per semester) to enter a field that, in many ways, is no longer recognizable? Whatever world they'd been training for, it wasn't this. Grub Street talked to some recent graduates from the Culinary Institute of America (CIA) in Hyde Park and the Institute of Culinary Education (ICE) in Manhattan about what their plans had been pre-pandemic and how they're thinking about the future now.
The Baker That Wants to Explore Legal Weed
Hannah Shaffer, 24, CIA Class of '20
I'm in baking and pastry, and in the long term, I definitely plan on being in a resort-style kitchen. I did my externship with the Four Seasons in West Palm Beach, and that completely changed everything. I went into it thinking I would never want to be in a hotel, or a resort, and then I fell in love with it.
Pre-COVID, my plan was to go straight back to the company after school, but when the resorts started closing — and they're still closed — that shifted. Most of the resorts that are opening up are placing an emphasis on getting the employees who were with them before the pandemic back to work, which is definitely respectable. I would want an employer to do the same thing for me. Now I'm looking to accept a two-to-three-year contract somewhere I would never plan on living.
This is the real game changer for me: I am looking to go to Denver, and I'd really like to get into a cannabis test kitchen creating edibles. With how much the cannabis industry is growing, and how rapidly it's growing, I just want to learn how it's done. So that way, let's say I did end up going to Florida permanently and then Florida switched to recreational, I could be one of the first in the industry in that area just because of having that skill. And even if it's something that I don't use long-term, I think it would be cool to learn. You don't see many people coming out of CIA do something like that.
The Career-Switcher Who's Rethinking Her Plan
Anonymous, 34, ICE class of '20
My life kind of imploded in 2018, and faced with the prospect of having to start over, I decided to take a risk and go to culinary school because it was the one thing I knew I had always loved.
I had started working at a high-end Manhattan restaurant. I'd been there two weeks when things shut down.
When they could start to reopen, they were very slow to rehire, which makes sense — you don't need a lot of people, and you're going to choose your executive chefs, the people who can really do everything at once. Without the experience that everyone else had, there was basically no way I'd be rehired.
Since being laid off, it's been interesting, in that it's boring. I'm from New York, and thankfully, my family had the space for me, so I don't have all the bills that other people do, but obviously no one likes to be unemployed.
My plan had been to stay for a year, and then look toward a meal-kit company or — before a number of things came out about Bon Appétit — a job in a test kitchen. For how many decades, really, has the Bon Appétit test kitchen been considered, like, the pinnacle? And then you look at what happened this summer, with everyone coming out and saying, you know, Look at how terribly they have treated people of color. I am not a person of color, but I don't want to be in an environment like that either.
It's probably different for people who are younger than I am. Most of the people going to that school are in their teens or early 20s — college age. For them, this little pause is going to be a blip. But as someone who viewed this as a complete restart of the life they once had, I'm a little impatient.
The Fine-Dining Hopeful
Ben Just, 21, ICE Class of '19
I'm originally from Illinois, the middle of nowhere. There were some good restaurants but nothing crazy. I was like, I want to go to New York. I started working at Per Se in September of 2019, when things were still normal.
I really like the environment — how everything's so organized. I think it just makes you more efficient. The food is more refined, but people don't have the money to do that type of thing as much anymore. People can't go every week. It's too expensive.
Honestly, when we shut down a second time, in December, I started realizing that a lot more people are leaning toward the private-chef type of thing: cooking at other people's homes, or renting an Airbnb and cooking for people privately. Everybody's tested beforehand and goes through the safety protocols for COVID. I started doing a couple of those things while I was shut down the second time. It's kind of like, not a party, but that type of atmosphere, where people are just hanging out, chilling, talking, and then you can give them insight into what you're cooking.
But if I'm aiming to feed, then I think I should definitely shift and go the cheaper route, because I think that's more accessible for people. I worked in a quick burger-and-fry shop for a little bit in March. I only worked there for a month or so, but its business actually got so much better. Its business probably tripled. Before COVID, I would go there all the time — I live right by it — and they were busy, but nothing like they were after COVID started.
The Would-Be Casino Chef
Cassie DeShong, 22, CIA Class of '19
I was a pastry cook in one of the casinos in Atlantic City until COVID, doing your standard, big-production stuff. For some reason, I really wanted to be in the casinos. I did my internship there, and I had it in my head that I was going to stay there; I was going to climb the ranks and become an executive chef. But things just fell apart, so that dream kind of died.
After about seven months of being unemployed, I finally found a new job down the shore at a smaller, upscale restaurant. But then business dropped because it got too cold for outdoor dining, and two months later I got laid off again. Now I'm back part-time. I love it. I don't want to leave. It's not at all where I pictured myself — I totally thought that I was just going to stay with the casino company. I wanted to travel to Vegas. If they opened a casino in Japan, I'd go over there. But I don't feel like I need to do that anymore.
I'm a planner, so I feel like if something in my grand vision of my life goes wrong, it's completely devastating. But everything is temporary. In a day, you can lose your job and have to start from scratch. My dream now is definitely something more realistic, Maybe I'll be the executive chef of a smaller resort or a smaller hotel or own my own business somewhere. I love doughnuts — maybe a doughnut shop somewhere. Not for a while, though. I'm definitely not there yet.
The Accidental Baking Star
Joy Cho, 26, ICE Class of '19
I honestly could not have imagined my life like this. A year ago, I was working five days a week at Gramercy Tavern. That was kind of "dream" restaurant, and there happened to be a spot open for a pastry cook that coincided with the end of my externship.
I was there for about seven months. I really liked my team, working under chef Miro was a really, really great experience, and I was learning a ton. When the restaurant shut down last March, I flew home to Columbus and started baking for fun. At the very beginning, I would post Instagram stories: "Does anyone want free baked goods? I baked too much! I will deliver it to you." I already had an existing network in Columbus, so friends or family friends would reply. Then I started to think, Oh my gosh, would people be willing to, like, pay for this? I'm shocked at how all of this has evolved. I was able to do collaborations with breweries in the Columbus area, and when I came back to New York, I tried to do a similar thing — with some edits, obviously.
That's how Gem Cakes came about. They're essentially mini Bundt cakes. I use a combination of all-purpose and sweet rice flour and sour cream, so it's got a plush, pound cake–y, doughnut texture, and then a variety of glazes and garnishes. I'm actually really proud of them, but obviously, there are a lot of questions about the future.
People ask me, "If Gramercy called you back, would you go?" Initially, I was like, "I don't know. We'll just see what happens." It felt like an unspoken truth in the industry: You need to put in X number of years before you can do your own thing and have people take you seriously. But I didn't know what that was — was one year at Gramercy not enough? Should I have stayed there three years in order to build those credentials?
But now, it's just a definite no. Microbakeries could definitely be a trend. That's something I've heard — "Oh, it's just because people are cooped up and they want to try something new, and when things go back to normal, it'll die out" — but recently, I've felt less sure about that. Maybe it's just the exclusivity factor, I don't know, but these businesses do build up regular customers, and I don't really see those customers bowing out when restaurants with pastry programs open back up. I think there's more longevity in this.
The Aspiring TV Host
Amanda Lee, 27, ICE class of '19
I did my externship at Marea, which was amazing, and then my boyfriend and I went to Thailand to work in the Marriott Hotel kitchens. We were there for two months, corona happened, and since then, I haven't been working. The restaurant industry is just a mess. One, I didn't feel comfortable going back into kitchens and killing myself trying to work. We don't get paid very much, and there's no health insurance — it's a tough industry to be in, especially during this time. I did get unemployment, and that helped. I don't want to say that I'm comfortable right now because I'm not. I'm just in this weird limbo.
I want to get more experience working in restaurants, learning different things, and then go into food media. My dream-dream would be to be like Andrew Zimmern. But I'm not a food-trend person. I'm not like, Oh, I want to be on social media! or, Oh, let me start a TikTok. There's just so much. That's one of the reasons why I went to culinary school in the first place — I feel like I don't know enough to be like, "Guys, follow my account and watch what I do. I'm going to teach you." How do I know what I'm doing? I don't.
In the far future, I'd like to have a restaurant. Do I think I'm there yet? No. I think a lot of people open restaurants, and they have no idea what they're doing. It's not that I'm scared to fail, but … yeah, I guess I am scared to fail. It's just a very realistic way of thinking! My mom owns a small shop and actually has been pushing me: "Now's the time to really think about opening a restaurant — places are going out of business, and you never know, rent might be cheap!" She likes to dream big. But for me, I think I'm a little more grounded. I don't know, maybe one day I'll just pull the trigger and say, "Yeah, you know what? Let's just buy a restaurant."
The Railway Enthusiast
Evan Lovell, 21, CIA Class of '20
I actually have a new job opportunity working for Aramark at the Amtrak lounge in Penn Station. Basically, it's like a suite attendant — like how airlines have airport lounges and stuff, that's what they're doing here, but for Amtrak. Right now, they're only serving prepackaged food, so I'm just coming in as an entry-level person, but once COVID restrictions lift, and they start to get busier, they're going to need more people to oversee the operations, and that's where they would move me.
I'm getting the job that I wanted to get. I love trains. I was always doing research on how other countries did train travel, how it worked, how they do food as part of their transportation experiences. I didn't know that was a thing, but once I knew it was, I was like, Okay, maybe I can do something like that here.
There's a high-speed-rail project going on in California. Of course, there are a lot of problems, politics, but once it's finished, and it's able to start operating — I've never really told anyone this — I would like to create their food-and-beverage program, focusing on giving that airport-level experience, the luxury experience of, like, dining on a train going 220 miles an hour through the Central Valley, or creating station lounges where you'll be able to have some oysters and sip some wine before you go down to L.A. — romanticizing the high-speed-rail experience.
We have a unique opportunity to redefine the way people travel in this country, especially with my generation being more conscientious about the environment and realizing, Maybe driving and flying aren't such good ideas — so maybe I'll take the train instead. I feel like I'm just playing a small role in a bigger picture.
The Detroit Transplant
Bennett Alvero, 27, ICE Class of '19
I was working at Locanda Verde in Tribeca, the Andrew Carmellini restaurant. I wanted to learn fast and also do high-caliber food. And I loved it there. Our food was great. People enjoyed coming to work, for the most part. And we were getting better. We were adding things to the menu, we were doing stuff — it was just fun. And then I asked to move to one of our new restaurants in Detroit.
I'd been staying in New York because it was convenient, but I knew I needed to leave, and I have a lot of family history in Michigan I'd never explored. It just seemed like it made sense to go to a new restaurant in a city that's old but new, that's coming back, that would be both a reconnection to my past and a chance to see the new Detroit as it grew. But then it wasn't that, obviously.
The original plan was to start at the new restaurant on April 1, 2020, but as things started shutting down in New York, my chef was like, "Can you go to Detroit right now? They're still open." So I packed up and drove to my aunt's house. The plan was to stay with her for a couple of months while I explored the area, and instead I arrived to quarantine.
The chef called me to come in right after they reopened in July, and then we pretty much ran solid through November until they shut down again. It's at 25 percent capacity right now. I haven't been working. I'm not here to get sick. I'm in a privileged position of not having to rely on cooking for my career. I told my chef at the beginning, "Look, I will be here, and I'll bust my ass. And I know how hard I work compared to everybody else. It's not like I'm ever going to be slacking off on here. But please, if I don't need to be here, and you do not need me here, don't feel like you need to do me a favor." Like, I'm relatively safe, healthy, and okay. I'll go back to my restaurant when they call me.