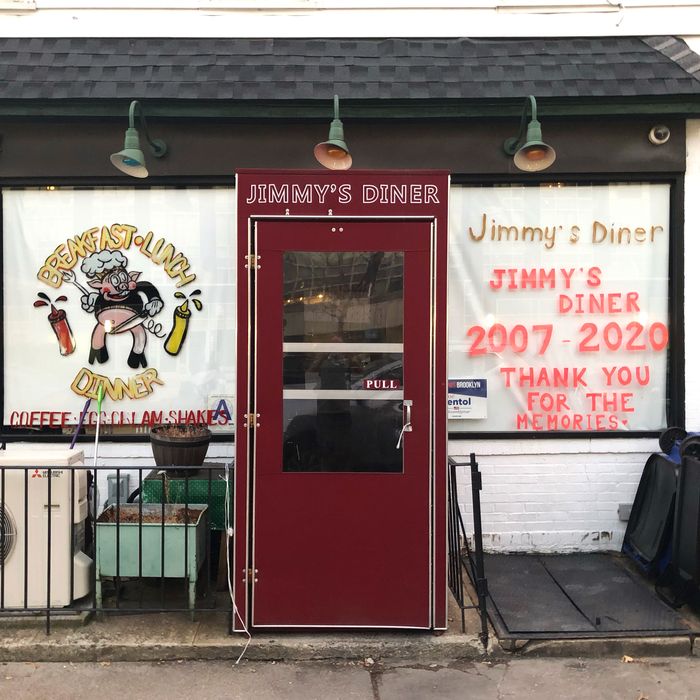 In Greenpoint, Jimmy's Diner closed with one year left on its lease.
Photo: @signsandstorefronts/Instagram
For the New Yorkers who have watched countless businesses shutter over the last year, the loss of a favorite restaurant can feel sudden. But for the owners on the other side of the equation, fully closing can take months, or even years. Sara Jenkins closed Porsena last summer, when she should have been celebrating the restaurant's tenth anniversary in the East Village. Her to-do list was typical of the time: sending food home with the staff, canceling accounts, and paying out of pocket to settle debts. Jenkins received a PPP loan to pay for rent and staff wages, but she is currently in a holding pattern until the lender processes her paperwork. Only then can she apply for a payroll tax credit, file her final taxes, and officially close the business. "We're probably not going to close out until 2022," she says. "That's more money for the accountant."
The decision to close a restaurant can be gut-wrenching, yet after it's made, operators must negotiate a tangle of legal and financial hurdles that can cost tens or even hundreds of thousands of dollars, added on top of any existing debt. Given the circumstances, it can sometimes take longer, and cost more, to close a business than to open it in the first place.
When Cynthia Shephard and her mother, Maria Iglesias, signed the lease for their Long Island City restaurant Corazon de Mexico, Shephard was already planning to redo the boxy wooden bar. She spent over $65,000 to tear out clunky pillars, leaving an open counter in its place. The investment was costly, but Shephard believed she had enough time left on the ten-year lease to recoup the money. Instead, on January 22, 2021, not even two years after the new bar was unveiled, Shephard and her mother closed Corazon de Mexico for good. Between struggling to earn enough revenue in the pandemic and stalled rent negotiations, closing was the only way to stop the mounting debt. "We couldn't even give in the keys," Shephard explains. "We sent someone else. It was really devastating."
Even as there are a growing number of reasons to be cautiously optimistic that the end of the pandemic is in sight — with the passing of the $1.9 trillion American Rescue Plan, $28.6 billion in grant money has been earmarked specifically for restaurants —  thousands of small-business owners will have to continue dealing with the fallout from the catastrophe.
Last May, just two months after the onset of pandemic-related restrictions, three-quarters of independent operators in the restaurant industry had already taken on new debt of at least $50,000 according to a joint study from the James Beard Foundation and the Independent Restaurant Coalition. Economists estimated that, at the time, restaurants and bars owed a total of $120 billion in unpaid rent and other expenses. The financial stress has been accumulating since then, pushing countless businesses over the edge. The National Restaurant Association estimates that as of December 1, 2020, over 110,000 restaurants and bars across the country — one in six — had temporarily or permanently closed. The New York State Restaurant Association published a study in December stating that New York City had lost 4,500 restaurants and bars, and more closures were imminent.
Whenever a restaurant closes, real estate is the first concern, because it's the most expensive and can lead to the most significant losses. Without due notice to the landlord, an owner risks being sued for the remaining value of their contract, unless they can strike a deal. David Helbraun, a founding partner of Helbraun Levey, said his firm has worked on hundreds of lease-exit negotiations in the past year — a huge increase from the handful of cases they handled pre-pandemic. "It always costs the restaurant owner more than they want to pay, but it's always less than they actually owe," Helbraun says. "That's where the negotiation comes in."
An additional chip at the bargaining table is 1932-A, signed into law last May, temporarily suspending personal liability for businesses impacted by pandemic-related regulations. It's an imperfect stopgap measure, one that is set to expire this month.
In Brooklyn, Elizabeth Mandarano stopped service at her seasonal American restaurant the Hive on March 16, 2020, the day New York State on PAUSE was announced. She saw the writing on the wall: "I knew that takeout wasn't going to cut it; we were a vibe place." Mandarano gave her landlord notice of the restaurant's closure and agreed to continue paying rent for six months, which, per the terms of her contract, freed her from liability for the seven-odd years left on her ten-year lease. She paid over $100,000 in rent to remain in good standing with her landlord, even though she had no intention of reopening the restaurant to try and cover the costs.
At Corazon de Mexico, Shephard wanted to map out some form of debt repayment, but her landlord would only agree to a lease exit, which released her from the $100,000 she owed in rent and interest. In other cases, owners aren't able to walk away with a deal at all. When the Lower East Side bar Nitecap shut down in September, the owners could not settle with their landlord and were responsible for the unpaid rent and the remainder of their lease — ten months of rent in total. The space is currently listed with a monthly rent of $7,495. Even if this is a 20 percent increase in the bar's rent rate, the debt Nightcap's owners face could still be well over $50,000.
But rent isn't the only factor in real estate. As Helbraun explains, "the very minimum you're going to lose is your security deposit. And then you're taking the loss of all the money you invested into the restaurant. People put hundreds of thousands to a million dollars into building out a space." In Shephard's case, she lost a $72,000 security deposit along with the cost of renovations, which was over $250,000.
Sonny Solomon, who closed his Astoria restaurant Kurry Qulture last July, puts his combined losses for rent and construction at $500,000. Solomon was apprehensive about staying open, and the restaurant's fine dining-styled Indian menu was not suited for takeout. He negotiated a lease exit, leaving behind a security deposit along with the money and assets that went into updating the kitchen and dining room. "The way I left it, the place was turn-key," he says. "You could walk in and do whatever concept you wanted."
Working with, or against, landlords may be the costliest part of shutting down a business, but it's only a fraction of the overall to-do list. Owners are responsible for everything from dealing with leftover inventory to canceling accounts, returning rented equipment, and paying off taxes. Several of these line items can come with a price tag and many are backed by a personal guarantee. To avoid lawsuits and a dip in credit scores, owners have to pay the debt — almost always out of pocket.
Blair Papagni closed Jimmy's Diner last July, after 13 years in Greenpoint, with one year left on the lease. She explains that tying up loose ends like vendor debt and insurance cost her around $20,000. Shephard similarly cites these ad hoc expenses; hers are around $15,000, and growing. Some restaurants have turned to crowdfunding for help — Ugly Kitchen, Upi Jaya, and Queens Comfort Diner each have GoFundMe campaigns with targets of $15,000 to $25,000 to pay off rent, utilities, and other expenses.
Months after closing, Mandarano, from the Hive, is still waiting for a vendor refund and Papagni is waiting for a liquor-license-renewal refund from the SLA. Solomon, from Kurry Qulture, is saving up to pay his deferred taxes, and Shephard is reeling from the bills she still has to settle. (A month after closing she received a $1,500 fine for a face-mask violation.)
For the thousands of small-business owners who are in similar circumstances, it will take years to recover from the injuries — both financial and personal. Owners could still face the stigma of failure, even when so much was beyond their control, and, on top of that, reconciling the loss now, as industry watchers begin to forecast recovery and growth, can feel like a cruel joke. Still for others, the struggle to close a restaurant can feel all-consuming.
"My mom still has a dream," Shephard says. "I can't see dreams right now," she adds. "I just need to see how to get out of this."