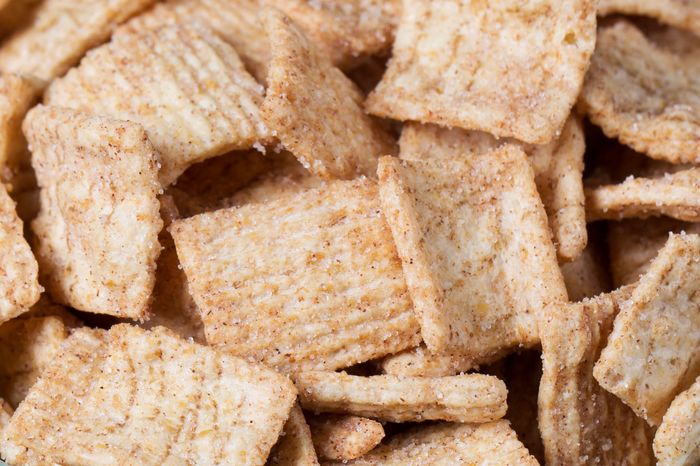 Cereal killer?
Photo: Jenniveve84/Getty Images/iStockphoto
At 1:32 pm yesterday afternoon, Jensen Karp, a rapper, writer, comedian, producer, gallery owner, actor, and podcast host, took to Twitter to recount a disturbing experience he had just had with a box of Cinnamon Toast Crunch. Here is everything we know.
Wait, what happened?
Karp discovered a pair of what looked like cinnamon-sugar encrusted shrimp tails in his cereal.
"Ummmm @CTCSquares, why are there shrimp tails in my cereal? (This is not a bit)" he wrote, above an image of what appeared to be shrimp tails in his cereal.
Is shrimp a standard ingredient in Cinnamon Toast Crunch?
No. According to the cereal's own website, Cinnamon Toast Crunch is made out of: "Whole Grain Wheat, Sugar, Rice Flour, Canola Oil, Fructose, Maltodextrin, Dextrose, Salt, Cinnamon, Trisodium Phosphate, Soy Lecithin, Caramel Color" with "BHT Added to Preserve Freshness." It contains wheat and soy ingredients, but not shrimp.
What did General Mills, maker of Cinnamon Toast Crunch, say about this?
When Karp, nervous he might "never eat (or sleep) again without answers," alerted the company to the alleged shrimp situation, @CTCSquares did express concern. "We're sorry to see what you found!," it tweeted, vowing to both alert the quality team and replace the box. "Can you please send us a DM to collect more details?"
Within hours, @CTCSquares had reached a preliminary conclusion.
"After further investigation with our team that closely examined the image, it appears to be an accumulation of the cinnamon sugar that sometimes can occur when ingredients aren't thoroughly blended," the company explained. "We assure you that there's no possibility of cross contamination with shrimp."
So they aren't shrimp tails?
The investigation is not yet complete. Based on what appear to be DMs between Karp and @CTCSquares, the company would like to physically inspect the alleged shrimp tails, and will be sending Karp a "pre-paid, addressed envelope" for the specimens.
Many on the internet, including several shrimp professionals, remained unconvinced.
"Marine biologist here," tweeted one marine biologist. "Those are shrimp tails. Only question is, did someone just toss those in the sugar, in the cinnamon, or in the final product?"
"[T]hose do look a bit like a shrimp's telson & uropods—tail," agreed a crustacean specialist at the Natural History Museum of Los Angeles, offering to help. "I would totally love to look at your "specimen" under a microscope, we might even be able to extract DNA to confirm its species or if it's indeed cinnamon sugar"
"'Accumulation of sugar particles,'" tweeted Danielle Fishel Karp, Karp's wife and Cameo podcast co-host. "I am truly at a loss for words."
Danielle Fishel Karp, who played Topanga on the 1990s sitcom Boy Meets World, as well as its somewhat less successful spinoff/reprisal, Girl Meets World?
Yes.
Was potential shrimp inclusion the only problem with the cereal?
It apparently was not. After discovering the alleged "shrimp tails", Karp further inspected the contents of the bag. The results were not reassuring. In addition to several more shrimpish "accumulations of sugar," he found "a weird little string" and several squares with "black marks," which, he notes, appear to be "cooked (?) INTO" the cereal. At this point, he had already eaten a bowl.
On Twitter, several concerned citizens chimed in to suggest the baked-in "black marks" were likely "mouse or rat droppings." In response, Karp called Los Angeles poison control, which informed him that if he had in fact ingested "rat poo," he wouldn't notice "the flu-like effects of an infection for a few days."
Meanwhile, he reports that his wife, Fishel Karp, who "has a stronger stomach" for such things, had just checked the other bag in the family two-pack. The news was not good: "This one seems taped up (?) and also appears to include … (I don't even want to say it) … dental floss.
Where are we now?
As of this morning, Karp reports feeling fine. He says he has heard nothing further from General Mills but plans to speak with the Woodland Hills Costco where he bought the cereal. He maintains that this is not a bit.