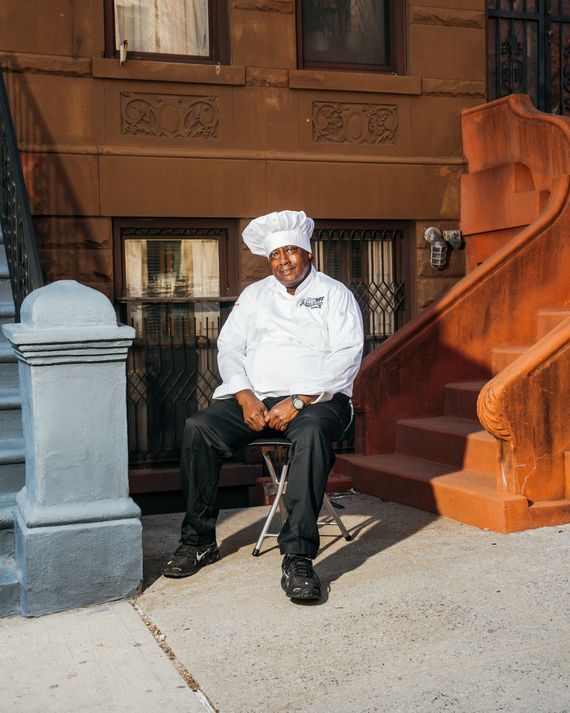 Charles Gabriel down the street from his forthcoming restaurant on Edgecombe Avenue in Harlem.
Photo: DeSean.McClinton-Holland
When neighborhood blog West Side Rag broke the news last month that Harlem stalwart and fried-chicken virtuoso Charles Gabriel would be expanding to West 72nd Street, the comments section erupted in cheers. "YES!!!" roared commenter MQue. "So happy for Charles," exulted OMG. A bullish UWS_lifer reflected, "It's like 72nd Street is becoming a serious foodie destination spot." The jubilation is understandable. Charles Gabriel, 73, has spent most of his life obsessively tending to manhole-size skillets of chicken sizzling in oil and preparing the southern-style food (collard greens, smothered pork chops, mac 'n' cheese) he learned from his mother in rural North Carolina, and in the process, he has become a beloved neighborhood culinary fixture in a city and time increasingly short on them.
The forthcoming Upper West Side outpost of Charles Pan-Fried Chicken may well be, as the post framed it, "an incredibly exciting development," but it's only the beginning. Now Gabriel tells us that he has also signed a lease on the corner of 145th Street and Edgecombe Avenue in Harlem and that he and his partners are zeroing in on a location in Brooklyn near Barclays Center. "We're gonna open up maybe five," says Gabriel. For a chef whose bootstrap rise has generally been confined to a ten-block radius, this late-in-life growth spurt almost amounts to a national rollout.
One of 21 children, Gabriel grew up on a farm in Huntersville, North Carolina. His family were sharecroppers. "We'd wake up at six in the morning to pick cotton, and when we got home at night, we all had to get in the kitchen. We all peeled potatoes, whatever we had to do, you know," says Gabriel. "My mom taught me how to cook when I was 8. I loved it."
As a teenager, Gabriel followed his brother Hollis to New York. He washed dishes and did deliveries at Harlem soul-food spot Copeland's before owner Calvin Copeland discovered his cooking talent and allowed him to run the kitchen. After 22 years at that restaurant, he went off on his own, cooking chicken, hot dogs, and chopped barbecue in his Harlem apartment and selling it from a folding table near a park. Then he turned the food table into a food truck called Charles' Mobile Soul Food. "I had places I'd go to, like the HPD building, the welfare center, and the post offices," says Gabriel. "In the evening, I went to the barbershops on Seventh and Eighth Avenue." Word spread and the business became so popular that "people were riding around New York trying to find me," says Gabriel. He made it easier for them by retiring the truck and opening a series of storefronts beginning in 1997 that came to an end last month with the closing of the latest iteration on Frederick Douglass Boulevard and 132nd Street after the landlord cut off the gas.
For the new venture, Gabriel has reunited with Michael Eberstadt, a recovering restaurateur who had enlisted Gabriel 15 years ago as kitchen consultant at Rack & Soul, his erstwhile southern-style spot in Manhattan Valley. Over the years, the two stayed in touch, but it took the pandemic to hatch the idea of making Gabriel's lifework a citywide chain. His small shop had not only stayed open for takeout and delivery after COVID-19 hit but thrived, thanks to the rise of delivery apps and increased demand from "downtown," a.k.a. the Upper West Side. "Business went up 400 percent," says Eberstadt. "UberEats, love 'em or not, they do take things two miles away in a car."
This spike in sales, combined with lower rents and the increased availability of built-out restaurant spaces, presented an opportunity for the old friends. "Everybody's always loved his food, but it was never really established that people would like to have it delivered," says Eberstadt. "All of a sudden, that was made abundantly clear. The bell went off, and that's why we all decided to create this mini-chain of small Charles's that would be entirely delivery and pickup."
The "we all," in this context, includes investor Lili Lynton, a family friend of Eberstadt's and, as a co-founder and an operating partner of Daniel Boulud's Dinex Group, an industry giant. "She's a huge believer in Charles," says Eberstadt. "She's been involved in everything from the start, from helping design the uniforms to finding locations. And she's really good on the numbers." Rent savings will allow the team to keep the menu affordable, says Eberstadt, who envisions chicken dinners costing $12 or $13 for three pieces, two sides, and a biscuit and $30 family meals that feed four. "We want to become part of people's weekly rotation," he says. "One night, they might cook; one night, they might order pizza; one night, it's Mexican; and one night, we hope they'll order from Charles."
Besides their new focus on delivery and takeout, future locations will differ from their predecessors in a couple ways. The partners have hired Nina Kinoti-Metz, whose firm, Studio Parallel, is fluent in the visual language of bright and airy Brooklyn bakery-cafés like L'imprimerie and Ciao, Gloria, to design the interiors and appointed as chief operating officer Quie Slobert, an industry veteran and Harlem native who has worked everywhere from Raoul's to Dave & Buster's, to run the day-to-day.
Slobert seems destined for the job. In addition to having worked front and back of the house at both independent and chain restaurants, he grew up savoring Charles Gabriel's cooking, even if he didn't realize it at the time. "In the late '80s, I was at Copeland's every Sunday with my family eating his oxtails," he says. Before he was recruited to join Gabriel and Eberstadt, he'd been exploring the possibility of launching a "new-wave soul food" truck of his own.
Having a solid team and a structure in place will, theoretically, liberate Gabriel from the headaches of running a business: "Most of my time, I'll be going around training people, making sure these guys are doing everything right," he says. It might be a difficult adjustment. As he likes to say, "I retired, but I'm still working." Until recently, even with his old restaurant closed and his new ones unlikely to open before May, he could be found five days a week in the kitchen of a local church cooking meals for those who needed it. "Working keeps you going. When you sit down, you get sick."
Not that sitting down has ever been an option for Gabriel, who has made his reputation by standing over a hot stove, painstakingly frying chicken in the style that has become his signature. He cooks up to two dozen pieces at a time in enormous 25-pound skillets, because it forces him to pay attention, to turn each piece repeatedly rather than just dump them into a deep-fryer basket and pull them out when a beeper goes off. "That's the way my mom taught me," says Gabriel. "She told me if I ever, you know, open up a business, don't deep-fry — always do your chicken this way, in a frying pan. It tastes better that way: less oily, better texture, everything." The proof is in the pan and, with luck, coming soon to a neighborhood near you.