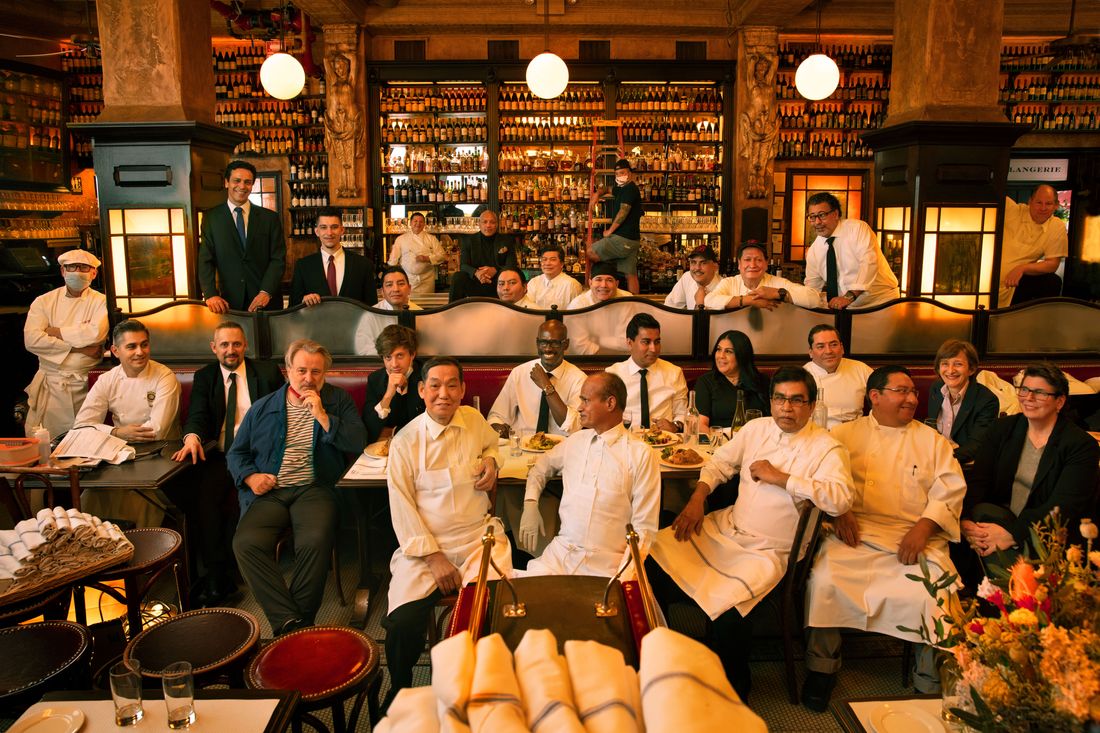 Back row, from left:
Zouheir Louhaichy (assistant GM, maître d'), Jordan Di Noia (manager, maître d'), Jose Castro (line cook), Cesar Guzman (sous-chef), Daniel Castro (prep cook), Kevin King (maître d'), Wei Fu Ruan (busser), Andy Gomez (pastry chef, restaurant), Willis Woo (bartender), Jorge Hernandez (sous-chef), Jerry Alvarez (sous-chef, raw bar), Mounir Bergha (runner), and Mark Pollard (kitchen manager).
Front row, from left:
Mark Tasker (pastry chef, bakery), Laurent Kalkotour (executive chef), Pablo Basi (GM), Keith McNally (owner), Harry McNally (director), Wong Cheng (busser), Moustapha Konte (server), Hasan Zaman (busser), Sazzad Islam (server), Massiel Pagan (server), Mohammad Chowdhury (busser), Raúl Hernández (sous-chef), Victor Castro (sous-chef), Roberta Delice (partner), and Erin Wendt (director of operations).
Photo: Jonas Fredwall Karlsson
At the end of his shift on March 12, 2020, Raúl Hernández, a sous-chef at Balthazar, decided to bring his lucky white coat — the one he was wearing the time he cooked for Leonardo DiCaprio — home, rather than leave it in his locker. The staff had just learned the restaurant would be closing, and Hernández, who had helped open Balthazar in 1997, didn't know when he'd be back.
In its 23 years, Keith McNally's brasserie brought power-breakfasting to Soho, played host to movie premieres and Fashion Week launches, and witnessed the transformation of the neighborhood into a capital for the finance, fashion, and digital elite. Thirteen of Balthazar's 119 employees have worked there since the day it opened; last year, most found themselves unemployed, some for the first time in their lives. Pablo Basi, the general manager, stayed behind for a week to shut everything down; alone in an empty Soho, he's "not ashamed to say that I called my mother and cried." In the early months, a barista died from COVID-19. Everyone tried to stay in touch, but after a while, there wasn't much to talk about. Hernández took his lucky coat upstate, where he sat in the hills "watching eagles flying" and prayed he'd get called back to work.
It was Roberta Delice, the McNally Group's CEO, who called many of the staff in January and February to ask them to return to Balthazar. It didn't feel real until "I came up the stairs, saw the team, and almost cried," she says. On a Tuesday in March, 24 hours before reopening night, the team assembled to learn about new courses they'd be serving at dinner. In a corner, McNally pored over the restaurant's playlist on a laptop. Plexiglass dividers rested against tables in anticipation of a final rehearsal the next morning.
Hernández is excited to be back with his kitchen knife. "At home, I wasn't cooking with passion, but after that first Monday back, I made chicken parm, and my girlfriend was like, 'Wow, baby, look at this food!' and I was like, 'I've got my power back!' " he says. "And when we had the staff family meal together, it tasted like heaven."