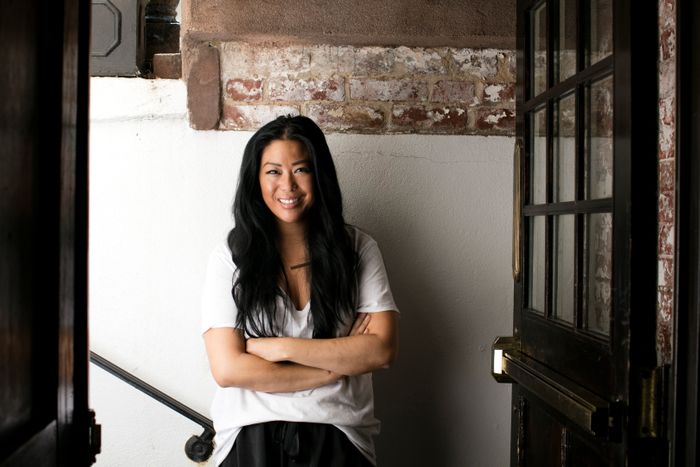 Chef Angie Mar, who will soon open Les Trois Chevaux.
Photo: Melissa Hom
Plans are coming together for chef Angie Mar's new restaurant next to her old Beatrice Inn spot, which closed at the end of 2020. The new venture — to be called Les Trois Chevaux — is set to open this spring.
According to a press release, the restaurant will be "Mar's ode to the great French restaurants and brasseries of eras past, while also looking to the future of hospitality, and a fine dining experience that is unequivocally downtown New York."
"It is of the utmost importance to me to invest energy into the revival of New York's culinary and hospitality landscape. I feel the city is experiencing a much-needed creative renaissance, especially in downtown. It's equally important to me that we return to the elegance and powerful, transportive nature that an exquisite dining experience can provide," Mar says in the announcement, stressing that the new project offers a new kind of creative freedom. "The weight of an iconic restaurant's name often dictates one's creative direction, purely by its heritage. Les Trois Chevaux will be the first restaurant in which I am starting from a truly blank canvas."
What exactly that means for Mar's new menu isn't clear yet, but we do have some clues. Back in November, when she first teased plans for the project, she suggested that the new restaurant would be less beef-focused, while assuring diners she wasn't about to go all-in on vegetables. "I promise, that will not happen," she said then; instead, the menu would likely focus more on game birds, shellfish, and wood-fired French cuisine.
At least some plans have changed since that first announcement, though — among them, the name. The original plan had been to call the new restaurant The Beatrice (minus the "Inn"), keeping the history front and center. Now, the West 12th Street restaurant is making a clear break as Les Trois Chevaux, a nod to Mar's own roots: Mar's father used to call her and her two brothers "the three horses," a reference to the family name, which "represents the noble steed" in Chinese.