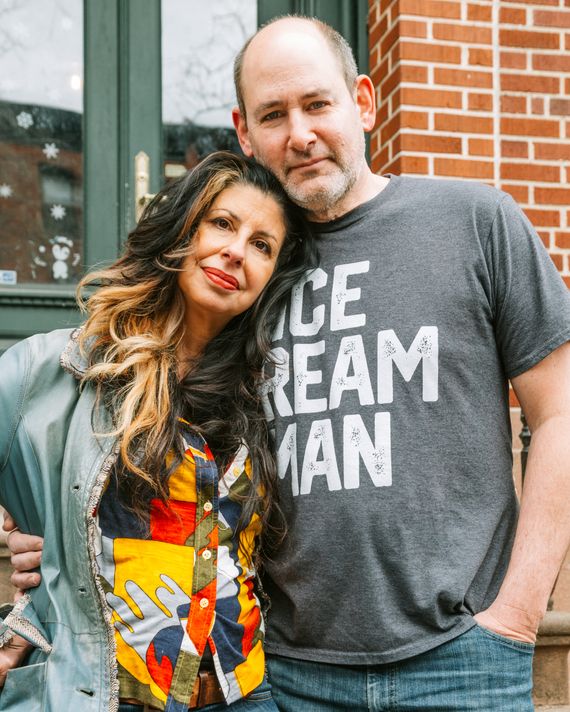 Jackie Cuscuna and Brian Smith will open the Social later this year.
Photo: DeSean McClinton-Holland
For nearly a decade, Ample Hills Creamery was the Little Brooklyn Scoop Shop That Could. Barely a week after the original, 950-square-foot store opened on Vanderbilt Ave., the New York Times reported on its products' sold-out status, all of the ice cream bought up in mere days by eager Brooklynites. Luckily, the shop was able to make more. A lot more: Over the years, Ample Hills expanded to more than a dozen locations. Ample Hills became the official ice cream of Star Wars and Disney World. Eventually, pints of Ooey Gooey Butter Cake and Nonna D's Oatmeal Lace could be ordered and shipped anywhere in the country.
Then, with a shocking swiftness, it fell apart. The "grow at all costs" strategy favored by co-founders Jackie Cuscuna and Brian Smith blew up, forcing the husband-and-wife team to file for bankruptcy in 2020 — just as the COVID-19 pandemic arrived in New York — and to eventually sell the company to an Oregon machining company for next to nothing.
"There was a point where I was like, 'Let's just leave and start a new life,'" Cuscuna says. But then, the COVID-related exodus of others convinced the couple to stick it out. "I'm a New Yorker through and through, and seeing the hardship in the city with the shutdown, we knew we needed to stay."
So they did, struggling to make it through the year and to figure out what was next. It turns out, the answer would be more ice cream. This week, they signed a lease for a new space on the corner of Washington Ave. and St. John's Pl. in Prospect Heights, and plan to turn it into the Social, a new shop that will offer, yes, ice cream, as well as a strong emphasis on community and gathering. (Plus: There will be doughnuts.)
"It's a second chance," Cuscuna says. "We're humbled that we're able to get this chance — but we can't mess it up."
The couple says they're taking the hard-learned lessons of their first company ("Everything that we didn't write down before, we're writing down now") and combining them with the sensibilities that made Ample Hills such a hit when it opened.
But first, let us talk specifically about the ice cream, which Smith himself will once again make by hand in small batches. To start, he plans to offer 20ish flavors, all of them new, made with recipes and ideas he's been tweaking since last summer. "It was a good three or four months after the bankruptcy before I went back and started making ice cream again," he says. "After a period of 'woe is me,' lying around feeling sorry for myself, it was an opportunity to be creative and to go back to the drawing board."
Even if the base recipes and the flavors are new, the playful point of view and appreciation for copious mix-ins remain strong in Smith. He says one new flavor will be called The Old Ballgame, studded with popcorn, peanuts, and caramel. "It's our version of Cracker Jack." Another, Double the Dough, is cookie-dough ice cream amped up with chunks of chocolate-chocolate-chip cookies. A riff on his original Ooey Gooey Butter Cake will be called, fittingly, Ooier and Gooier.
The design, with a play area and illustrations by Amanda Kavanagh, will also bring a bit of storybook aesthetic to the new space. Cuscuna envisions "a Sesame Street vibe — it's transporting you back to this place of magic and magical realism, in a way."
So, what else will be different (aside from the accounting practices)? To start, it will be bigger, with plenty of space for sidewalk seating. Also: There will be doughnuts. Warm cake doughnuts, Smith says, made fresh each morning. "We're not trying to compete with Fan-Fan or Doughnut Plant," he clarifies. Instead, it's a chance to welcome guests in before traditional ice-cream eating hours. "We've never been open before noon, so this is a way to bring people in." And, as the day wears on, the two will combine into glorious doughnut sundaes, fuel for the sugar-craving kids of brownstone Brooklyn.
There's more. Fans of Ample Hills will tell you that one of the better ideas they had was allowing customers to combine any soda and any ice cream into a custom float. (Bottles of Cheerwine mixed with scoops of pistachio were, and remain, a criminally underappreciated combination.) At the Social, that concept will be expanded, as Smith also plans to introduce a line of his own seltzer syrups. "We'll make our own syrup from scratch so we can do classic ice-cream sodas: Orange, cherry, vanilla, and chocolate," he says. "There's a reason they were so popular back in the day."
Broadly speaking, nostalgia of all forms will be big at the Social, right down to the name, which is both something of a reaction to COVID-era life — "After a year of social distancing, social isolation, we want to scream from the rooftops that we can be social again!" says Cuscuna — and a clear throwback to the ice-cream socials of yesteryear. There will be a party room, classes, and a new flavor each month that will be designed by customers and given away as samples.
For Smith and Cuscuna, the best part about ice cream is that it brings people together. "Having grown up here, and saying, 'Hell no, I'm not leaving this place,' it saddens me to see all the places that have left, forced to go out of business," Cuscuna explains. "We want to be a part of the rebuild, and to figure out how we create these spaces and third places that are so unbelievably necessary — that's what makes me so excited about creating the Social."
But, she admits, the excitement is tempered with caution and experience: "I'm also insanely anxious — don't get me wrong. We went into Ample Hills and we didn't know all the things that could go wrong. Now we know, and our eyes are much wider."