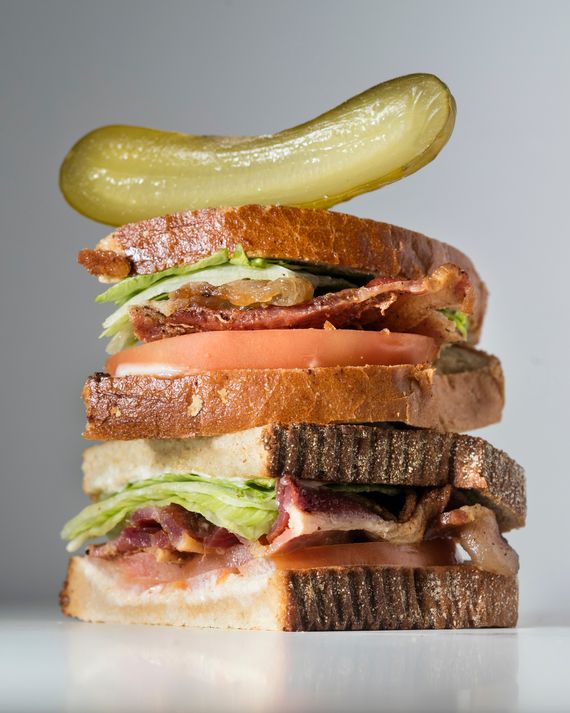 The BLT from Eisenberg's was a paragon of the form.
Photo: Melissa Hom
"What's your favorite restaurant in the city?" is one of those tedious questions those of us who eat for a living around town used to hear again and again, back in the good old days when the streets weren't full of frigid outdoor-dining lean-tos and Manhattan's finest establishments didn't take your temperature before you sat down for dinner. I kept various stock responses on hand — "How much do you want to spend?"; "Are we talking breakfast, lunch, or dinner?" — which I'd recite in a blasé, noncommittal way before moving on to more pressing issues, like which cocktail to enjoy with my evening canapés.
After a drink or two, however, I sometimes allowed that there were certain essential establishments, like Katz's Deli, Noodletown, or the Oyster Bar at Grand Central Terminal in its heyday, where I liked to retreat now and then to sit at the bar, or a table in the corner, and commune with a particularly timeless alchemy — the ebb and flow of the lunchtime rush, the patter of the cooks, the sense of history and theater and of bustling, crowded solitude — that has always made New York a unique dining city.
Eisenberg's Sandwich Shop, which has apparently closed for good after an impressive century-long run across the street from the old Flatiron Building on Fifth Avenue, was one of those restaurants. "We're trying to carry on the tradition, but there's not much of it left anymore," one of the more recent owners, Josh Konecky, told me a few years ago when I dropped in for my usual BLT at my preferred spot at the front, entrance end of the famously long counter, which was crowded, as usual, with a lunchtime pageant of cops, off-duty doormen, and business folk with their jackets carefully folded on their laps.
I was working on a story about the slowly disappearing old diners around the city at the time, and Konecky, a mountainous gentleman who seemed more like an enthusiastic, small-time museum curator than a professional restaurant man, produced one of the original vintage menus that looked, with its olive sandwiches and helpings of matzo brei, more or less the way it always looked for the past 100 years or so.
That was the allure of Eisenberg's, of course. Like the Flatiron Building across the street, and the great old turn-of-the-century structures around Madison Square Park, it offered a little taste of tradition in a city and a neighborhood that changes all the time.
The short-order sandwich counter wasn't invented in New York, but beginning in the 1920s, when Eisenberg's opened its doors, the genre has flourished here thanks to that unique big-city combination of density, efficiency, and the relentless appetite for a good, quick meal, whether it's breakfast, a workaday lunch, or a snack before catching the train back out to the hinterlands.
The famously long counter at Eisenberg's was as old and battered as the restaurant itself, and so were the small twirling stools that have been covered in red Naugahyde for as long as I can remember. You could watch the cooks twirl up ten varieties of omelet and stacks of pancakes of varying sizes with sides of grits, country ham, or the excellent housemade corned-beef hash. You could enjoy one of the city's original (and best) tuna melts, liverwurst sandwiches made the way your grandfather used to like them, and watery egg creams, which looked and tasted just the way they did back in 1929.
"One of my original landlords was a regular, and part of our agreement was that he could order anything on the menu for two bucks," said Konecky when we spoke. That landlord died, however, and his partner wasn't as fond of traditional diner cuisine, so Konecky eventually sold to another enthusiast named Warren Chiu, who inherited the same kinds of problems — changing tastes, aging regulars, skyrocketing rents — that were tough enough during good times but have been catastrophic for thousands of restaurants around town during the great COVID calamity.
Like many of these places, Eisenberg's would likely have ended up closing its doors sooner or later, even without the ruthless sense of natural selection that this last Plague Year has imposed on the restaurant industry. It was open only for lunch by then, and not on weekends. There were better BLTs around town (although not many of them cost $8.50), and there are probably better egg creams, too. The service could be haphazard, and the cramped table space in the back, much like the tables at the Oyster Bar, was always a grim, poorly ventilated Siberia zone avoided by regulars at all costs.
But like Katz's and the Oyster Bar, Eisenberg's was one of those places you visited now and then to experience the timeless theater of ye olde New York. Like any good long-running drama, it had its own cast of reliable, increasingly eccentric regulars. It had its own rituals and its own hectic rhythm, and even its own special language, as the cooks shouted out their "whiskey down" orders to each other while the dishes clattered by. Like an old church, or an ancient ballpark that is venerable in its own special way, it had that particular quality that was a product of age, place, and memory. Although there will surely be other favorite places around the neighborhood at which to get a quick lunchtime BLT when this pandemic ends, that special quality can't be bottled or reproduced. Because when it vanishes, the way it has all over town this past year, it takes a little bit of the city with it and then it's gone forever.