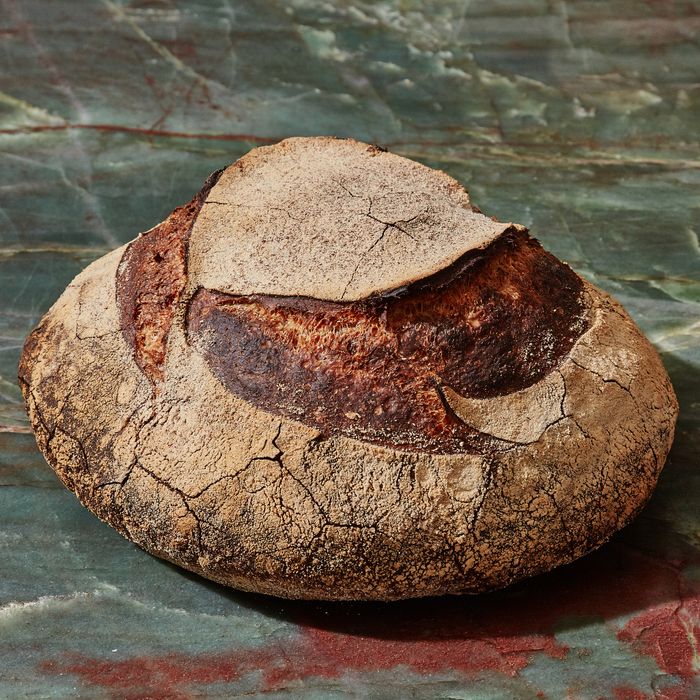 A loaf from ACQ Bread Co.
Photo: Alex Lau
When the ceramic artist and activist Stephanie H. Shih first saw signs for ACQ Bread Co. in her neighborhood, she didn't think much of it, except to make a mental note to try the milk bread: "I thought, Okay, it's just some kind of bougie bread operation." But after reading more about the Carroll Gardens bakery, she found common cause with baker Tyler Lee Steinbrenner, and quickly made her way over. "I was like, 'I think that we could do something together. I want to help raise money for this project,'" she says.
Now Shih and Steinbrenner are collaborating on the ACQ Flour Bank, which will be funded by art sales with the proceeds donated to pay for bread for food insecure people in south Brooklyn. "I was very interested in having artists actively raffle pieces to contribute into turning a non-functional thing into a literal loaf of bread," Steinbrenner says. These art sales will, they hope, allow him to expand on what he's already doing.
The first raffle went live this morning, for Shih's golden kintsugi dumpling. She says she will only make one such piece. (Through her ceramic art, Shih crafts recreations of foods and pantry staples of the Asian American diaspora.) Entry is $5 via Venmo or Paypal; more details are available on Shih's instagram. While the art sales will be organized by the artists themselves, an ACQ website, launching next week, will point to ongoing raffles, so if there's an artist you don't know raffling, you'll find them there. (The website will also function as a ledger, keeping track of donations and sources.)
The Flour Bank, he explains, is an "evolution of that initial impulse" behind the bakery, which he started by donating loaves of bread to protestors, hospital workers, organizers, and others. Steinbrenner makes the sort of sourdough that often gets fetishized. High-quality bread is expensive — because the food and the labor behind it should cost more and wages have stagnated for decades — and often treated like a luxury. "The whole system that exists to craft bread at large, in this country, makes this bread inaccessible," Steinbrenner explains. "I want to try to invert that, this really gross fetishization."
Currently, Steinrenner is taking 50 cents from the sale of every retail loaf, which range in price from $9 to $15, and putting that into a pool for purchasing flour. That flour is then used for bread donated to Brooklyn Relief Kitchen, which was founded by restaurant industry workers and prepares meals for soup kitchens and organizations like CHiPS, the Workers Justice Project, and Caribbean Women's Health Association.
"That's kind of the steady contribution to keep the operation constantly in motion, which has a current goal of 100 loaves of bread per week," he says. A hundred loaves is how much Steinbrenner says he can make without "breaking his back," as he puts it (he mixes the dough by hand), but that number could increase if there's enough funding to pay someone else to make bread or if others donate labor. "I think we can both imagine a very near future where if we have enough donations from the donated art that that number could increase," Shih says. "We're trying to figure out ways to make that bigger and more sustainable."
Along with her own art, Shih will contribute lessons from her experience raffling her own work to raise money for different causes. "I've been doing these fundraisers for a few years now, and over time, I have learned what works and what doesn't. I know now that a raffle makes a lot more money than an auction does," she says. "One thing we are hoping to be able to offer to artists is a blueprint that demonstrates how to use art to raise money, and we'll give them a list of all the best practices so they can run it on their own."
The Flour Bank is motivated by the belief that people have a right to good food. "I think it's frankly ghoulish that we have this idea that poor people deserve the very least. Because they're poor, they should be okay with hyper-processed — frankly unhealthy — Wonder Bread," Shih says. She brings up Heart of Dinner, which was founded during the pandemic when the city was providing free food to Asian elders.
"I don't want to put words in Tyler's mouth," Shih says, "but I'm totally okay with offsetting the costs to provide good food to poor people by charging rich people more. That is totally okay with me."