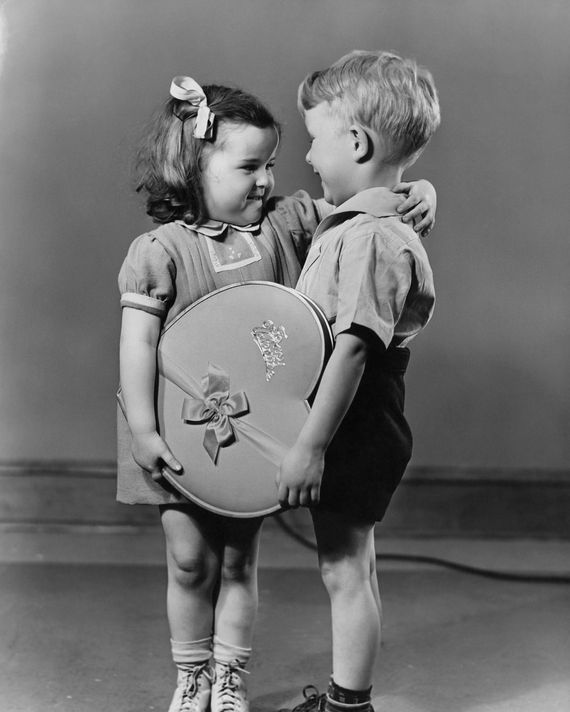 Photo: Harold M. Lambert/Getty Images
In case nobody has sweetly whispered this into your ear yet: Valentine's Day is this Sunday. It also marks the day indoor dining returns to New York City, and you might already have a table booked (and remember that nothing is hotter than a big tipper). However, many New Yorkers will still opt to stay home, eat outdoors, curl up on the couch with a cocktail, or just hang out under the covers. Here are a few options for various Valentine's Day vignettes — spoonfuls of caviar at the kitchen table, Sichuan under the stars, chocolates shaped like slinky stiletto heels — to keep the heat (and heat lamps) alive.
Plan a very special date night that feels almost normal
The "Winter Village" at Westlight — on the outdoor roof of the William Vale — is wonderful. With enchanted (and well-heated) chalets surrounding the (synthetic) ice of Vale Rink, couples can partake in cocktails, and even an outrageous fondue spread, with a breathtaking view of Manhattan.
Pop some bubbly, even if you're feeling broke
Would it be blissful to sit by a fireplace at a bed-and-breakfast with a bottle of expensive bubbly right now? Yes, it would. Do you deserve it? Yes, you do. Is it going to happen this year? Probably not! Instead, order a bottle (or case) of  Faire la Fête, a sparkling wine that rivals all nonvintage Champagne brands while clocking in at a modest $20 price point. Pop, pour, binge, watch Call My Agent!, pour more, et voilà.
Tiki lights to set the mood
At Kings Co Imperial in Williamsburg, the backyard is extra intimate, tucked among salvaged timbers, with tiki lights offering a warm glow. For Valentine's Day, they're serving chili-flashed Chinese cauliflower with crisp pork belly, among other favorite spicy dishes. Their Hot Buttered Rum Toddy will tickle anyone's fancy, too.
Call up your own personal caviar dealer
You can order in Thai food any night, but how often are you compelled to order in a full-blown caviar spread? The time is now to get onboard with CaviAIR. Their packaging is exciting, the product is mouth-watering, the whole thing comes with good Champagne, and they have a Valentine's Day special that's called "Keep It Sexy." (How many of us need to hear that right now … ahem.) It's not cheap, but it's not pretentious either. Have fun with your fish eggs!
Get some upgraded chocolate
Can you buy a heart-shaped box of random chocolates and call it a day? Sure. And there's something sweet and nostalgic about a traditional move like that. However, if you want to (way) up your chocolate game, customize something sentimental or artistic with the super-beloved, New York–centric Li-Lac Chocolates. They already offer gorgeous chocolates the shape of actual high heels and purses and cameras and basketballs, but a little personal touch plus a hunk of hand-crafted chocolate will definitely get you … loved.
Go big with lobster
One not-terrible development of the pandemic is that Luke's Lobster has finally started selling Maine seafood online. For Valentine's Day, you can order special packs like a Lobster Roll Kit with Bixby Chocolates. Alternatively, Ed's Lobster Bar on Lafayette has some "romantical" and nautical specials for outdoor dining and take-out.
Give in to heart-shaped pizza
Over at Fornino, you can order a "Pizza Love Fest Kit" from February 12 to 14. The kit includes two heart-shaped pizzas, plus other aphrodisiacal accoutrements — and a bottle of wine. If you don't want the kit, heart-shaped pizzas will also be offered à la carte for anyone that requests one over Valentine's Day weekend. And if you want to take a nice, old-timey, romantic drive over to Arthur Avenue, there's also  Ivana's Pizzeria. They're offering a specialty heart-shaped pie, too.
Re-create the When Harry Met Sally moment, at home
Katz's is shipping out their concept of a perfect date night with various packages that obviously include pastrami and corned beef, with all the necessary toppings, pickles, etc. There's babka and rugelach, and best of all, you can create the full Katz's ambiance with a chocolate egg cream candles. Nothing screams sensuality like the aroma of chocolate-flavored seltzer.
Show off how much you love plants
At Amanda Cohen's Tribeca vegan burger spot, Lekka Burger, they've created Valentine burger boxes (to-go) with two burgers, fries, sparkling rosé, and chocolate-chip cookies. And over at Cohen's timeless Dirt Candy hang, there's a five-course to-go or delivery menu with dishes like "All the Vegetable Hearts Salad" and "Red Beet Spaghetti with Pink Beet Petals" available that weekend (But please note: Dirt Candy is closed on Sundays.)
Convert your crappy apartment into a fancy wine bar
The Soho wine bar Compagnie has put together a Valentine's Day party box to elevate any DIY wine-bar situation. It includes two bottles of wine, sultry snacks, a curated Spotify playlist, and a Valentine's Day card.
Pretend you're on a romantic North Fork weekend
Macari Vineyards, part of the North Fork Wine Trail, has done an incredible job putting together virtual tastings, with wine shipped directly from their tasting room in Mattituck and wine tastings led by members of their wine education team. These virtual experiences can be booked for groups of any size via Tock, making the whole thing simple to pull off. (And if you are going to the North Fork, Macari recently debuted Bergen Road Bungalows, a collection of private tasting tents that are quite opulent and well-heated.)
Make some DIY sushi
There's the terrific Osakana in Brooklyn, which sells and delivers everything you need to make your own sushi, and more. And in Manhattan, Nami Nori offers a Temaki Party Kit that's curated by chef-partners Taka Sakaeda and Jihan Lee; it includes the basics to build temaki (rice, nori, wasabi, ginger), plus sauces. Add-ons like sake, wine, beer, and dessert are available, too.
Go French
At the impossibly Parisian La Mercerie, you'll find a whimsy Valentine's Day menu, for take out, or to eat there (on their charming heated outdoor patio). Their Chérie Brunch Box features sweet or savory crêpe cakes, and an array of little gems such as the Choux D'Amour (a crème-filled puff dipped in red sugar).
Embrace the ultimate pairing: chicken and waffles
Lil' Sweet Chick is the new fast-casual spot that evolved from iconic Sweet Chick. They'll offer Valentine's-inspired red-velvet waffles, with the option to add fried chicken (a no-brainer).
Take a "trip" to Thailand
The pop-up Thaimee LOVE is offering a romantic "Trip to Thailand" dinner at home where chef Hong Thaimee will take diners on a culinary experience through Thailand with a special three-course menu showcasing the vibrant flavors of her homeland. It begins with a "sunset drink on the beach," then you grab food from a stall at the Night Market, next is a northern Thai cultural "Khantoke" platter, and you end the evening with her Thai-inspired fondue. Get your menu and preorders on Tock.
Valentine like a baller
The hedge-funder-favorite Cote has outdoor dining for two to six people in their Cote Cabanas seating which is decked out as comfortably as can be. Their Valentine's prix-fixe menu includes favorites like filet mignon and lobster tail, with caviar service and lamb chops available as add ons. (To-go packages are available too via Goldbelly.)
Recognize that few things are more romantic than pasta
At its core, Aita in Clinton Hill is a date spot. Their outdoor gazebo is lovely, and the owner has worked very hard to keep his staff happy (and compensated) through the worst of the pandemic. This transportive Italian trattoria has a terrific San Valentino menu, and it'll warm your heart to support the team.
Do something special for your kids
Order the most strawberry-tasting strawberries, even in February, from Oishii, the magical year-round strawberry farm. Somehow they're able to re-create the elements — rain, air, heat, light, and nourishment under one roof. Don't ask. Just eat your inherently red and heart-shaped healthy treat. Then, if your kids respond with "Just a strawberry? Really?!" redeem yourself by taking them to Northern Soul in Hoboken, where you can cozy up in a beautifully designed and executed outdoor "Soul Shack" and get crazy with the Make Your Own S'mores. Yes, love is in the air, and it smells like toasted marshmallows.