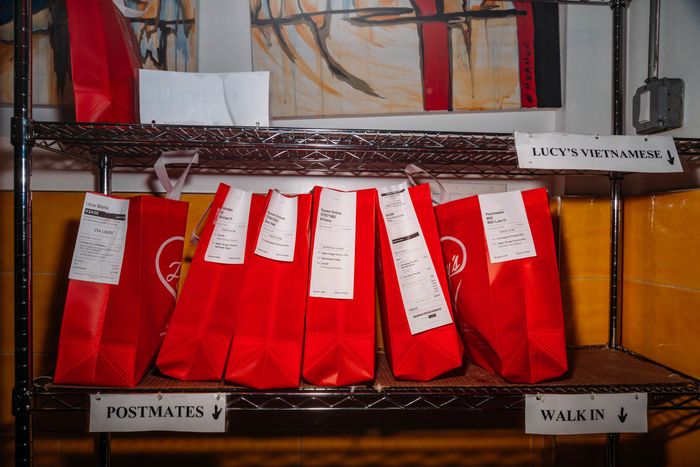 Delivery orders, waiting to go out at a New York restaurant.
Photo: DeSean McClinton-Holland
On Super Bowl Sunday, 96 million people watched Big Bird and Daveed Diggs sing about the wonders of food delivery in a commercial for the delivery service DoorDash. The idea, per the ad's song, is that it's great to eat the food prepared by "the people in your neighborhood." As part of the campaign, DoorDash also announced that it would donate up to $1 million to the Sesame Workshop. (The price for 30 seconds of airtime during this year's Super Bowl was reportedly $5.5 million, and this ad was 60 seconds long.) Meanwhile, DoorDash's competitor Uber Eats ran its own 60-second ad, ostensibly to celebrate local restaurants, that featured a Wayne's World throwback and Cardi B. The not-so-subtle message of both ads was clear: These companies — call them Big Delivery — are now mainstream, as much a part of American culture as pick-up trucks and Tide laundry detergent. Which is curious, because an overwhelming number of local restaurant owners whom these companies claim to champion say that the exorbitant fees and parasite-like business practices make it far more difficult to stay in business.
A few years ago, platforms like Caviar or Uber Eats seemed like mere novelties. Now, they are everywhere. In 2019, before the pandemic forced everyone home for good, it was reported the delivery-app market would be worth $16.6 billion by 2023. Orders had been growing 23 percent a year since 2013. Last year, UberEats reported that it grew its restaurant base by 75 percent, a result of the coronavirus pandemic. Business owners were desperate for revenue. In its IPO, DoorDash offered the news that 58 percent of adults say they are more likely to get delivery than they were a couple years ago. From April through September, the combined revenue of DoorDash, GrubHub, Postmates, and Uber — MarketWatch noted — was $5.5 billion, as compared to $2.5 billion during the same stretch in 2019. According to data analytics start-up Second Measure, year-over-year sales for meal delivery grew 164 percent in January. In turn, the ranks of the gig economy swelled. Hundreds of thousands of people signed up for jobs with apps like DoorDash, feeling they had no other option, the Washington Post's Nitasha Tiku wrote, even as the pandemic "has increased the stakes of operating without a safety net."
All that growth was expensive: In 2020, DoorDash reported losses of $149 million from January through September (it will share financial results for the full year on February 25), and GrubHub reported a net loss of $155.9 million for the year. In the fourth quarter of 2020, Uber Eats' revenue grew by 128 percent year-over-year while the platform still lost $145 million. When DoorDash went public, Citron Research awarded the IPO its "most ridiculous of 2020" designation, and, as the Markup noted, the pandemic showed that these companies "may have an unworkable business model."
Yet, these companies still receive plenty of investment capital, despite no clear sign of when, or even if, they'll eventually make money — which doesn't exactly make them unique in Silicon Valley. As New York Times tech writer Kevin Roose wrote in 2018, "the new way to make it in business is to spend big, grow fast, and use Kilimanjaro-size piles of investor cash" until at some point there's a profit.
They certainly know how to charge restaurants for their services: Owners consistently say they see their profits eroded by exorbitant fees. GrubHub reportedly "took more than 40 percent from the average order" at Pierogi Mountain in Columbus, Ohio, whose owner told the New York Times, "you have no choice but to sign up, but there is no negotiating." One restaurateur's GrubHub statement went viral last year, showing that the service took 65 percent of profits. GrubHub's fees include 4 percent for processing/fraud protection, 15 to 20 percent for marketing, and an optional 10 percent for delivery. If orders are placed via GrubHub numbers created for restaurants, a phone-order commission rate is also charged. Uber Eats charges a 30 percent per order fee for restaurants that use its delivery couriers, and 15 percent for those with their own delivery staff. DoorDash doesn't publicize the fees it charges restaurants, but it reportedly varies and can be as high as 30 percent per order. Even ChowNow has marketed itself by going after its competitors for these fees, criticizing them for "killing many small restaurants." Restaurants are also falling prey to virtual dine-and-dash schemes by customers, disputing charges, lying about not receiving all or part of an order, or using fraudulent credit cards. This caused the popular Los Angeles restaurant Spoon by H to close, its owner tells the Los Angeles Times.
According to a New Yorker article, the owner of Mulberry & Vine believed her profit margin was cut by a third from 2015 to 2018 and could only pin that on delivery platforms. A rep for Curry-Ya told the magazine, "Sometimes it seems like we're making food to make Seamless profitable." One restaurateur told CNN that the delivery platforms are "the worst thing that has ever happened to us." The delivery platforms aren't even better for customers, who end up forking over much more money. Orders can end up costing as much as 91 percent more, for food that's not always in great condition, has been languishing in containers, or even, really, made for delivery. But platforms like DoorDash are there, so people use them.
During the pandemic, delivery and takeout were the only way just about anyone could do business — a crisis for restaurateurs and a great opportunity for Big Delivery. Unsurprisingly, the companies largely wouldn't budge on their fees early in the pandemic, causing local governments around the country, including San Francisco and eventually New York, to enforce temporary caps.
With so many owners going on the record with their problems, these platforms are not simply waiting for restaurateurs to sign up on their own.  As U.K. writer Jonathan Nunn recently wrote, the strategy of the platforms is "to steal restaurants' customers," while also changing those same customers' relationships with the businesses. Instead, Big Delivery's business strategy is to get as many restaurants as it can onto the platform, and either squeeze what it can out of the rest, or force them onto the platforms. GrubHub and Seamless have used fake websites to increase commissions, on which they list GrubHub/Seamless-created phone numbers that forward calls to the restaurants and net the platform a percentage of each sale. When confronted about this, the company called the websites, which appear to be owned by the actual businesses, "a service." In 2019, the owner of Brooklyn's Abracadabra Magic Food told the New York Post that they tried to get the URL for http://abracadabrabrooklyn.com back from GrubHub, but "you can't do anything." That wasn't dramatic. It's a still a GrubHub website.
California and Washington, D.C., have banned the practice and, last year, GrubHub was sued for adding 150,000 restaurants to its platform without permission. One Bay Area restaurateur told the San Francisco Chronicle that this led to "very bad exchanges with customers who are, in the end, blaming me because I'm listed." In September, the owners of a St. Louis restaurant, Lona's Lil Eats, filed a lawsuit against DoorDash, arguing it misleads customers and essentially bullies business owners onto its platform by claiming non-partner restaurants are closed or out of the delivery range, in turn driving customers away with potentially misleading information.
In 2015, it was reported that Postmates didn't bother asking permission to list restaurants, often causing headaches for owners whose businesses weren't set up for delivery and who lost quality control. "Bottom line, we don't want to have delivery," a Seattle restaurant owner named David Meinert told Eater at the time. He added, "we don't like the way Postmates represents our business." Postmates was sued by former drivers for classifying them as independent contractors, agreeing to a $8.75 million settlement. DoorDash has also been sued for deceptive tipping practices and in November agreed to a $2.5 million settlement in a lawsuit brought by Washington, D.C., attorney general Karl Racine. The tipping structure, which the company changed in 2019 after an uproar, was described by an attorney who represents gig workers as picking "the pockets of its most dedicated workers." Basic protections and benefits like health care and sick leave aren't guaranteed, and there's an imbalance that's fundamentally in favor of the companies. As technology researcher Alex Rosenblat tells the Washington Post, "the independent contractor is agreeing to take on all the risks." In New York City, delivery workers are protesting conditions during the pandemic and calling attention both to the app companies and restaurants that, one told the City, treat them like "insects."
Delivery workers aren't even guaranteed the minimum wage; last January, before the passage of the ballot measure Prop 22 in California, one analysis found DoorDash drivers made just $1.45 an hour once other expenses were taken into account. Prop 22 guarantees that gig workers are paid 120 percent of the local minimum wage only during "active" time and not, say, while they're waiting for orders. Unsurprisingly, pay has dropped for gig workers in California — one tells the Guardian that "it was open season to start cutting my pay again" — while DoorDash, grocery-delivery platform InstaCart, and UberEats have all offloaded the cost of paying for Prop 22 onto customers. This after warning customers prices would go up if Prop 22 didn't pass.
If the couriers aren't making money, and restaurant workers aren't making money, and shareholders aren't making money, who is? The executives, of course. To take just two examples, DoorDash's CEO Tony Xu earned $300,000 in 2019, but going public could make him a billionaire. GrubHub CEO Matthew Maloney was supposed to make a base salary of $745,000 this year, before the company was purchased by Just Eat Takeaway. (Per an SEC filing, he was paid $7 million, total, in 2017.)
In theory, these services do serve some purpose: They work like a digital menu drawer, a single destination to see all of the food you could get delivered. However, because of competition, it's more like three or four menu drawers, each one containing a different grouping of those restaurants. The reason these services are largely free for the public, of course, is that we are not the real customer of Big Delivery. Local restaurant owners — "the people in our neighborhood," to borrow a phrase from Big Delivery's Super Bowl spokesbird — are, and they are largely feeling forced into it. Perhaps this particular tech bubble will burst before all of our food must be ordered through Seamless, but it's worth wondering how many restaurants we could lose before that happens.