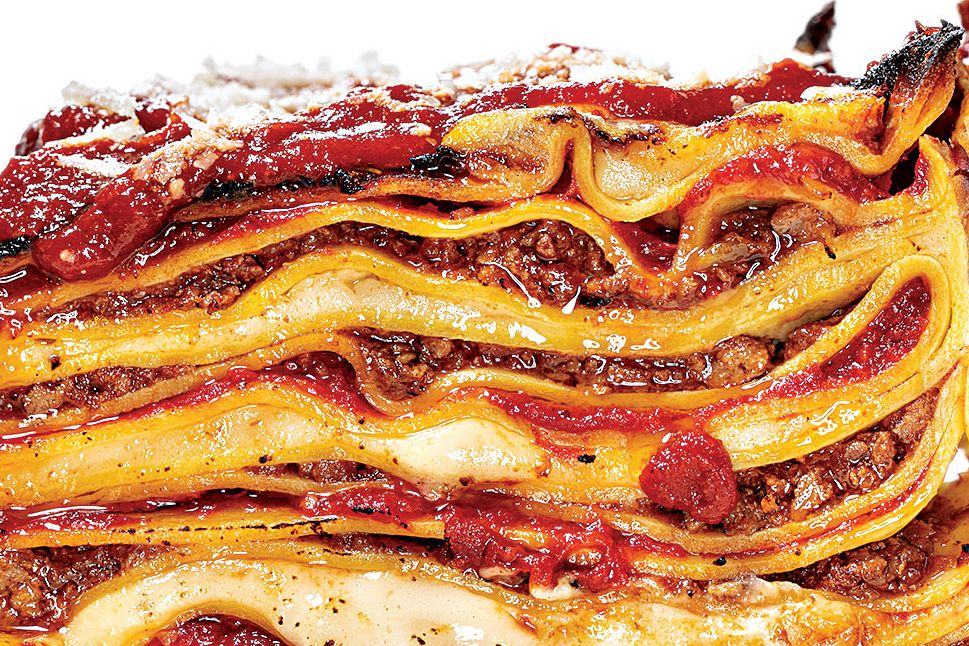 Vic's lasagna.
Photo: Melissa Hom
According to a Harris Poll, 68 percent of Americans felt stressed out in the weeks leading up to the presidential election, and on that day, many took steps to combat their anxiety. Some went for long walks. Some practiced deep-breathing exercises. Some went offline. Some threw their phones in the river. And Hillary Sterling, chef-partner at Vic's restaurant in Noho, made a lasagna. It was the first lasagna that Sterling, who's known for her pasta, had ever tackled as a professional chef. These days, she spends mornings alone in the kitchen with her pasta-production guy, and on November 3, they needed a project — preferably a labor-intensive, time-consuming one — to take their minds off the possibility of a second Trump term. So besciamella, Bolognese, tomato sauce, and yards of fresh pasta sheets it was. And it worked. The repetitive motion of spreading ragù across noodle seemed to calm them. Several hours later, they hoisted the first batch out of the oven: a judiciously sauced, crunchy-topped, 13-layer knockout that would make Garfield plotz. Now lasagna is a permanent part of Vic's menu rotation and also, presumably, of Sterling's stress-reduction regimen.
Of course, the great thing about lasagna is that after it exerts its therapeutic effect upon the producer, it casts a similarly soothing — if soporific — spell on the consumer. We're not breaking any news when we note that in tough times and cold weather, lasagna sells. Generally speaking, anything with multiple layers — a turkey club, a tortilla española, a mille-feuille, a stack of pancakes — has a distinct advantage over its vertically challenged cohorts in terms of mouthfeel and eye appeal. But in this comfort-food arena, lasagna stands alone. Sandwiches and pasta are two of the greatest comfort foods ever invented, and lasagna is essentially a pasta sandwich.
What is new about the current state of lasagna is that it's everywhere, even in restaurants that previously wouldn't have bothered with it. And chefs who have always bothered with it are busy perfecting it. You almost can't afford not to put it on your menu because, in this time of takeout, it's a no-brainer: It travels well. It reheats like a dream. You can even sell it from your restaurant's makeshift general store.
This is what the Franks (Castronovo and Falcinelli) of Frankies 457 Spuntino are doing with their version, a new addition to the menu (kitchen logistics had left them lasagnaless for 15 years, until the pandemic forced them to shift all production to the roomier wine-bar quarters next door). You might have expected Rezdôra, the Flatiron District specialist in the cuisine of Emilia-Romagna, birthplace of lasagna Bolognese, to serve it, but until COVID-19 struck, it never did. Weeks into lockdown, though, the restaurant began prepping it as a heat-and-eat dish for two — survivalist rations for discriminating pastavores. Lasagna maestra Rita Sodi of I Sodi in the West Village brainstormed a new cacio-e-pepe lasagna to add to her repertoire. In Jersey City, at Bread and Salt bakery, online pre-orders for Rick Easton's one-off pre-Lenten take-and-bake lasagna di carnevale (pork ragù, tiny meatballs, ricotta, and fresh mozzarella) sold out in about twenty minutes. And uptown, at the Leopard at des Artistes, chef Jordan Frosolone has had time to finesse the Sicilian-flavored recipe he's been working on for years. Now it's his best seller.
The dish's universal appeal isn't lost on New York's scrappy chefs. Jonathan Benno of Benno and Leonelli restaurants never thought much of the stuff while growing up in Connecticut, but a revelatory meal at the Martha's Vineyard inn then run by Hearth chef Marco Canora's Tuscany-born mother, Laura Sbrana, showed him how special the dish could be. He has been making his own renditions ever since and now sells them in hot, cold, and (occasionally) black-truffle permutations on practically every food-delivery platform out there. As for Canora, the pandemic has driven him back into the lasagna business. Thirteen years ago, the chef served an amazing lasagna verde (dubbed the city's best by this magazine) at his late midtown restaurant Insieme. The only problem with it was that it was too popular. Seventy percent of Insieme's customers ordered the dish, and it became the bane of the kitchen. Never again about sums up Canora's sentiment regarding baked pasta at the time. Recently, though, he decided to reprise this super-lasagna, but as a frozen heat-and-serve item on Hearth's takeout menu. In times like these, nothing can ever be too popular. Here's a look at some of the latest and greatest lasagna developments around town.
$25; 31 Great Jones St.
Hillary Sterling presses her debut lasagna with a weight overnight to keep its 13 layers intact and well defined. Another trade secret: There's fonduta (the same stupendous stuff that comes with her signature crispy-onions appetizer) in the besciamella.
Rezdôra's
Lasagna
Bolognese
for
Two
$39; 27 E. 20th St.
Much as you'd expect from a student of Emilia-Romagnan traditions, Stefano Secchi's lasagna is a classic down to the besciamella, the Parmigiano, and the ragù Bolognese. Available hot and ready to eat or packaged to bake at home.
$22; 457 Court St., Carroll Gardens
Born of practicality and built from ingredients the kitchen already had in-house, Frankies' first lasagna (vegetarian or topped with short-rib Bolognese) has been a hit out of the gate: "It was like, 'We should have done this forever,' " says partner Frank Castronov.
Hearth
for
Home's
Lasagna
Verde
Bolognese
$34 for a family-size heat-and-eat pan; 403 E. 12th St.
For starchy-food aficionados, the pandemic-driven return of the lasagna Marco Canora made over a decade ago at the erstwhile Insieme is the baked-pasta equivalent of Michael Jordan coming out of retirement in 1995.
Don
Angie's
Lasagna
for
Two
$95 as part of a three-course takeout dinner for two; 103 Greenwich Ave.
Perhaps the only lasagna inspired by Instagram cinnamon-roll food porn, Don Angie's rolled brainchild has sausage in the Bolognese, tomato sauce on the bottom, and robiola dollops on top. Although the dish has been on the restaurant's menu from day one, it took a pandemic to make it available to go: Since June, it's been the centerpiece of Don Angie at Home's three-course dinner for two.
$25; 105 Christopher St.
For 12 years, the choice was plain: meat or artichoke. Then last fall, Rita Sodi wondered, "What would happen if you crossed lasagna with cacio e pepe?" The answer: a lush but orderly stack of 21 silky layers, fused with besciamella and a sauce concocted from Pecorino stock.
$18; 7 E. 27th St.
After fiddling around with ring molds when he was at Lincoln — "What a nightmare!" — Jonathan Benno evolved his ultrarefined prep to a no-nonsense gratin dish for Leonelli. Now, "all the love" (i.e., ragù simmering, spinach-pasta rolling) happens a day or two before he makes it.
The
Leopard
at
des
Artistes'
Lasagna
Ennese
$29; 1 W. 67th St.
A trip to Enna, Sicily, and a taste of its Piacentinu Ennese, a black-peppercorned, saffron-laced Pecorino, inspired Jordan Frosolone to whip up this hearty belt-loosener. Between the sheets: pork ragù, Parmigiano, and fonduta made from the sheep's-milk cheese.
*This article appears in the February 15, 2021, issue of New York Magazine. Subscribe Now!