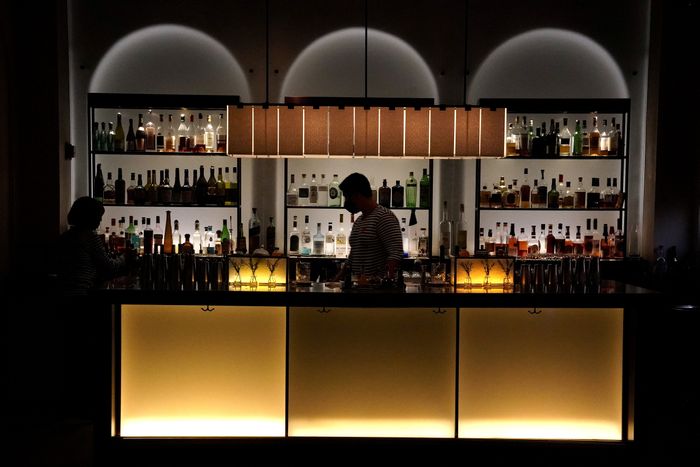 Restaurant After Hours will start its virtual program on February 9.
Photo: Carlo Allegri/REUTERS
In August, Adriana Caguana Uyaguari, who worked as the GM at a popular Brooklyn bar, knew that she'd reached her limit with the burnout and uncertainty that are ingrained in the hospitality industry. "It's been really hard having no work-life balance," she says. "I realized I'm putting all this work into my mental health outside of my job, but as soon as I get to work it becomes a challenge. As soon as I decide to prioritize work, mental health is out of the picture." So, she resigned, hoping to find a more sustainable solution. "This industry, even before COVID, was struggling with mental health — it's not something we prioritize."
In an industry where health care is more often the exception than the rule, affordable therapy is rarely accessible for employees, and the continuing, compounding stresses of working during the COVID-19 pandemic have only exacerbated existing problems. To address this reality, which has gained more widespread notice over the last few years, a handful of groups and resources have sprung up, including journalist Kat Kinsman's Chefs With Issues, Ben's Friends, Healthy Hospo, and Denver's Culinary Hospitality Outreach and Wellness. (Some restaurants are also handling this in-house: Over the summer, Bed-Stuy's Grandchamps brought in a therapist and Human Rights Campaign lawyer to talk with Black employees about police harassment, the pandemic's disproportionate effect on Black Americans, and other issues.)
"This has been something that's been going on for years, and no one has ever talked about," says Zia Sheikh, who worked in professional kitchens for nearly two decades before founding Restaurant After Hours to address mental-health issues in the industry. "It's such a huge issue that not one person can try to fix everything. This is going to take support from a lot of people." In fact, Sheikh thinks the need is so acute that, next week, he'll launch a new program of peer-to-peer support groups aimed at struggling restaurant workers next week. "The need for a program like this existed well before the pandemic," Sheikh argues.
Hosted virtually on Zoom on Tuesday nights over the course of 12 weeks, the program is free, and will approach a different subject each session, starting with self-care. Leading the conversations will be Erin Reifsnyder, a board member and mental-health counselor who worked in the hospitality industry for ten years. What the group wants, she explains, is "to try to create a space that makes mental-health education and skills more accessible." (More information can be found on the RAH website, and there is also a private Facebook group where information on psychoeducation and takeaways will be posted.)
"The idea," Reifsnyder continues, "is to basically provide a space for folks in the industry to support each other with whatever they're going through in the moment, to provide them resources that don't exist currently." One element will be to offer "some type of psychoeducation takeaway," which Reifsnyder describes as "a fancy way of saying mental-health education."
Then, after the 12th and final session, RAH will regroup, decide what worked and didn't, and see if they need more meetings and languages available. "It's going to be a safe place for people to talk about problems," Sheikh says. "It's going to remain confidential; we're not going to record any sessions." He adds, "It's just going to be a nonjudgmental space where Erin will be leading the group, calling up people to share their stories, and then we're going to go one by one, and people can actually talk to each other about each other's issues."
Sheikh has lived through, and spoken openly about, the struggles many in the industry face, and he founded RAH as a result of those experiences. Even after he quit drinking and drugs, he says that many of his own personal issues remained, and he realized the problem wasn't limited to substance abuse. He had to take time off from the restaurant industry.
What Reifsnyder wants is to give people in the industry tools to use in their daily lives, with an emphasis on how they can be used at work. Most importantly, Sheikh says, they want people to know they don't have to deal with these problems by themselves: "There are other people in the industry going through the same thing you are to different degrees, and the best thing we can do is just kind of bring people together and say, 'Hey, you're not alone in this. We're here to listen; we're here to help you.'"