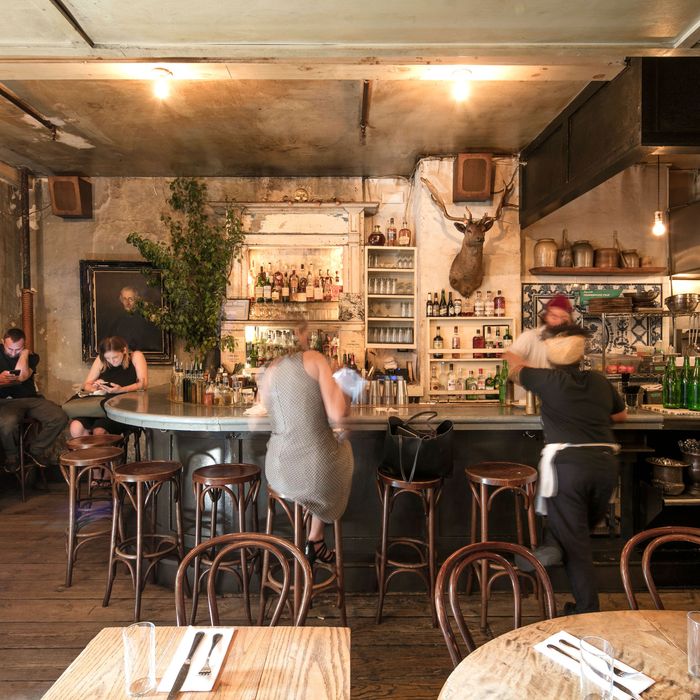 Inside at Freemans, which has been closed since December.
Photo: Melissa Hom
The announcement that indoor dining will return to New York this week — even in the face of some dire COVID statistics — has left many in the city's hospitality industry divided. For some, the reopening feels reckless. For others, it offers yet one more potential revenue stream that is desperately needed. Of course, reopening isn't as simple as flipping on the lights and resetting some tables, even for the restaurateurs who are eager to do it; an enormous amount of thought has to go into logistics, staffing, and, above all else, safety. Grub Street talked to 12 of the city's prominent operators to see how they're getting ready for the return of eating food inside dining rooms.
DeRossi's cluster of East Village restaurants have been closed since indoor dining shut down December 14. Two months later, he'll reopen them — for just one night.
Honestly, I had a feeling that they would open on Valentine's Day a month or so ago. So we were actually already planning for it before they even made the announcement. We thought, You know, it's Valentine's Day, it'll be a good sort of test run to get all of our places open just for one night. More than anything, we just thought it would be just fun practice, and it gives us a good reason to go in there, get everybody back to work in a relatively easy, small, simple capacity. Then we're going to close again on the 15th and start to reopen in March.
We knew it'd be easy to fill the seats on Valentine's Day, especially at 25 percent capacity. We have so few seats — each restaurant can see like 30 people over the course of the entire night. It's really just sort of doing it for our regular customers. It's a fixed menu, so we know exactly what we have to prep, we know exactly how many people are coming. It's all staff that's worked for us in the past, so we're not really training anybody. It'll be fun. It'll just be all of our regulars, then we'll close and we'll figure out, like, a real strategy.
You know, it's been ten months of just like, up and down, down, up and down. I'm just mentally exhausted. Not just from this, but from everything that's going on in the country. I'm not ready to commit to fully reopening to find out that it's going to snow or it's going to be 10 degrees out and no one's going to sit outside. I lose more money being open at 25 percent capacity than I do not being open. I'm going to lose money on Valentine's Day, hands down, no matter what. I'm okay with that.
T.J. Steele, chef/owner, Claro
Until now, Steele has kept Claro's dining room closed and leaned into outdoor seating in the Gowanus restaurant's expansive backyard. But recent snow has changed the calculation.
We are going to open to have four tables inside, which is less than 25 percent capacity, but we're only doing it because we really, really have to at this point.
People were bundling up as far as two weeks ago — it was freezing, but they were still outside, happy and eating. But these last two weeks of losing these days to the snow — we are getting so clobbered financially. It's like a game with different levels: You can do indoor. Now you can't. Now the snow comes, then it's raining, now it's cold. So I think this time, even if it's four tables that we can maybe turn two, three times a night, that'll help us a lot.
We're not thrilled about it. We're gonna do it, because we have to, but hopefully, it's just for a little bit. So we get to the spring. If we can get through the next month or two and not go out of business, then I think we'll be okay.
Michael and Nicole Nichols, co-owners, Aunts et Uncles
Outdoor service isn't really an option for Aunts et Uncles in Flatbush; they'd have to reconfigure their setup every time the parking rules changed on Nostrand Avenue, which happens twice a day. So for the last two months, they've been getting by on takeout and delivery while trying to anticipate what comes next.
Michael Nichols: We opened in October. Literally the first day that they announced 25 percent dine-in, we opened that weekend. When we acquired the space in September or October of 2019, we didn't expect that this would happen, obviously. We got used to it at one point of time, we had a rhythm going. And then they closed it again.
Nicole Nichols: For me, it's just definitely the investment, making all of these things happen to open, and then closing again, and then having to think about what you're doing with that inventory that you've just invested in, and then you're losing business again. You still have staff to pay, and to schedule. You make all of these arrangements with no real understanding of how things are going to happen moving forward.
MN: Today, we're just doing all this fixer-upper stuff, just a little bit of maintenance and touch ups. Now we have a certain level of online takeout and delivery, and if we add dine-in, that means it's going to be pretty busy. So we're just trying to make sure the kitchen is efficient, and flows as much as possible. We had to get another refrigerator the other day. We had to purchase more cooktops to separate the prep from the actual service cooking.
NN: We're going to have to rehire, but that's all dependent on how well things are going. I could say, "we're going to open next week, I'm going to hire two employees," but who knows how long that will be happening?
MN: Is it gonna be two months, maybe six months, maybe four months, who knows? It's not definite. So it's hard to kind of bring people in, like, All right, you'll just be here depending on what Cuomo says and what the virus does.
Michele Casadei Massari, chef/owner Lucciola
Even when indoor dining was open, Massari says, the vast majority of his Upper West Side customers wanted to stay outside, thanks in part to the restaurant's now-iconic dining bubbles. This time, he speculates, it's going to be different.
We had at some point been thinking not to do it, but then we decided, yes. After assessing everything and deciding how to divide the space, how are the conditions, reading the numbers, watching the rates, we feel comfortable doing that.
We took the floor plan we sketched the first time of the opening of the indoor and looked at the notes we took then — where were the weak points of that? We feel that we need a couple of extra feet more, in terms of distance, to serve the clients with a flow that we consider still providing a good experience. We're going to cut it down to ten chairs, and we're going to make sure there's no other chairs or tables or anything else inside, to make sure to limit all the contacts.
Even if it sounds weird, not everybody's understanding clearly what is going on. For example, we see how people react when we tell them, "unfortunately, you cannot be in the line for the bathroom, and you have to wait outside." Maybe people are tired. Maybe they're not realizing that we need to set the space in order to avoid any mistake.
We want you to sit and enjoy your dinner for one hour, 45 minutes. Plus, we need 45 minutes more to sanitize and resell the table — I can say that word? We explained this to the clients, when they get in, we give them a nice card. It's on the website. Some people don't really understand and maybe they say, Oh, but I need to sit more. It's a learning process. We are almost there.
And the door will be open, so it still would not be very warm. Still, we have to circulate in the air. I mean, these are things that are important. Because, listen to this: the main key is circulating the air. So it will be an experience that is not going to be like before, for sure. Things are different. So it will not be super cozy warm, because you have doors and windows open.
Nahid Ahmed, chef/owner, Luthun
Luthun, in the East Village, opened with fewer than 30 seats and a set tasting menu. The question now: How do you do that in a pandemic?
We never did delivery or take out because it's not that kind of food we cook here. So we've been waiting for a long time. Financially, you know,
We opened the restaurant a year and a half ago, and it's been closed almost nine months. Basically, we were only open six months. The first reopening was very tough because of the PPP loan and stuff. This one is a little better than last time because we got our loan already, which is helping us a little bit. So we are more excited than before, a little bit. But it's still like 25 percent, and we have a 22-seat restaurant. We can seat only like seven people inside. We have outdoor, but it's only four, sometimes six seats. And it's too cold. It's gonna be like 25 degrees next Sunday. I don't think it's going to work for us outside.
Our main tasting menu before was like three hours, so we cut a lot of things. We try to finish in under two hours. You can't tell people they have to finish in 90 minutes. You know, people take their time. They're like, I'm having a dinner.
We have to get all these partitions, because we are open kitchen so people are sitting at the chef's counter, and it's too close to the kitchen, so we have to cover the whole counter. We have to get new partitions for the front of the house, for the dining room, kitchen counter, everywhere. And we are hiring back staff. It's a very small team. We have a few people, and they're coming back again, hopefully. That's what they say. At 25 percent, we don't want to bring the whole team back, because they're not gonna make enough money. We're bringing only two captains and GM and basically that's it. And four guys in the kitchen. It used to be like six.
They say all the restaurant employees can get the vaccine but nobody can make an appointment, you know? There is no vaccine, and you don't know how long is going to be like this. This 25 percent, we're not going to survive — 25 percent, at 10 o'clock at night you have to shut down, it's not enough. I can't even pay rent. I have to go full tasting menu to make money. I have to serve wine for three hours so that I can make money. Right now I can't. So it's tough right now, we don't know when it's going to be normal. Nobody knows.
Haley Traub, general manager, Attaboy
Since March, the Lower East Side cocktail bar Attaboy has made all possible pivots. "Whatever the government said we could do," Traub explains, "we were gonna do it." That has meant takeout cocktails, outdoor cocktails, limited indoor cocktails, and now, limited indoor cocktails, take two.
The moment that Cuomo said, "All right, Valentine's Day, get back at it!" I was like, Oh, my God, that's two weeks. But then, when I started writing out everything that needed to be done, I was like, well, these systems are already in place. We did open for the first return of indoor dining in October, so we have our playbook in order. We have all of our health and safety protocols in order, we started doing reservations, so Resy is already functioning — these systems are already in place.
I did have to furlough two employees when indoor dining was shut down. And the other day, I reached out to them and was able to offer them their positions back, and they accepted, which I was very, very happy to hear. Because this is another thing — you just genuinely don't know. If anyone were to tell me that they weren't comfortable coming back, like, no hard feelings, I get it. Most days that I have to sort of work myself up to go into the bar.
We are running a very barebones operation in terms of staff, so we were able to sit down and be very honest with one another."I'm willing to do this, if we do X." I think because we did that we really were able to figure out something that worked for us. And now it's just a matter of getting back into it.
We are very strict about mask-wearing, in terms of kindly but firmly reminding guests: When we're talking with you, masks need to be on. We've just gotten to the point where we say to ourselves, If I'm going to be out here, and my income has been cut in half for almost a year now, and I've been risking my safety, I'm just going to remind you to put your mask on. And sorry, that's that. We have limited the party sizes that we are accommodating, at the moment four guests, max. We're going to be sticklers about the math, because that's not just for our safety, it's for the guests safety.
I'm still very anxious about all of it. And not to totally speak for my coworkers, but I think I can safely say that they also are feeling anxious and nervous about it.
Admittedly, my initial reaction to Cuomo's announcement last Friday was anger. I was very upset to see sort of the flippancy with which he announced the return to indoor dining — he made these jokes, "think about this, you can get engaged indoors on Valentine's Day, and then in March, weddings will be safe!" Myself and a lot of hospitality peers saw that, and we're like, You clearly don't understand the situation that we're in. Look at the numbers. In December, when we were shut down, the COVID metrics were better than they are now. And now you're reopening? It almost felt like we were being gaslit by the administration:you're telling me one thing, but then your experts are saying something else.
Thankfully now in New York City, hospitality workers can get vaccinated. And I am fortunate that a lot of my peers and I are able to get that done quickly. It's a teeny tiny light at the end of the tunnel. But we still have to keep in mind that, even if hospitality workers get their first vaccine, there are still multiple weeks until we get our second one, and the majority of our guests are most likely not going to be vaccinated. I think the average person looks at the return of indoor dining and thinks, oh, wow, things must be great, we're , one step closer to normalcy. But when you really look at the nitty gritty of it, things are still scary.
William Tigertt, owner, Freemans
Unable to build a good winter setup in the restaurant's famous Nolita alley, and without a robust takeout business, Freemans opted to close completely when indoor dining shut down in December. Now, Tigertt is gearing up to try again.
We already did all the work for the first reopening. We have the protocols in place, we have the systems in place, we spent tens of thousands of dollars upgrading our HVAC systems, we built new furniture. We're working on some new designs for outside in the alley — we'll launch that probably in April, when the weather gets better. For now, we'll have a new midwinter menu that'll be a little different than the menu we had when we closed.
Pre-pandemic, we had a staff of over 100. It was just a much bigger operation. Right now we're at like, four. Even coming back, we'll probably be 16 people or something like that. We have a lot of employees that want to work.
I don't think there's gonna be a lot of business. I think it's gonna be a very slow build. And then hopefully, when there's more vaccine and better weather, we can make money in the spring and the summer.
But the staff wants to work and people need jobs. It's just like, We have to start the music, you know? We have to start putting things back together at some point. There's never going to be a perfect time.
Randi Lee, owner, Leland
Lee signed the lease on his Prospect Heights restaurant in February 2020, one month before COVID-19 forced restaurants to shut down. After several pandemic-related delays — including a nine-month quest for a liquor license — Leland opened on December 10. It closed three days later.
When Cuomo said, "Okay, we're going to do it," what was my reaction? My reaction was, Oh, shit, I can't believe we're doing this. Like, I never thought that in February, let alone February 14, that they would open. I thought it was going to be March. And then, you know, those notes you have on your iPhone? I just looked at that and I have so many notes. I have to buy more table bases, I gotta buy more silverware, like, all these things that I've been putting off because I haven't had to think of them since December 13. That list became a priority.
I have to hire new staff. We have to train them. It's a different type of training, it's going to be on the fly. We have to set up different facilities — busser stations, logistical schematics. We have to set up a new menu, because now we're not just doing the takeaway and outside menu and a cabin menu — now we're doing an indoor dining menu. There's furniture that I needed to build. I need to spend a day fixing furniture, and unboxing chairs. I need to do an inventory again, and buy extra silverware and all that stuff. We have to change our music, and I don't have enough speakers because we brought them all outside for these cabins, so now we have to buy more. The list is very long. And the other thing is, we have a wine shop in the middle of our room right now, sometime before we open I have to switch that wine shop into a dining room and make it all work.
As restaurateurs, we don't have many options. I guess we did have a choice. I guess we could have said no, we're not going to open and take a stance. But I have an obligation to a lot of people, not just a financial obligation, and for us to move Leland forward, we're going to have to take this leap.
Carmellini's multi-borough restaurant empire has remained open throughout the winter with the help of some rather elaborate outdoor dining setups. Now, he's looking to reopen the dining rooms.
We're ready to go. We can hire some more front of the house staff. And I think the team that's been there on the ground is definitely looking forward to it. If you would have asked me four months ago who's going to be eating out on a freezing cold January night, I would have been like, nobody. But no — it's amazing, actually. For the staff, I think it's going to be a welcome change, to be able to do some inside dining, also.
We have the barriers and the protocols and the signage already working. The system is there, so there's no lift for us to go back to the indoor dining, except for being able to hire some more team back.
I know there's been a lot of debate about the safety of indoor dining. And I think most of us in the industry were just baffled because if you went to Suffolk County or Bergen County or Westchester, restaurants were open at 50 percent capacity, but the city was not. I know there's a density argument there, but I don't see the logic of a restaurant like the Dutch being open at 25 percent, and then some steakhouse in Nassau County being open at 50 percent. I don't understand the science difference there.
For most of us, it's difficult, but you just kind of keep moving forward, and adjusting to what comes at you on a day-to-day basis. We open up for indoor dining at 25 percent, and then we're gonna roll right into springtime, and we'll just go into the summer and cases will be down.
It made more sense for us to try to stay open through the winter and to just kind of suffer through it, rather than hibernating. Those were really the two choices. Actually there were three choices: just close and go do something else in life; hibernate for the wintertime and then reopen in spring; or try to keep the core teams at the restaurants employed. We laid off a lot of people in a matter of seven days in March, and that was fairly emotionally traumatizing. We didn't want to go through that again. That was one of the reasons why we just stayed open through the wintertime.
Dawa Bhuti, chef/co-owner, Dawa's
Bhuti decided that investing in an extensive outdoor setup at her Woodside restaurant wasn't worth the substantial investment. At this point, she's looking forward to indoor dining bringing in at least some business.
Right now, inside the restaurant, I have a little store. I have some art crafts from the local artists — I did the same thing last time, too — so now I have to inform all my local artists friends to come collect the artwork so I can have the indoor space. I think it's the same as before. Now we know all the rules. The customer comes in, we have to keep the temperature, we have to keep their names and contact information. There are all the protocols that we have to follow.
It's not really different this time, but mentally, it's too much back and forth. Especially right now, we don't have a lot of help in terms of staff because it's not busy. We are only three people in the restaurant, and now we have to take care of all this. It's a lot of planning. It's just a hassle. At the same time, we're glad that we have 25 percent. We'll have some businesses. That's something positive. We will need extra staff. At least they gave us two weeks, because some staff are away, or some staff may be doing their personal gig. It's good to have that two weeks to inform them. And then we'll have to set up the whole place again — all my chairs and tables are in the basement — and make sure that I have supplies, I have enough hand sanitizer. And then I have to prepare the log sheets for all the information, the cleaning log sheet, the customer information log sheet. I mean, it sounds like a small thing, but it adds up. I'm not computer savvy and I do all this myself. It's a small business, just my father and my uncle and me. But my dad barely speaks English, so he will be able to do the computer work. My uncle is doing the grocery shopping.
Antonio Morichini, chef/owner, Via Vai
After a few months of leaning on takeout and delivery, indoor dining is a welcome change of pace at this Astoria Italian spot — even if it's for 12 people.
We are very excited to reopen, of course. We decided in the meantime not to serve the food outdoors, because we have this feeling that our food was not right to serve outside in winter. It's a lot of effort, a lot of investment, and most of the time, you don't have any return. And so we prefer to stay focused on delivery and pickup. We work with Grubhub and Seamless and they help us a lot, but on the other hand, with the commission — 20 percent,  25 percent, depends on the platform — sometimes you work, not for nothing, but for just the minimum.
Now we are ready to reopen. We have to think about it, it's only 25 percent, of course. 25 percent is not very exciting for a restaurant, but it's better than nothing. For our restaurant, the capacity is 50 people, so when you reduce that to 25 percent, we're talking about only 12 people, so it's very hard for people to come to work. But we are ready to reopen and we're excited. We try to be positive. It's coming probably in the spring on the summertime, an increase to 50 percent. I wish that would happen.
Simon Kim, owner, Cote
Kim has kept his Michelin-starred Korean steakhouse in Flatiron open throughout the pandemic, barring one week in April, when he had COVID himself.
Anytime restaurants close, and reopen, it is a tremendous undertaking. We're very labor intensive. I have a fairly small business, but I employed 105 people, pre-pandemic, and then when indoor dining came back, we hired about 80 of our employees back. And then we let go of those individuals, again. Anytime we hire, it's a lot of processing. We need to fill out the I-90s, the paperwork, verifications and training are all just extremely difficult tasks.
Honestly, we're, we're one of the luckier ones, because we never shut down. We continued on with outdoor dining and we had pretty good guests turnout, and we kept all of the management team intact. So for us, it's a little easier because we just need to put in line staff. We opened for indoor before, so we have all the acrylic dividers, and all the other good stuff has already been installed. The biggest thing is staffing and training. Of course, there's a physical aspect, we need to clean, polish, get all the hardware ready. But honestly, I feel like we can do that within 24 or 48 hours.
Mobilizing back in September was really difficult, but we had high hopes, right? Because it was: We're coming back! We put in so many resources, did so much rehiring, and then only to let them go again within two months, was really, really disappointing. And to have them back now — it's a confusing feeling. Are we gonna shut down again? I feel like the government really doesn't have a clue how difficult it is to reopen. You can't just hire somebody back and all of a sudden, the restaurant can function. The cooks, the servers, and sommeliers, these are highly trained individuals.
Quite frankly, personally, as an owner, I would love to shut this restaurant down until we're completely out of the woods because why go through this risky behavior when I'm already losing money every month? The only reason why we keep the lights on, and then do this is, I have my employees. They can't live off $600 unemployment per week. That's not a living wage in New York City. You can't even pay rent right, let alone eat and let alone pay the cell phone bills and whatnot.
We feel completely vulnerable, and without help — there are industry-specific restrictions without industry relief. I do think the long-term future of restaurants is brighter than ever, but short-term, the future is still really scary. The amount of vulnerability that we feel as a restaurant owner and restaurant employees is something that is I don't think it's really fathomable to any other industry.