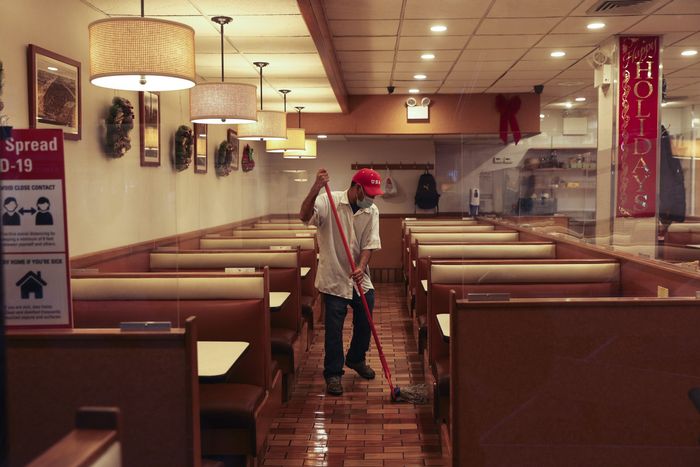 Delivery workers can as well.
Photo: Bloomberg/Bloomberg via Getty Images
New York City restaurant-industry workers are now eligible for vaccination, Councilmember Mark D. Levine confirmed this morning. That pool of people includes not just porters, servers, and cooks, but also delivery workers, whom Mayor Bill de Blasio had previously urged Governor Andrew Cuomo to make eligible. Delivery workers employed by third-party platforms are particularly vulnerable as independent contractors without guaranteed income or benefits, and many are undocumented immigrants.
In a press conference on Tuesday, Governor Cuomo announced that restaurant workers are now eligible — with one caveat. He left the actual decision-making up to "local governments," which can determine prioritization. New York's vaccine rollout has been mired by supply issues and mismanagement, but in yesterday's press conference Cuomo noted that the state's vaccine supply will increase by 20 percent for the next three weeks.
Certainly, de Blasio would've been hammered if he hadn't made restaurant workers eligible: The industry remains in free fall, and restaurant employees necessarily must interact with the public for their jobs. Working in restaurants during COVID is uniquely risky according to one study conducted by the University of California, San Francisco, which found that line cooks have the highest risk of death from COVID among working-age Californians. The government is not paying anyone to stay home — in fact, indoor dining returns to the five boroughs on February 14.