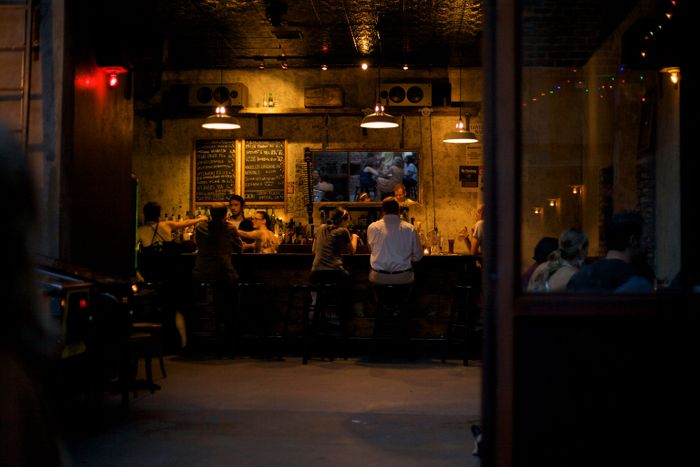 The bar, which was housed in a former auto garage on Fourth Avenue.
Photo: Clay Williams
I mean this with the utmost respect, but a decade ago, Gowanus was weird. The area's landmark is still the infamous canal that carries VD and swallows barges whole, but the neighborhood around it has gotten a little more predictable since 2010. Yet 11 years ago, when Mission Dolores and its neighbor the Rock Shop opened, you'd read about the two bars providing a "destination" for people looking to check out what this strange neighborhood had to offer.
Now, a decade feels like 50 years ago. But the spot on Fourth Avenue that housed Mission Dolores since it opened until — as the bar announced on its Instagram — it closed was a reminder of when this wide, crowded avenue served as the definitive barrier between Park Slope and its more working-class neighbor, known for its Italian community, the coffin factory, and, of course, the canal. Today, that line is a little more blurred: There's a Starbucks on Union and Fourth, a few more bars and restaurants, and Whole Foods paved over the lot that formerly only seemed to serve the purpose of being the ghostly backdrop for the oldest concrete building in the city. These days, Gowanus is a neighborhood trying to cling to its old Brooklyn roots while developers try to pull it into the expected present. Mission Dolores, on the other hand, found a comfortable middle ground between everything, both in its location and its comfortable embrace of the area's shifting dynamics.
But a decent bar has to offer more than a standing commentary on its gentrifying neighborhood, and Mission Dolores had worth in spades. It was in an old garage, and it had a great beer menu, a couple of decent cocktails, and a Bloody Mary that would clear out whatever was clogging up your head. And, really, the most important thing was that you'd want to hang out there. Before COVID, and I assume whenever it's safe for us to pack back inside of places again and complain about how crowded it is, the city ran on deterrence, the art of turning over customers and freeing up space for more customers. It didn't matter if it was tables or barstools; getting people up and out so as many new ones as possible can come in and spend money is the way things work. Just like everything else in New York City, it's a matter of real estate.
Yet Mission Dolores never felt like a place where time was of the essence. That is one of the nicer things about the bars you'll find in and around Gowanus and Park Slope: You could just pass an entire day at any of them, and it never felt like wasted time. High Dive and the Commonwealth, both an avenue up on Fifth but stretched far enough apart into north and south Park Slope that they feel like they're in different worlds; Gowanus Yacht Club in the warmer months, which is not a yacht club and is just shy of the Gowanus line, but nobody cares; Canal Bar, the Third Avenue dive that predates all of them, and a few others I'll leave out for word-count purposes. Those are all great places, and each offer something different from the other, but Mission Dolores always felt the most welcoming. That's not to say the other places weren't, but sometimes you personally have to get to know a bar before you can understand what makes it great. Everybody I know that went to Mission Dolores loved it instantly. And those that really loved it felt the kind of crushing heartbreak that usually accompanies hearing a place that was at least 20 years old (but usually much older) was closing for good.
When I found out it was the end of the bar at which I enjoyed my share of good times, I did what I seem to always do these days when another great local spot announces it's closing: took to Twitter to see who else wanted to talk about it. We can't go and have one last drink at the place, at least not the way we used to. We're all stuck behind our computers sitting digital shiva for the places we loved and lost. Mission Dolores was a place that one mourner told me "was a favorite spot of mine when my son was young. He could spread out on the ground with toys while we drank the afternoon away." Another fan, who used to live across the street, tweeted, "For a full week, we didn't have potable water in our apartment. The bartenders let me and my roommate walk into the bar every night, in our pajamas, to brush our teeth and wash our faces in the bathroom."
There were others, but those two especially stood out to me as really explaining that middle ground that the great beer bar on Fourth occupied for the past 11 years. There was the real geographical place where Mission Dolores lived, and there was the more figurative one. It was the kind of place where you could watch four quarters of a football game and then stick around for beers after, or you could show up for a Tinder date. You could have a party there or just have a few beers by yourself. You could hang out with your friends and your baby, but you could also depend on the place to extend a neighborly courtesy, like letting you use the bathroom to clean yourself up because your bathroom isn't working.
That might sound like a lot — like a bar should just be a bar and not something that is so many things — but that's what a real neighborhood place in this part of Brooklyn is, and what Mission Dolores was. In a city where almost every other place has a "bathroom for customers only," or there's a piece of paper reading "Out of order" forever taped to a door that leads to a working toilet and sink, it's nice to remember there were always places that truly felt like home.
This is hardly the end of hearing about the places that won't reopen, but there's also something like hope — that the collective loss we all feel will lead determined people to open their own spots that will, over time, feel as comfortable and inviting as Mission Dolores did.